Do I Need to Buy Outlook for Windows 7?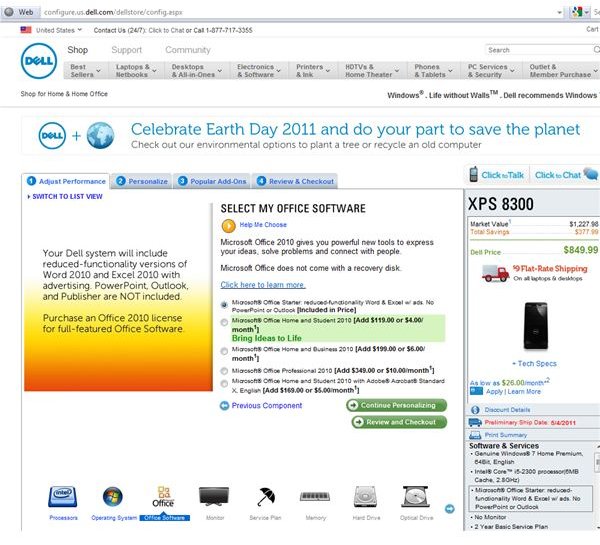 Is There an E-mail Program in Windows 7?
Windows 7 does not have a free and built-in e-mail program like the ones you will find in Vista, Windows XP or older versions of Windows. This is because Microsoft is offering free Windows Live Mail that you can download and install on your Windows 7 computer. This action by Microsoft also allows end users to decide to use their preferred e-mail program such as Thunderbird, Foxmail, Outlook or just use the built-in e-mail client in some web browsers.
People who purchase a new computer may opt to buy Outlook for Windows 7, and this option is often offered to customers who customize their order.
Customizing Your New PC When Buying
Whenever you want to buy a new computer from some PC vendors, you might see an option to choose which Office software to include on your computer. An example screenshot below shows what Dell's online site will include on your new computer:
You'll notice that a new Dell PC includes a free Microsoft Office Starter edition, but it only has Microsoft Excel and Word programs. There is no Outlook, PowerPoint or Publisher. It's free, but there is a catch! The catch is that you will see advertisements because it's free, doesn't expire and is not a trial version of Microsoft Office software. People who don't want to see advertisements in Office software should stay away from using an Office starter edition.
If you've used Outlook at work and you want it on your home and/or personal computer, you should buy Microsoft Office for home or business. There are no advertisements and the features is not reduced to basic functionality. It's also cheaper to purchase a Microsoft Office software edition via your PC vendor's online site than purchasing it from the Microsoft online store – $199 versus $279, respectively.
Standalone Outlook Program
For people who only want to use a Microsoft Outlook program but do not wish to buy other Office software, you can buy the standalone version of Outlook at the Microsoft website. You can choose to ship the installation DVD to your home or office or simply download the latest setup file. The standalone Outlook program runs on Windows 7, Vista, Windows XP with Service Pack 3, plus Windows Server 2003 and 2008 operating systems. It is a fully functional e-mail program that includes journal and tasks managers, contacts and a calendar.
Note that you can always take advantage of using free Microsoft Office software by using Office Web Apps, an online version of Microsoft Word, Excel, OneNote and PowerPoint, so you can create and share Office documents.
Conclusion
The question, "Do I need to buy Outlook for Windows 7?" has been answered: There is no need to buy Outlook for Windows if you really don't need it. When the computer manufacturer offers you Microsoft software, you can opt to just ship the computer with free Office software. You can always uninstall the free Office software that has advertisements if you find that you are distracted by ads when using the free Office programs.
Only buy the Outlook program if you really want to use it at home or in the office. You don't need an Outlook program to send and receive e-mails on your Windows 7 computer. You can use other e-mail programs to help you communicate to friends or colleagues via e-mail messaging.
References
Screenshot taken by the author, courtesy of Dell.com
Information based on author's research and experience.