How to Insert Excel Data into Microsoft Word 2007: A Step-by-Step Guide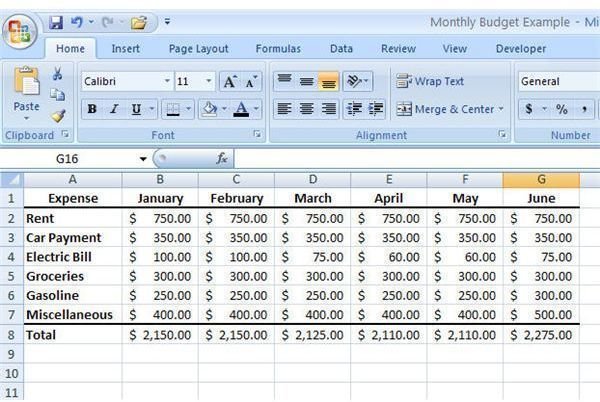 Even though Microsoft Word 2007 has a number of outstanding features for table creation, it will never be a match for Excel when it comes to handling data. As such, it's often a good idea to input your data and create your table or chart in Excel, and then import that information into your Word document.
How to Insert Excel Data into Word
Step 1: Open the Excel spreadsheet that contains your data, or create a new spreadsheet and enter your information. In this example, we'll use the same monthly budget information that we worked with in Part 4 of this series. (Click the image below for a larger view.)
Step 2: Select all of the cells in your Excel spreadsheet that you want to insert into your Word document, and press Ctrl + C to copy the entire selection.
Step 3: Switch over to your Microsoft Word document and place the cursor at the point in the document where you want to insert the data. Open the Home tab on the Word ribbon, and click on the arrow underneath Paste. Select the Paste Special option.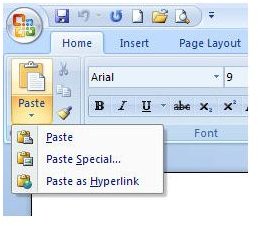 Step 4: In the Paste Special dialog box, choose the paste as Microsoft Office Excel Worksheet Object option.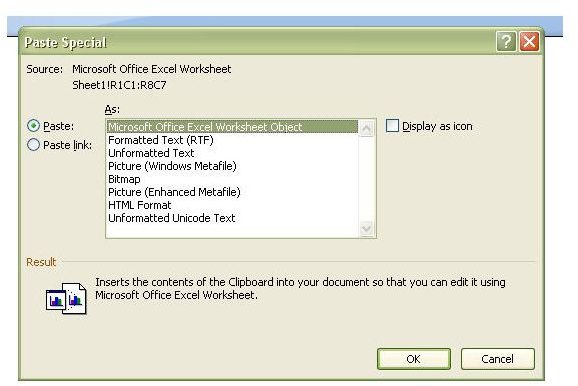 The data will now be visible in your Word document as shown in the screenshot below.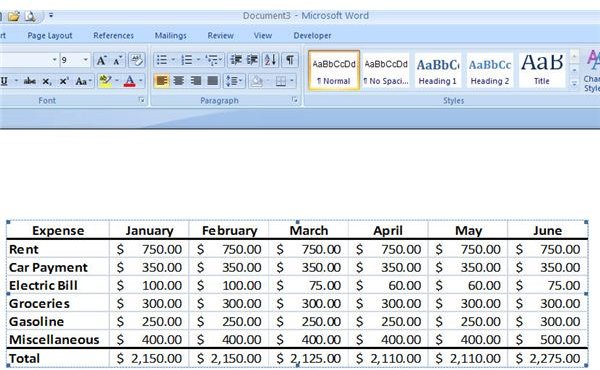 If you later decide that you want to make any changes to this information, you don't have to go through these steps again. You can edit the Excel spreadsheet directly within Microsoft Word simply by double-clicking on the object. You're not restricted to just formatting edits either – you can make any changes to the table, including adding formulas and calculations, that you normally would make in Excel.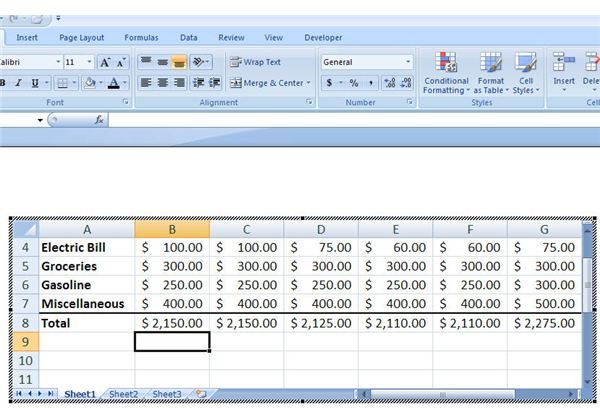 Tip: If you haven't entered your data into Excel yet, you can bypass opening Excel altogether by choosing Excel Spreadsheet from the Table dropdown list on the Insert tab of the Word ribbon. This will open a blank Excel spreadsheet directly inside your Word document in which you'll have access to all of the functionality you normally would have within a regular Excel file.
This post is part of the series: Using Tables and Charts in Microsoft Word 2007
In this series, we'll take a look at how charts and tables can be used in Microsoft Word 2007 documents to help illustrate important concepts and keep the reader's attention.