Configuring Mozilla's Thunderbird - Server Settings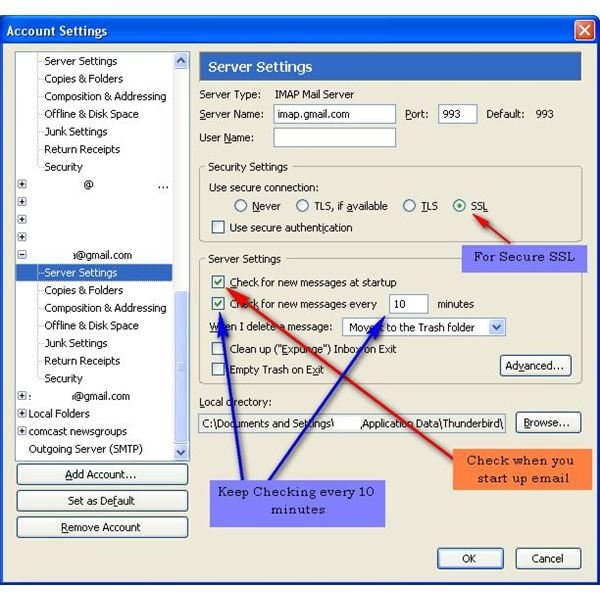 Configuring the Servers
Server Settings
With the account setup and ready to go, all that is left is to configure the Server settings, if necessary. Thunderbird sets up the email server with the usual standard settings by default. So, if your ISP or email provider uses those settings there will be nothing for you to configure. If you want to enable secure connections or use non-standard settings, it is easy to do from the server settings box.
If you are configuring an IMAP Gmail account, you need to enable SSL secure connection. That will automatically change the connection to Port 993 which is what you need.
Finally, you can configure how Thunderbird retrieves your email. I like to enable Check for new messages on startup. After all, if I am starting my email program, chances are I would like to read my email, so I want all the messages ready. You can also enable Thunderbird to check for new messages on a regular interval such as every 10 minutes, or even every 60 minutes. If you have measured, or limited bandwidth, you might want to make this interval longer. If you need to know as soon as possible whenever someone sends you and email you can go shorter.
The great thing is that both of these settings are configurable on a per account basis, so if you need your work email to check every 5 minutes, but only need your family email account to be checked every 60 minutes you can do that. (Do you really need to get Aunt Petunia's forwarded jokes right away?)
Sending Server Settings – SMTP
The other great thing about Thunderbird is its ability to send and reply to email through a configurable server. Some email clients always assume you want to reply through one SMTP server unless you remember to click on something. If you power through your email the way I do, that isn't going to happen, and people will get confused when the email they sent to [email protected] gets replied from via [email protected] just because that is your default email sender.
In Thunderbird, you can setup as many SMTP servers as you like, and then set each account to use whichever one you want. So your emails, whether new or replies to other emails always get sent the right way.
More…
Of course, there are many more options available from whether or not you want to send HTML versus plain text emails to how you want to handle requests for delivery receipts. Fortunately, Thunderbird is pretty easy to configure, so poke around and you will be well on your way to having a great email client setup exactly the way you want it.
Calendar
That Calendar you see on my Thunderbird install is courtesy of another Mozilla open-source product called Sunbird via an extension called Lightning. Details on those are coming up.
This post is part of the series: Best Email Clients
If you work in corporate America, you have no doubt used Microsoft Outlook. There are dozens of other email clients out there with all the same functions. Some of them are junk, others are the greatest email software you've ever used. Want to know which is which?