4 Great Fly Tying Database Software Options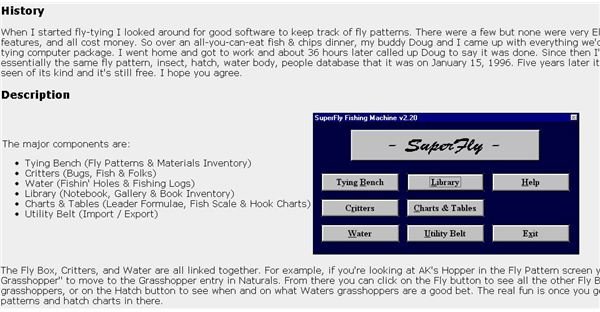 Superfly
Superfly is a fly tying program designed by a fly fisherman to track fly patterns. It has six modules that work together to meet the needs
of even the most serious sportsmen.
Tying Bench - an interface that stores fly patterns and materials.
Critters - a section to log "bugs, fish & folks."
Water - a section that tracks fishing locations and logs.
Library - a notebook, gallery and book inventory.
Charts and Tables - a section for formulas, hook charts and fish scales.
Utility Belt - a section for importing and exporting data.
This software is based on Microsoft Access 2.0 and is packaged for royalty- free distribution. The developer has opened this software up for others to modify, so users can change it to fit their personal needs.
Superfly is "flyware," the developers term that indicates that the program is free, but users are encouraged to contribute three of their own fly designs toward the project.
Fly Assistant
Another fly tying database software program is Fly Assistant. This program is "real" fly fishing software that provides an easy-to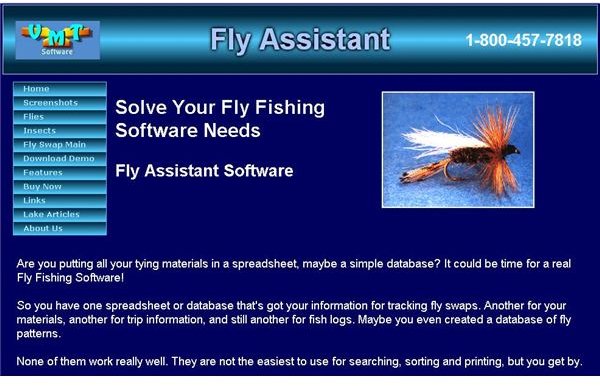 -use interface for all your fly-fishing information, including:
Hooks, furs, feathers, vests and other information.
Patterns with photos and step-by-step instructions.
Article references and online information about fly fishing.
A database of insects cross referenced with photos.
Fly swaps.
Fly Assistant costs $24.95 for the downloadable version. Those who want the program on CDROM can buy it for $34.95 plus $5.50 for shipping and handling.
FlyFree
FlyFree is a free fly fishing application that keeps track of your personal fly patterns in a convenient database format. Also, the software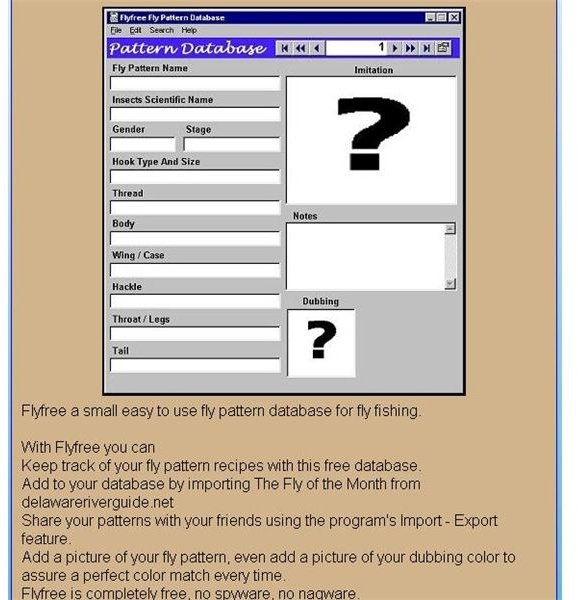 imports the "fly of the month" from delawareriverguide.net to help build out your collection. The program stores all details about each pattern and will store a photo of each.
Users can easily import data from FlyFree into the Upper Delaware River Insects Database.
FlyFree is free fly tying database software that is downloadable from the program's web site. Once you download it, you're on your own because the developer specifically rules out any support of this product.
Fly-2000
The Fly-2000 database comes pre-loaded with 1,000 fly patterns, so fly-fishers can hit the ground running with the program. Users can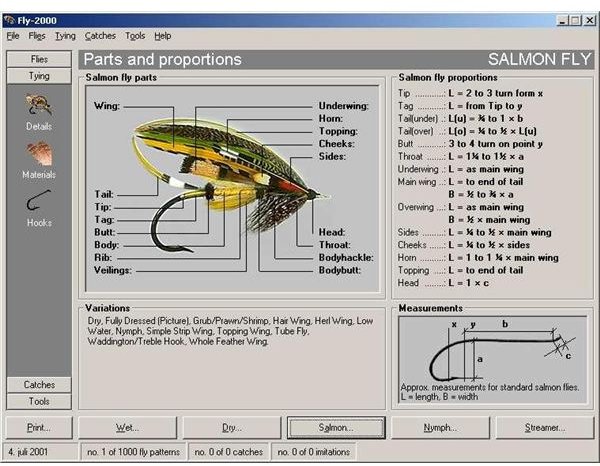 add their own patterns along with instructions and images, making this the only program you need to manage your fly-fishing career.
A search feature helps users find the flies they are looking for quickly and intuitively. Also, a catch report tool helps fishers track fly effectiveness over time.
The program features an Outlook-style interface that includes modules that:
Track materials and instructions.
Cross link insects.
Provide for importing and exporting fly database files.
Track for hooks and their design and effectiveness.
Fly-2000 is for sale online at a cost of 46 euros (as of this writing, this equals about $66.24, but exchange rates constantly vary). After the developer receives payment, the software on CDROM will be sent to the purchaser's address.
References
Superfly. https://www.erobillard.com/SuperFly/
Fly Assistant. https://www.sportsmansmanager.com/
FlyFree. https://www.delawareriverguide.net/flyfree/flyfree.html
FlyFree. https://www.fly-2000.net/
Screenshots provided by writer