Saving Outlook Emails as HTML to My Hard Drive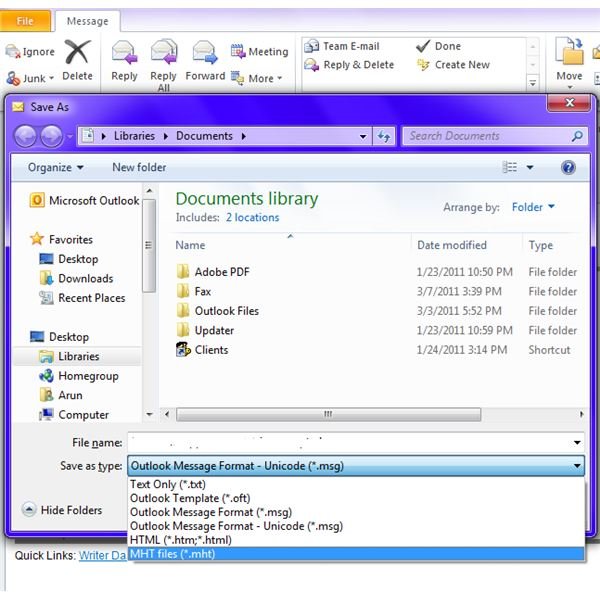 Saving Outlook E-mails as HTML to My Hard Drive - Using MS Word
Saving Outlook e-mails as HTML to your hard drive is easy. There are many methods for doing this, and here we discuss the main methods and tell you about the feasible ones.
For instance, saving Outlook e-mails as HTML to a hard drive can be for selected messages or for general backup purposes. If you intend to save Outlook e-mails for backup, please check the export method for copying e-mails from Outlook.
If you wish to use MS Word for reading the e-mails, you can always use the copy paste method. As MS Word becomes the default editor for reading and composing e-mails in Microsoft Outlook, any version, it becomes easier for you to copy and store the entire message - including tables, pictures and links - to Microsoft Word.
To copy an e-mail as HTML to Microsoft Word, just select all the contents of the e-mail using mouse (pressing CTRL+A won't work). Open a new document in Microsoft Word and press CTRL+V to save all of the e-mail contents. While saving the document, you can give it a name that helps you identify the contents of the e-mail. While saving the document, you can also select the format so that you can use it as intended.
Saving Outlook E-mails as HTML to My Hard Drive - Using Microsoft Outlook
You can also use the Save As dialog in Microsoft Outlook for saving Outlook e-mails as HTML to your Hard Drive. Please note that you cannot save Outlook e-mails to hard drive by simply clicking on the Save button displayed in the quick launch toolbar (on top-left of the Message Window). When you click on the Save button or press CTRL+S, Microsoft Outlook simply updates the PST file where the e-mail you are trying to save, is located.
For saving Outlook e-mails as HTML to your hard drive, open the message. You can double click on the message or right click and select Open to view the e-mail in its own window. Once the e-mail opens in a separate window, press F12 to invoke the Save As dialog. You can also click on the File tab and then select Save As to invoke the dialog box. In the Save As dialog, select the location where you wish to save the e-mail and type a name. The name should be in a manner that you are able to identify the contents of the e-mail. In the Save as File Type box, select MHT files (*.mht). Click on Save.
Though you can also see an option to save the file as HTML, selecting this option will also create a folder with the same name as the saved e-mail file. This is because a HTML page/e-mail contains different components and when you select the HTML option, Microsoft Outlook saves the main file as .html and saves its components in a different folder. This means whenever you use this format to save e-mails, you will get a file along with a folder having the same name. Selecting this option is not feasible as it will take up much space and will clutter your hard drive.
When you select .mht format, Microsoft Outlook embeds the components - images, links etc - into the same file instead of storing them separately. Thus you get only one file per saved e-mail.
When you double click on .mht file, it will open in Internet Explorer. If you wish to view it in Microsoft Word, open Word and use CTRL+O to invoke the Open File dialog box. Browse to the location of the saved mht file, select it and click on Open.
The above explained saving Outlook e-mails as HTML to hard drive. It also discussed the feasibility of file formats for saving the e-mails. If you still have any doubts, please leave a comment below.
References
Screenshots and references from Microsoft Outlook
This post is part of the series: Outlook Tips and Tricks - Part III
Continuing further, this series on Microsoft Outlook offers five more tips on dealing with the e-mail client and its components. It covers Outlook PST repair, Saving Outlook e-mails as HTML to disk, Spam Blocking, Email setup and Transferring Outlook to new computer.