How to Assign a Shortcut Key in Microsoft PowerPoint 2007 Using OfficeOne Shortcut Manager

Shortcut Keys in PowerPoint 2007
Microsoft PowerPoint 2007 comes equipped with a number of predefined shortcut keys that can help you save time when performing certain tasks. A listing of these shortcuts can be found at the Office Online PowerPoint 2007 information site as well as within the help section of the PowerPoint application. However, not every command in PowerPoint has a corresponding built-in shortcut. In particular, there is no shortcut key functionality for macros created in PowerPoint 2007.
If you want to assign your own custom shortcuts to commands and macros in PowerPoint 2007, you'll have to rely on a third-party add-in. One of the more popular add-ins for this functionality is the OfficeOne Shortcut Manager. This add-in isn't free, but you can download a trial version and use it free for 30 days. After that, you'll have to pay $29.95 if you want to continue using the add-in. If you spend a lot of time working in PowerPoint, I think you'll find the tool to be well worth the price.
Assigning a Shortcut Key to a Macro
Macros are great tools for saving time when creating PowerPoint presentations, but their efficiency can be even more improved if they have a shortcut key command assigned to them. For the remainder of this guide, we'll assume that you have the OfficeOne Shortcut Manager add-in installed and available for use in PowerPoint 2007. If you don't have this done yet and need some help with that process, refer to Part 7 of this series.
Begin by opening the Add-Ins tab on the PowerPoint ribbon and selecting Customize Shortcuts.
When the Customize Shortcuts window opens, choose Macros from the Categories list. Then, scroll through the available macros from the Commands list, and pick the macro to which you want to assign a shortcut.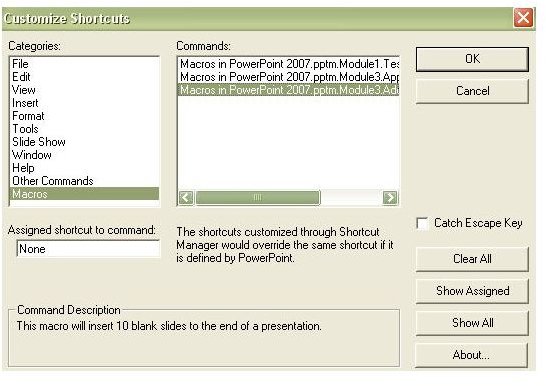 Next, click on the box next to Assigned Shortcut to Command. When you perform this action, the only change you will see at first is the cursor present in this box next to the word None. To change this to the shortcut key sequence you would like to use for the macro, simply enter the command on the keyboard. As you type the sequence, it will appear in the box. In the example shown in this screenshot, we're assigning the command Alt + 2 as the shortcut for the selected macro.
When finished, click OK to continue. This will close the Customize Shortcuts window and return you to your PowerPoint presentation. Your shortcut is now set up and ready to use.
This post is part of the series: Using Macros in Microsoft PowerPoint 2007
If you constantly find yourself performing the same tasks over and over again in PowerPoint 2007, break free from the monotony by learning to create and use macros. In this series we will cover how to use macros in PowerPoint 2007 and how they have changed from previous versions of the application.