What Is and How to Use: Outlook Connector Pack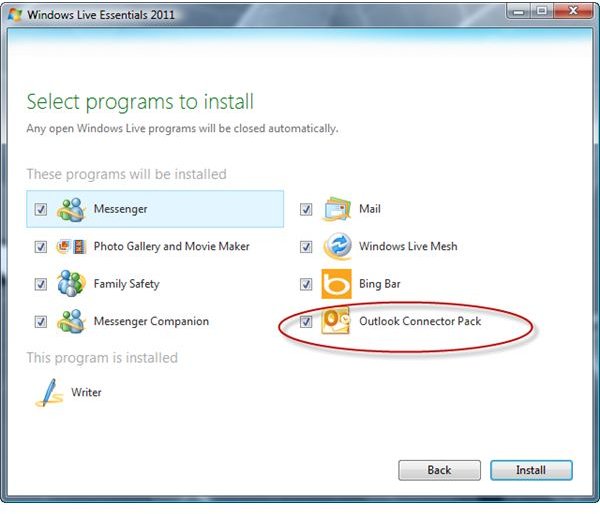 Free MS Outlook Connector in Outlook Connector Pack
Version 14 of Office Outlook connector is part of Outlook Connector Pack which is included in Windows Live Essentials. People who want to stay in touch with Messenger buddies and social networking friends may take advantage of the Outlook Connector pack for free.
System Requirements and Installation
To use Outlook Connector pack in Windows 7 or Vista, you need to have Outlook 2010, 2007 or 2003, a free Windows Live or Office Live Mail account and Internet connection.
Installing Outlook Connector pack is easy as 1, 2, 3! Simply download the free Windows Live Essentials setup file from Windows Live website and select to install the Outlook Connector pack and Windows Live Messenger:
Remember that you also need to install the Messenger program if you want to use Outlook Social Connector to retrieve social network updates from your Messenger contacts. If you only need to get the social updates for MySpace, Facebook and LinkedIn buddies, you don't need to install the Messenger program. After installation, you can open Outlook program to enter the login and password information using Windows Live ID account which is free of charge, as well.
MS Outlook Connector
Unlike the previous versions of Outlook Connector, there is no Outlook Connector button. This is because the add-in for Outlook is now integrated in Microsoft Outlook email program. Simply use the Send and Receive function in Outlook program to retrieve Windows Live emails or to send an email.
Once you're logged in, the free MS Outlook Connector automatically downloads and synchronizes your email messages, contacts and Windows Live Hotmail folders that you've set-up in your free Live email via web browser. You should also see the connection status in Outlook:

If you are using Windows Live Calendar, the free MS Outlook Connector can also synchronize it to your Outlook calendar.
Outlook Social Connector
Before you can use Outlook Social Connector to retrieve updates from your LinkedIn, MySpace or Facebook contacts or group, you must download social networking provider files for each social network you want to connect to. You can see the list of providers that will work in Outlook program and Outlook Social Connector in Microsoft Office website.
Outlook social connector currently has LinkedIn, Facebook, MySpace and Windows Live Messenger connector files: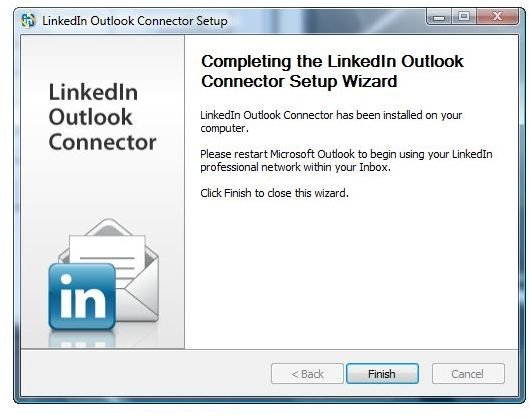 You should now visit the social networking service e.g. LinkedIn and Windows Live to add and grant third party applications and websites to access the account. Only then can you use Outlook to view the social updates and other options.
In the Outlook application, look for your contact or message from the contact that is also using social networking service. You should now see the

the profile photos or activity updates of your contacts by simply using free MS Outlook connector and social connector add-ins.
Note that Outlook Social Connector is part of Windows Live Essential but you can also have the standalone installer.
Image credit: Screenshots taken by the author, courtesy of Microsoft Windows Live and LinkedIn.