Windows 7 Blue Screen Memory Management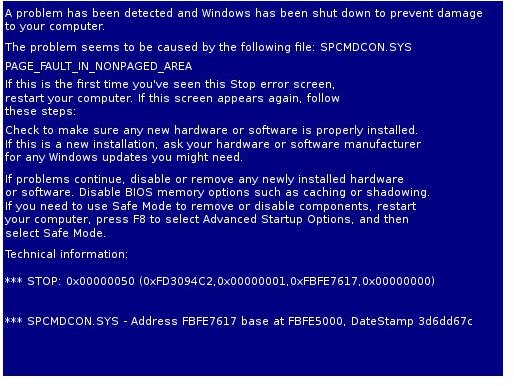 What Does the Blue Screen Mean?
The "Blue Screen of Death" (also known as BSOD) is the name given to the phenomenon in Windows operating systems when an issue with the computer generates a conflict that can only be resolved by restarting the computer. As a result the BSOD is displayed advising the user to restart while the operating system generates a log of the problem.
In most cases, upon restart the issue will be resolved – but not all. Some problems can be deep lying, with Windows 7's memory management occasionally the cause of blue screen issues.
These problems can often be resolved, however, if you know where to look.
Virtual Memory
Often problems of this sort can be resolved by altering your Windows virtual memory. This is a paging file area on your hard disk which is used by Windows as means of storing memory. By default this is managed by the operating system but regular BSOD errors would indicate that the virtual memory is not being managed effectively.
In order to check the current virtual memory settings go to Start > right-click Computer > Properties > Advanced System Settings. Under Performance go to Settings… and then on the Advanced tab go to Virtual Memory > Change…. Here you can change what the virtual memory allocation is by setting a Custom size. This can be done on all disks or just your Windows system disk.
Use the figures at the bottom of the dialog box as a guide – if the current allocation is 3700 MB and you still experience the error, try increasing this amount.
Tracing the Windows 7 Blue Screen Memory Management Problem
If you're receiving the BSOD error and it cites memory management as the cause for the crash, rather than increasing your PC's virtual memory you might attempt to trace the software that is causing the problem.
This might prove difficult at first, but it should be possible to determine the problematic application by being aware of what is currently connected to your computer, what software these items of hardware use, and what software you have recently installed.
By tracing the problem and identifying the responsible software (or peripheral) you should be able to prevent the BSOD occurring again in future.
Is it a Virus?
Failing to resolve the BSOD by the means described above might indicate a more serious problem. A virus, worm or other malware might contribute to your computer crashing, necessitating the immediate use of anti-virus software to scan for problems. Some malware will make a fake blue screen of death appear.
Even if you don't find any viruses, take advantage of a malware cleaning utility such as MalwareByte's Anti-Malware, which should detect and remove any suspicious or dangerous software that your anti-virus software might already have missed. There are several articles on Bright Hub providing further information on using MalwareByte's Anti-Malware.
References
Source: Author experience
Image: https://upload.wikimedia.org/wikipedia/commons/thumb/9/98/Bsod_xpvista.svg/500px-Bsod_xpvista.svg.png