Review of PGP 10 for Windows 7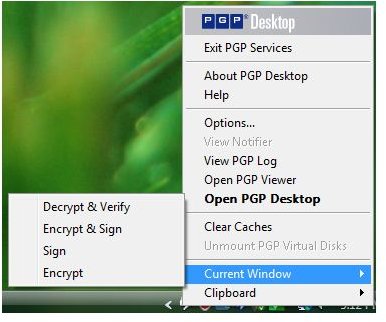 PGP Desktop 10
Version 10 is the new release of PGP Desktop for home or office. The new version provides improvements to PGP desktop when sending email using IBM lotus notes and how it handles multi-packet signed messages. There are known issues in earlier versions and builds of PGP Desktop that were resolved which includes the conflict between Windows Xperf tool from the Windows Performance toolkit, issues with certain Intel wireless drivers, corruption problems in Microsoft Office 2007 files in PGP Win 7 when using PGP NetShare, and the issue on PCMIA SD cards.
Windows 7 is supported by PGP Desktop as long as the version of PGP Desktop is version 9.12 and higher. Below is the review of PGP for Windows operating system.
Installation (4 out of 5)
Installing PGP Desktop 10 in Windows is straightforward. A PC restart is required to activate the additional PGP features in Windows. The program will add its notification tray icon that has a handy menu for using the program:
It also added a PGP Shredder icon located on the desktop allowing the user to erase sensitive documents by dragging them to the PGP Shredder icon. A startup program is one of the new installed files in Windows and its file name is PGPTray.exe with a path pointing to ICON6560581611.EXE in the PGP Desktop program directory. This method of PGP uses different executable names and startup items that can confuse end-users.
Two PGP services will be added as well: RDDSERVICE.EXE is the PGP Universal RDD Client Service and PGPSERV.EXE as PGP Software Development Kit Service.
Features and Options (5 out of 5)
PGP Desktop 10 provides the following security tool for Windows, Mac and other operating systems:
PGP Messaging - automatically encrypts, decrypts, digitally signs, and verifies messages according to user-set policies. This feature can secure messages sent using instant messenger and e-mail programs.
PGP NetShare - offers comprehensive file sharing management.
PGP Virtual Disk - transparently creates encrypted disk images whose contents are encrypted when not in use, preventing unauthorized access.
PGP Zip - creates secure, encrypted archives that can only contain single or multiple files, even entire directories using state of the art compression.
PGP Whole Disk - offers non-stop encryption for an entire desktop, laptop and removable disks, including temporary files and operating system swap files.
PGP Shredder - securely delete sensitive files by dragging the file onto the Shredder icon. This is also installed in the context menu of Windows to simply right-click a file or folder and then shred.
Setup Assistant - allow importing or creating PGP keys.
The options in using PGP Win 7 are easily done from the preferences window. You can take advantage of the several options such as:
Save passphrase for current Windows session, for certain time of the day, or do not save the passphrase.
Backup and sync PGP keys to key servers or smart cards.
Keys Management - manage the keys that you want to use by adding or removing the keys.
Secure e-mail - detects new e-mail accounts and automatically add email addresses to your keys.
Annotate incoming emails.
Option to unmount PGP disks even while files are open.
Shred files using different number of passes.
Performance (5 out of 5)
PGP Desktop 10 only uses 22MB of memory and its real-time detection for communications in Windows when sending or receiving email is fast. It accurately alerts when any application tries to retrieve emails using a secure connection and offers to secure the email.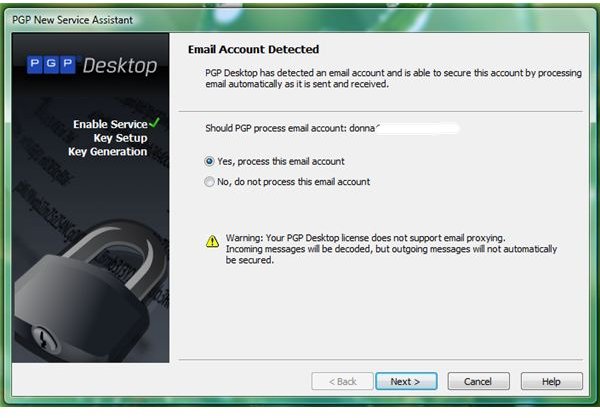 It can detect whether the connection is valid or if there is an invalid certificate and provides option to deny or allow the connection: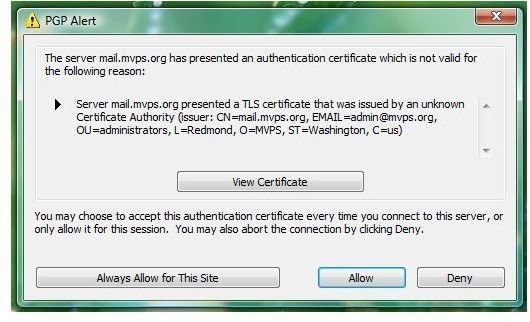 Using PGP Zip is easy allowing you to password protect compressed files without any trouble at all in using this feature.
Final Words
Securing email and files is recommended and everyone should learn how to encrypt email or using PGP Desktop Email. Take advantage of SSL connections provided by web-based email providers.
PGP Desktop 10 provides what most users will need to encrypt files and emails, but if you want free encryption check out the following articles: