Can Windows Defender and Microsoft Security Essentials Run at the Same Time?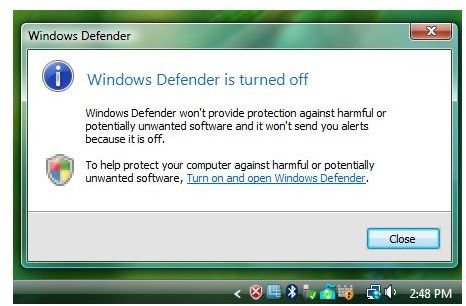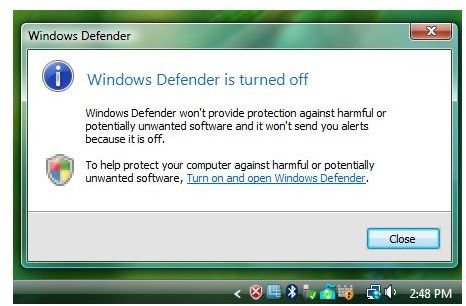 Windows Defender is the free anti-malware and anti-spyware program built into Windows 7 and Vista. It runs on XP computers if you install it. The program includes neat tools for managing startup programs, connected applications, Winsock and active processes in Windows. It can also notify users of new additions or modifications to the system such as Windows add-ons, browser add-ons, installation of drivers and many more. However, these tools are only available in Windows XP and Vista.
Microsoft also provides free antivirus and anti-malware software for XP, Vista, Windows Server 2003, Windows Server 2008 and Windows 7. Microsoft Security Essentials can monitor for malicious activity in Windows, in real-time. A computer with Windows Defender may install Microsoft Security Essentials but the installer will disable Windows Defender to prevent conflict when guarding the computer from malware.
Some people want to keep Windows Defender enabled and running together with Microsoft Security Essentials. This is why we often see question: Can Windows Defender and Microsoft Security Essentials run at the same time? or Can I use Windows Defender together with MSE? Below is the answer to the questions after examining a system with both programs installed.
Error 0x800106ba
One of the common errors that users will see when turning on Windows Defender is Error 0x800106ba. The detail of the said error is explained in the dialogue box that says: A problem caused this program's service to stop.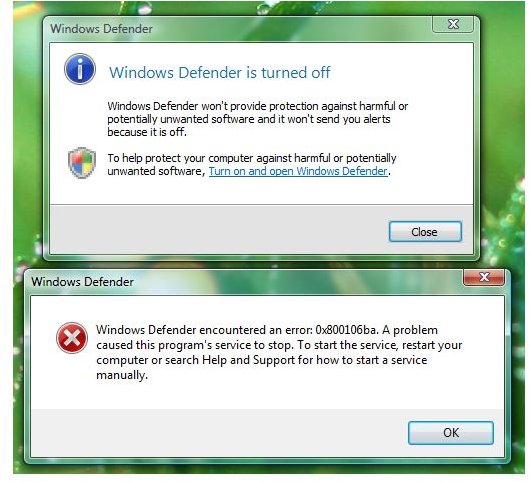 The above error message is normal when Microsoft Security Essentials is installed on the computer. The antivirus program did not only disable Windows Defender's real-time protection but it also disabled access to the program's interface and service. The only way to make Windows Defender run again is to manually start its service. However, doing so will give another error message that says, "The Windows Defender service on local computer started and then stopped."

It's obvious that another application prevents Windows Defender from starting and that application is Microsoft Security Essentials. To succeed in running Windows Defender, in case the user wants to manage the startup item and other software explorer tools, MSE service should be disabled. Using the Services console in Windows, stop the service of Microsoft Antimalware, and then turn on Windows Defender. MSE will notify you on the status of the antivirus program.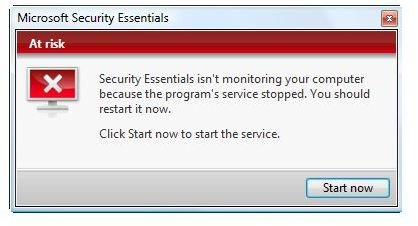 You can ignore the above message until you're done using Windows Defender's software explorer to manage startup items and other areas in Windows that the antispyware program recorded in the past.
What to Expect After Running Windows Defender Again
The above procedure to running Windows Defender with Microsoft Security Essentials installed but turned off is a temporary workaround only. You can only access or use Windows Defender if MSE is disabled. Restarting the computer will turn off Windows Defender again and the antivirus program will be monitoring the system for malicious activity.
It is impossible to run both programs at the same time because MSE was programmed to disable Windows Defender. You can only run Windows Defender if you want to investigate the system for changes that the software explorer functions can record or has detected.
When you enable Windows Defender after turning off MSE, the system is no longer protected from malware or virus infections that Microsoft's antivirus program can detect. The system is only protected against spyware and some malware that Windows Defender can find. The virus and spyware definitions of MSE will not be updated unless you manually install the definitions.
Windows Security Center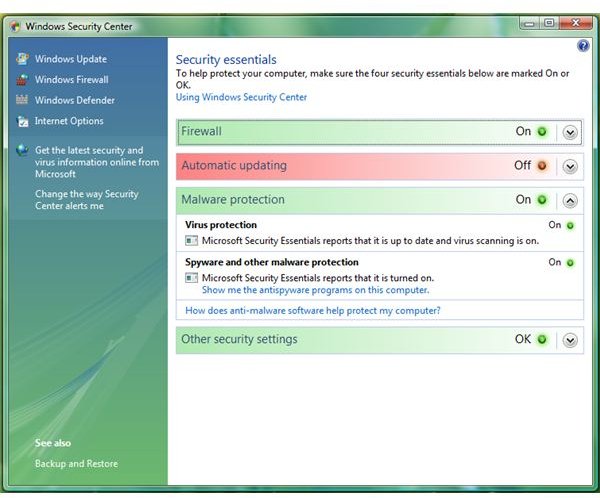 Windows Security Center in Windows XP, Vista or Windows Action Center in Windows 7 will report the status of Windows Defender as turned off. Disabling MSE service and enabling Windows Defender will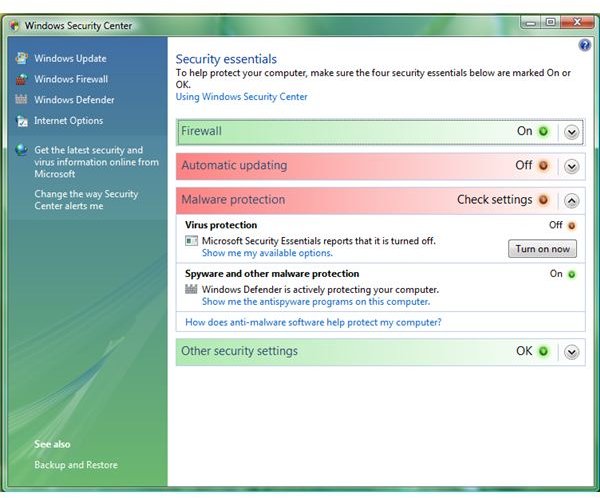 , as well.
All of the reports by the security center in Windows should be accurate and it will refresh its status in real-time. It can report which antivirus and anti-spyware program is enabled or disabled.
Turn Off Windows Defender
It is recommended to keep Windows Defender turned off if you are already using Microsoft Security Essentials. If the installer of MSE failed to turn off Windows Defender, simply restart the computer or manually turn off Windows Defender.
People who enjoy using software explorer in Windows Defender will need to decide which program to keep using. Use Windows Defender with other antivirus program like Eset NOD32, Avira Antivir, etc.
For users who want to keep Microsoft Security Essentials but wish to monitor changes on the system, check out WinPatrol.