Stay Connected and Meet New People With the Windows Live Person Finder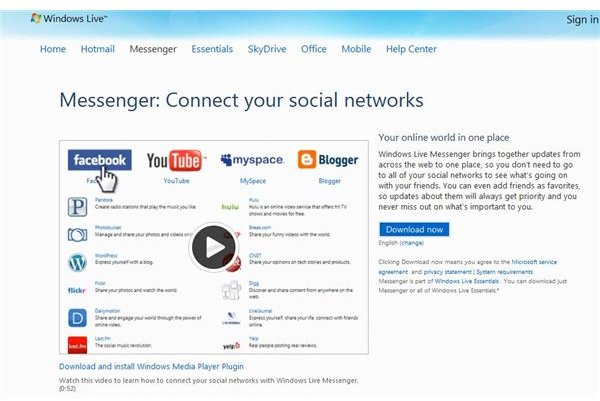 Getting Started
Before start searching, log in to your Hotmail or Windows Live account. Your ID works for both. From your Windows Live homepage, you can add contacts from social networks such as Facebook, MySpace and LinkedIn. You can also add contacts to Windows Messenger, which can be managed and used from your Windows Live homepage.
Finding Existing People
If you want to find people from another social network, use the Connect your services box on the Windows Live main page. This can also be done by selecting Messenger from the top of the Windows Live window.
When you select an existing social network, you'll be asked to choose your settings, such as viewing status updates in Messenger, sharing your Windows Live status and tagging friends in the Windows Live Photo Gallery. When you've chosen the settings you want, press the Connect button at the bottom of the screen. Log in using your user name and password for the desired social network. If you are not currently a member of the social network, you can join by selecting Sign Up above the list of settings. You can then find new people by searching within each individual social network.
To find existing contacts from email accounts and other networks, select Messenger from the top of the screen and choose Add Friends. Find people by entering their email address or name and pressing Next in the Add People by Name or Email Address text box. This lets you find people in your contact list (which is only useful if you need to find people within a large contact list).
Select a service from the Add People from other services to search from people on any of the applicable networks you're a member of. Windows Live currently lets you add people from Facebook, MySpace, LinkedIn, AOL Mail, Hyves, Gmail, Hi5, Tagged, Outlook and additional Windows Live accounts.
Searching for New People
Find new people using the Windows Live person finder by selecting Search for People underneath the Add people by name or email address text box. From the People section, choose Advanced people search. From this screen, you can search for people by email address, first name, last name, interests and gender.
In addition, you can also filter and find people by location, company, profession, college and years the person attended said college. Enter as much or as little information as desired. If you're searching for a specific person, enter a much information as possible to get the best results. If you're searching for new people who share interests or may have went to school with you, enter general search terms instead.
Please note that this only searches the Windows Live network. The person finder for Windows Live can only be used for people who share their information. Since some users keep part or all of their information private, you may not be able to find certain people, no matter how specific your search. In this case, contact other friends on Windows Live who may be friends with the person you're searching for. The person can then add you instead.