Free PDF Creation Software - How to Make a PDF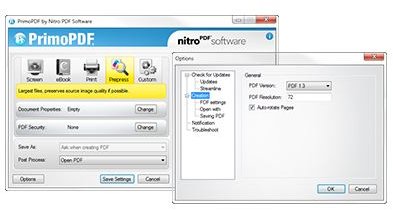 PDF - Portable Document Format
The PDF file format has been around for years and continues to be popular for a wide variety of applications. PDF stands for Portable Document Format, and it enjoys the benefit of being universally recognized across many operating systems. It uses compression techniques that make it perfect for rendering instruction manuals and guides, large brochures, and more. Because most people don't have the software to edit PDF files, they are great for making online forms that can't be changed. In this article, we'll look at three of the best PDF creation software downloads available now, plus some you should avoid.
PrimoPDF
The most popular free PDF creation software is PrimoPDF and it is completely free to use. There is no trial period and it does not watermark files. This simple to use PDF creator lets you drag and drops files for conversion, or use the menu system although it does have an ad for other Primo software. There is the option to change the resolution of the PDF in order to control the file size, and you can even use it to password-protect your PDF documents. This program is so popular it has been downloaded more than 21 million times on Download.com.
Download link: PrimoPDF.com
(Image Credit: PrimoPDF.com)
doPDF Free PDF Converter
Another great free PDF creation utility is doPDF Free PDF Converter. It installs as a printer, then whatever document you wish to be converted into a PDF can be 'printed' to the software. It then brings up a menu with a few options and then you can output the PDF to a file and you're done. This small program is perfect for people who need to occasionally kick out a PDF and don't need to buy an expensive software to do so.
Download link: Download.com
Microsoft Office and PDF
If you are using Microsoft Office 2007 and need to create PDF files of your current documents, there is a free add-in you can get from Microsoft that will give you the ability to save as PDF or XPS format. Just go to this Microsoft download page and follow the on-screen instructions to download this tiny plugin that will give you the option to make PDF files from Office. You must be a licensed user of Microsoft Office 2007 to use this add-in.
Download link: Free Microsoft Save as PDF
Some 'Free' PDF Creators to Avoid
Often times you will find 'free' or 'lite' versions of PDF creation utilities that claim to create PDF files for free, but what they often don't tell you up front is that those files are watermarked with some kind of logo or obstruction so that your original document is partially covered or at least obscured. One such program that does this is PDFill PDF and Image Writer Free that gives you the option to buy the full version if you want to remove the watermarks.
Another such utility is PDF Complete, which comes pre-installed on many HP business class desktop computers. It places a giant PDF Complete logo in the upper right hand corner of all the files it creates, but only after the trial period has run out. What's annoying is that no warnings are displayed so you won't know your files are being tagged unless you inspect them after the PDF is created. If you have a new HP computer and don't plan to buy PDF Complete, you might as well uninstall it from the system.
For more information on creating PDF files, be sure to check out our PDF Windows 7 Tutorial Roundup.