Installing Internet Explorer 9 in Windows 7 and Vista

Upgrading Internet Explorer
Windows operating system include Internet Explorer which means it is required to install the security updates and new version when Microsoft has stopped supporting the old version of the built-in browser in Windows. End-users that want to enjoy the new security features and improved options in using a web browser should also try Internet Explorer 9.
Upgrading from earlier version of Internet Explorer is a straight process. However, there are things to remember before installing or upgrading to IE9.
Install Internet Explorer 9: Downloading
The installer for Internet Explorer 9 free download is located at the following locations at Microsoft website:
Users of Vista with Service Pack 2 and Windows 7 can enjoy IE9 but not Windows XP users because XP is not supported. You may start to run the installation or simply save the downloaded file in temporary location to install later. Remember to always download IE9 installer from the vendor to prevent installing unsafe downloads.
How to Install Internet Explorer 9
Internet Explorer 9 is an upgrade and update to previous version of the web browser in Windows operating system. An active Internet connection is required to allow the installer to download required updates before installation of IE9: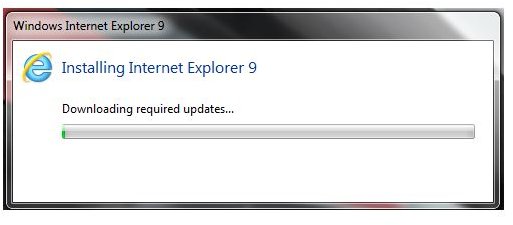 The install process requires a PC reboot before you can use the new version of IE. IE9 will install a feedback tool to allow registered Windows Live ID users in Microsoft Connect in reporting feedback. If you are not sending feedback, you may remove this program without affecting IE9 installation.
Internet Explorer 9 will be listed in the Installed Updates in Windows and not from the usual Add and Remove Programs control panel when upgrading to new version of IE. In addition to IE9, the installation will also add the Platform Update Supplement Beta for Windows Vista (KB2117917) for Vista users.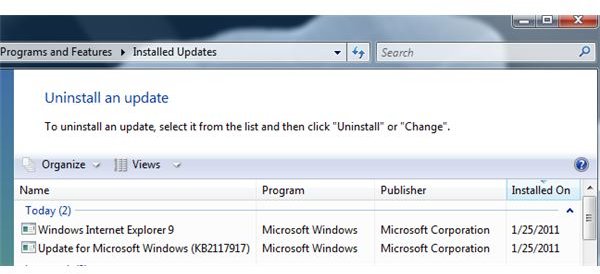 Installing updates for IE9 Beta can be taken from Windows Update application in Windows 7 and Vista. An example is the available update for Internet Explorer 9 Beta that provides improvements to reliability of Internet Explorer 9 Beta (KB2448827).
On first launch of IE9, a dialogue box about the recommended security setup for IE will be presented:
An option to using the recommended security and compatibility settings – selecting this option will enable SmartScreen Filter and Compatibility View list features in the web browser.
An option to not to use the recommended settings.
An option to ask the user later.
It is recommended to choose the first option to prevent virus or malware infection while browsing the Internet and to make websites that is designed to older version of IE look better in IE9.
Removing IE9 is like removing any installed updates in Windows. A PC restart is again required when removing Internet Explorer 9. The system will revert to the previous version of Internet Explorer which means the setup wizard to configure the old version's security and compatibility view settings will be displayed.
Final Words
IE9 is currently in beta which means bugs that may affect other application that require Internet Explorer and Internet Options may occur. Download and install Internet Explorer 9 if you are ready to test-drive the improved and more secure version of IE.
Image credits: Screenshot taken by the author. https://upload.wikimedia.org/wikipedia/commons/b/b7/Internet_Explorer_9_wordmark.svg By Microsoft Corporation (This vector image was created with Inkscape.) [Public domain], via Wikimedia Commons