Freeware Registry Cleaner - Top Registry Optimizers for Windows 7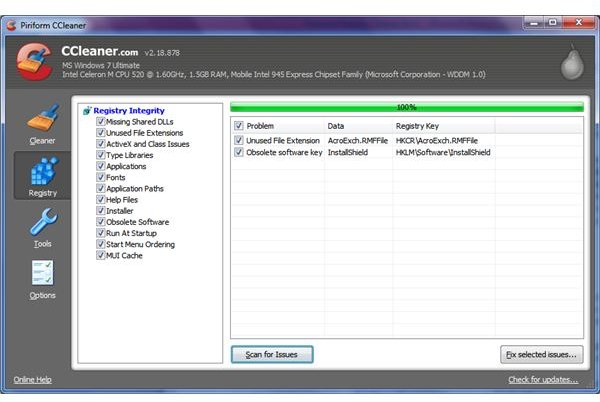 Freeware Registry Cleaner vs Freeware Registry Optimizer
If you have been searching for a freeware registry cleaner on any download site, you must have come across the term 'registry optimizer'. While a freeware registry cleaner helps you remove broken keys and fix the Windows registry, the 'registry optimizers' claim to optimize your Windows registry in a way that your computer becomes faster. However, doing some research - I found that there is no way one can optimize the Windows registry. The sub-keys will always appear in the alphabetical order under the five main keys.
At most, one can defragment the registry so that it becomes easier for Windows to parse it. Of course, any defragmented file will increase the speed of your computer. Another function of 'registry optimizers' is to clean your computer. They remove the junk and fix broken files - which is also a plus side.
Let us check out some of the popular freeware registry cleaners some of which also fall into the category of 'registry optimizers'.
CCleaner - Crap Cum Registry Cleaner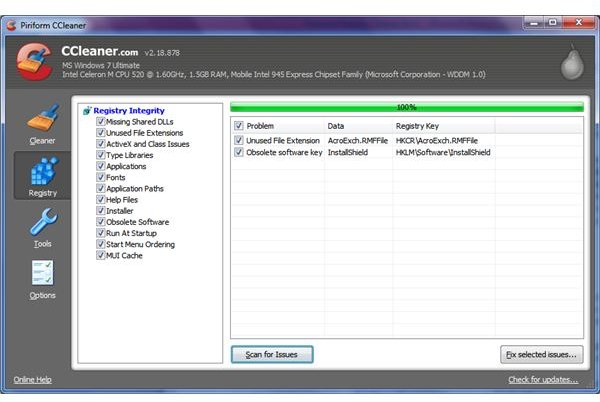 CCleaner can be considered registry optimizer as it offers you the facility to remove the junk out of your computer. In addition to registry cleaning and junk cleaning, it also offers you the facility to remove the programs that you do not want on your computer. The program remove feature is based on your Control Panel's Add/Remove Program.
Overall, with all the facilities within one single program, CCleaner is a good freeware registry cleaner cum optimizer. You can download CCleaner from Piriform and several other download sites. You need not pay anything to download or use the registry cleaner cum optimizer.
As with any freeware, you cannot expect prompt customer support from Piriform. If you think you will require customer support, go for the paid version. There is not much difference in paid and free versions except for the customer support. Registry cleaning is as good in freeware as in the paid version. One of the best things I find in CCleaner is that it allows you to select what kind of keys to parse (See Image).
Comodo System Cleaner - Optimizer?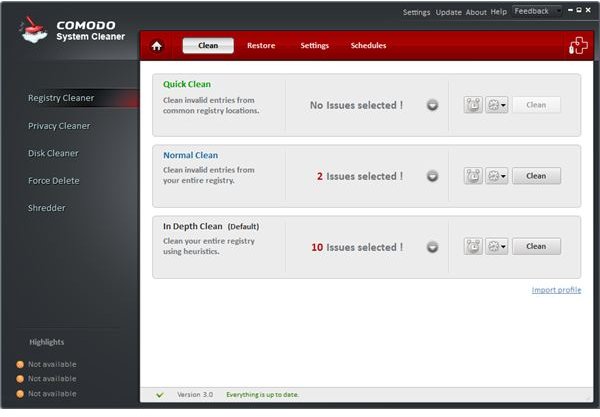 Comodo System Cleaner was developed initially to help you remove junk out of your computer. The integration of privacy cleaner and registry cleaner makes it stand in the list of registry optimizers - the best freeware registry cleaner.
You can remove the junk while cleaning and fixing your registry at the same time. The latest version of Comodo includes a Safe Delete option that allows you to check for inconsistencies before you finalize the registry cleanup. You also get to create a restore point each time you run the cleaner. If you think the computer is unstable after cleaning, you can always use the Restore option to restore the registry to its original state.
Download the latest version from Comodo (Windows 7 compatible) or get the previous versions (not Windows 7 compatible) from third party download websites. Though a freeware, you can still contact the support team for any doubts. The GUI is easy and you can set up the settings for each component of Comodo System Cleaner. In addition to being freeware full registry cleaner, the latest version also offers facilities to shred files for complete privacy.
Wise Registry Cleaner - The Perfect Registry Optimizer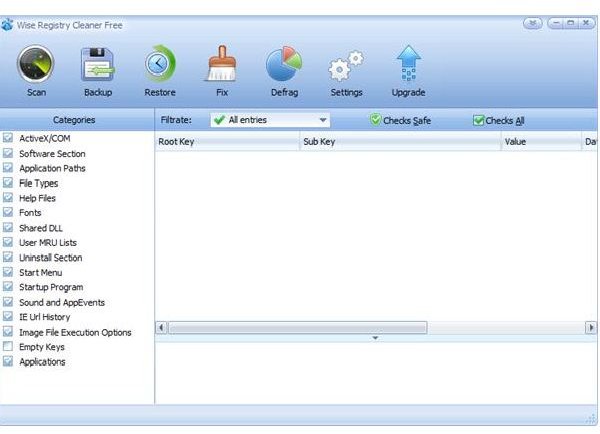 Continuing our roundup of top freeware registry cleaner, we now discuss Wise Registry Cleaner. It includes the junk removing features and a defragmenter in addition to registry cleaner. You can also select the types of registry entries to be parsed.
The best method to clean and optimize a registry would be to remove the junk files, clean the registry, and run a defragmentation program.
The Wise Registry Cleaner offers you all three facilities from a single window - so I would call it a perfect registry optimizer. You can download Wise Registry Cleaner from Wise Cleaner. As the page also shows paid version, make sure you download the freeware registry cleaner instead of the short lived evaluation version.
Eusing Registry Cleaner - Freeware Full Registry Cleaner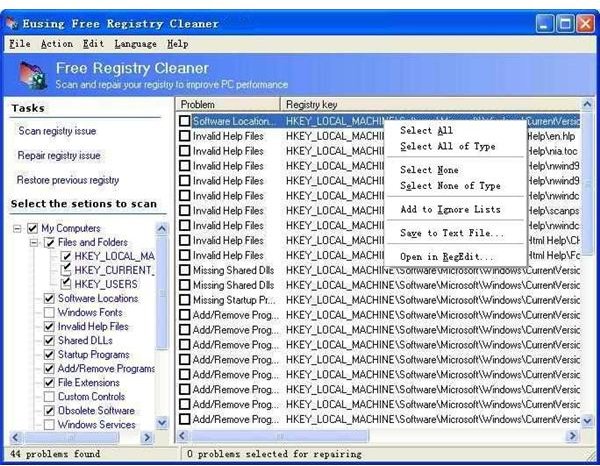 Though Eusing Registry Cleaner will not come under registry optimizer, but it can be considered a freeware full registry cleaner. It offers a good GUI that helps you select what types of registry entries you want to scan and fix (see image).
A powerful registry cleaner, it scans the registry in depth and eliminates broken links while fixing the registry.
If anything goes wrong, you have the option to restore the registry using the backup Eusing creates before fixing the Windows registry.
You can download the Eusing Registry Cleaner from Eusing website. There is no customer support. You do not have any other features such as junk cleaner that comes with most of registry cleaners. Eusing is purely a freeware full registry cleaner.
AML Registry Cleaner - Speed Optimizer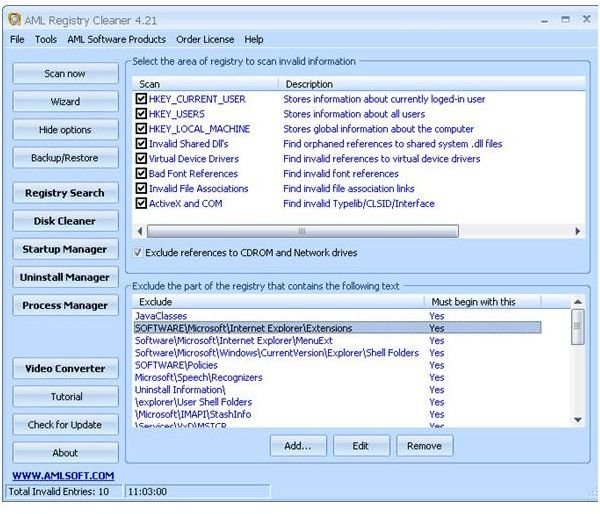 I would call this a semi optimizer. The AML Registry Cleaner contains few other features in addition to registry cleaning. I called it semi optimizer as it includes only partial disk cleaning facilities. It won't remove your privacy files such as Internet cookies, temporary Internet files, etc.
The freeware registry cleaner however, offers you full registry cleaning. It offers you with other options such as backup and restore of your Windows registry, a component to uninstall programs (based on Windows Add/Remove programs), and a process manager.
However, these options do not help much in optimizing the registry. You can still use the disk cleaner and an external free defragmenter to optimize your registry. AML Registry Cleaner is compatible with Windows 7. You can download the AML Registry Cleaner from Softonic.com.
The above discussed few good registry cleaners, with a stress on registry optimization. If you know any other top freeware registry cleaner, please share with me using the comments section.
This post is part of the series: Freeware for Windows XP, Windows 7 - Free Software, Microsoft Widgets for Mobile and more
This series intends to offer you with information on freeware for Windows XP and later versions. You can find information on where to find freeware for Windows XP, free software for Windows 7, and of course, Microsoft Widgets for all Windows versions including Widgets for Windows Mobile 6.5.