Securing Windows Live Mail for Windows 7 and Vista

Why Secure and Protect an E-mail Message?
It is important to have more options in using an e-mail client because fraudsters and malware distributors continue to use this communication tool to get victims. Antivirus and anti-spam protections should help in getting rid of junks and malicious messages, but since not all antivirus software provides email protection, more security options in e-mail is necessary.
Windows Live Mail, the free e-mail program by Microsoft for Windows 7 and Vista customers will be able to control how e-mails are received or viewed. Securing Windows Live Mail program is not the same as how you can secure Outlook Express and Windows Mail, or even with Thunderbird by Mozilla (see Thunderbird vs. Windows Live Mail). Below are some of the available safety options in Windows Live Mail.
Junk or Spam Blocking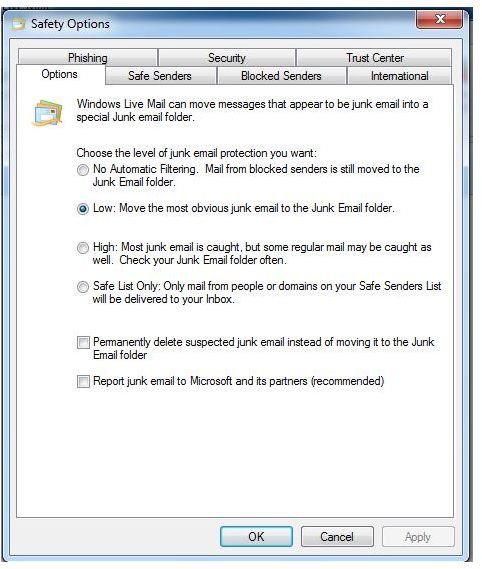 Unwanted e-mails are called junk messages (aka spam emails) that Windows Live Mail can automatically filter. Instead of displaying the junk emails to the inbox folder, a separate folder called Junk Mail folder will hold the unwanted messages. There are 6 options in using junk e-mail protection in Windows Live Mail:
No Automatic Filter – this means the feature to filter spam and good messages is not enabled.
Low filtering – this is the default setting that will filter only the obvious junk messages to junk mail folder.
High filtering – an aggressive email protection for junk mails but some good emails might be flagged as spam. Since a junk mail folder is visible and manageable, users who have this option selected can review the junk mail folder to mark the mail as not spam, or add the sender to Safe Sender list.
Safe list – if this option is selected, Windows Live Mail will put all the messages in junk mail folder except the messages from people or domains that are in the Safe Sender list.
The other 2 options in using spam protection in Windows Live Mail is to automatically report the spam messages to Microsoft and its' partners, and then an option to permanently delete junk mails instead of moving to junk mail folder.
The above options are also available in commercial email program, Microsoft Outlook, but not in Outlook Express and Windows Mail in XP and Vista, respectively.
Securing Windows Live Mail: Phishing Protection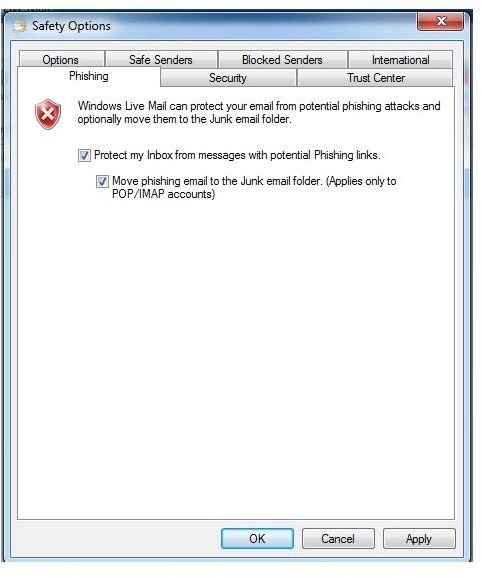 Microsoft does not only provide phishing protection in its Internet Explorer browser, but also in Windows Live Mail email client. Any email message that contains phishing links can be moved to junk mail folder. This is a very useful and necessary email protection that most PC and Internet users should have in an e-mail client. The risk in viewing a phishing email is a risk already, for it can contain embedded pictures or scripts that can report to the attacker e.g. the IP address of the recipient reports to the server of the attacker that the message or image was viewed. Also, the links in the email, when clicked contains fraud or fake pages that try to get valuable information such as full name, credit card information, and social security and health numbers. Also, some phishing link contains malware that can infect or steal information from affected computer.
Microsoft SmartScreen is anti-phishing technology that is integrated in Windows Mail, Windows Live Mail, Microsoft Outlook 2003 and 2007 editions, and Windows Live Hotmail. If you are using these services or software, you are protected from spam and phishing messages. It is updated every month via Microsoft Update as Windows Mail or Outlook junk mail filter updates.
Sender ID, Safe and Blocked Senders List
Windows Live Mail security does not finish in protecting against spam and phishing messages only, but also providing authentication using Sender ID framework.
With Sender ID technology, incoming emails is verified if it is really from the person that says it is from. Sender ID checks and validates the sender's e-mail address against the sender's Internet Protocol or IP address. It is similar to Google's Gmail Sender Policy Framework (SPF). See "Does Google Authenticate the Senders of Gmail E-mail?" section in article, "Preventing Phishing Gmail Messages".
To increase protection from fake senders of emails, Windows Live Mail also provides an option to creating Safe and Blocked Senders list. This allows end-users to control which messages is safe to receive and which are bad or unwanted.
Windows Live Mail Security: Virus Protection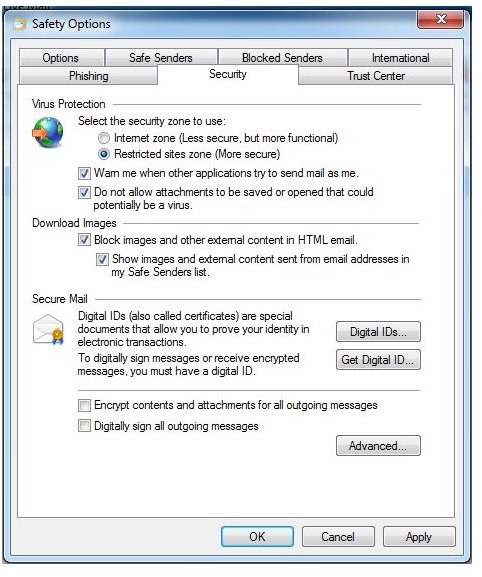 Similar to Outlook Express and Windows Mail in XP and Vista, there is an option to protect emails from potential emails with virus. The safety option in Windows Live Mail against emails with viruses or malware is exactly the same as what you have in OE and Windows Mail:
Restricted sites zone – the default setting where HTML-based emails uses restricted sites zone setting. It means any scripts or codes that is embedded in an email message is prevented because restricted sites zone of Internet settings in Windows is using secure settings.
Warns on applications that sends email as you
Do not allow attachments or emails to be saved or run if it might contain virus or malware.
Block images and external contents in HTML message.
Blocking Top-Level Domains and Encoding Lists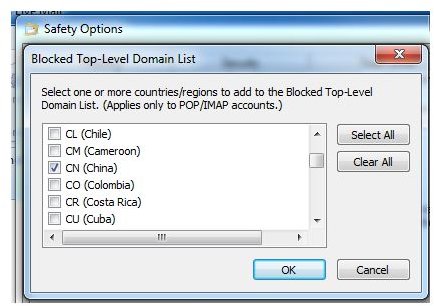 Users of paid email client, Microsoft Outlook is enjoying the two features to block top-level domains and encoding lists. This feature or option is also available in Windows Live Mail safety options. Customers who are positive to not to receive email addresses that uses other top-level domains can configure Windows Live Mail to block those. Example, you are only receiving email messages that uses .com, .net, .org, or .biz but not from users of .cn, .cl, .co, etc. You can select to block these other top-level domains to put those messages in junk mail folder, instead of inbox.
In addition to blocking by top-level domains, you can use Windows Live Mail to block messages that uses different character sets than what you regularly receive e.g. you are not receiving Arabic or Chinese characters emails at all. You can block those and let Windows Live Mail program to move such messages to junk folder.
Final words
Windows Live Mail replaces Windows Mail for Vista. Users is encouraged to use Windows Live Mail if you are using Windows Vista's Windows Mail, for better protection and control of incoming email messages. Windows Live Mail is free of charge which you can download from Windows Live website. It's also available to Microsoft Update users as optional update. You may also download the offline installer of Windows Live Mail from this webpage of Microsoft.
Image credit: Screenshot taken by the author.