Is CyberDefender Download Virus Removal Tool Free to Use?
CyberDefender Early Detection Center 3.0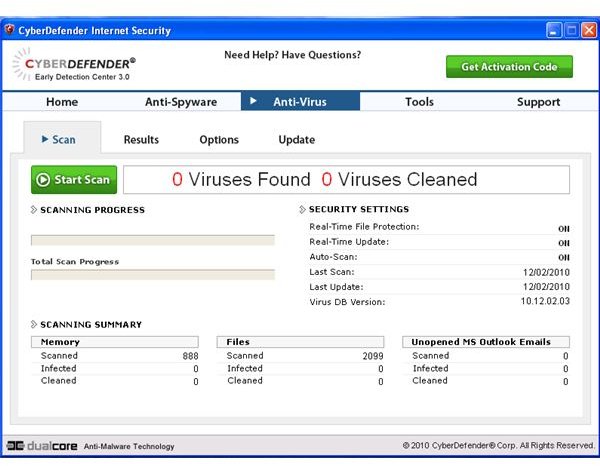 CyberDefender Early Detection Center 3.0 is an antivirus and anti-spyware software. The company behind the product is the CyberDefender Corporation which was founded in 2003 with headquarters located in California. CyberDefender, at the time of this review uses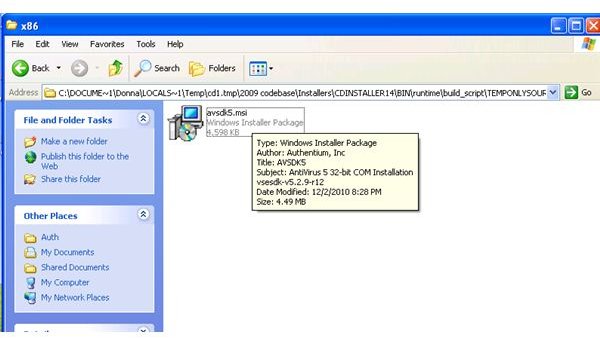 which markets SafeCentral, and the acquired Command Antivirus programs.
CyberDefender antivirus solution with real-time protection is available in a free edition. To protect against spyware, you will need to buy a license. Find out more about about the personal security software CyberDefender download virus removal tool in this helpful review.
System Requirements and Installation (3 out of 5)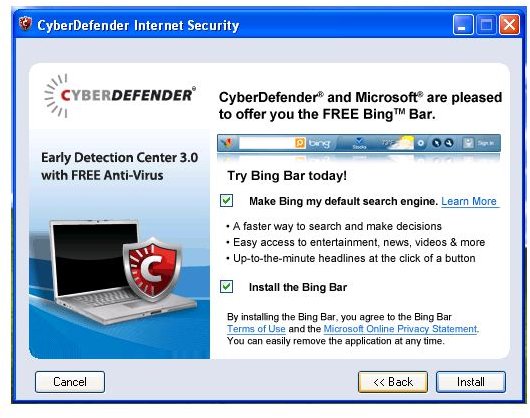 CyberDefender Early Detection Center runs on Windows XP, Vista and 7 operating systems. The installer uses bootstrapping for the CyberDefender download. The installer will automatically start after the download has finished. Like many other antivirus and general computing software, CyberDefender's installer is bundled with an optional toolbar from Microsoft, which is the Bing toolbar. It is pre-checked so be careful in clicking the "Next" button when installing software because you might end-up having plenty of browser add-ons that you don't need.
The install process is fast and it will automatically checks for product updates, and then scans the system. A PC reboot is not required after the install has finished so it can start updating and scanning the computer for spyware and viruses.
The user interface displays CyberDefender Internet Security as the product name instead of using CyberDefender Early Detection Center. The Add or Remove Programs in Windows will list the product name using the latter. It can confuse people when antivirus vendors can't even make up their mind on what product name to present to consumers, but if you find any advertisements with CyberDefender Internet Security as a software name, just remember that it is really called the Early Detection Center.
Features and Performance of CyberDefender (1 out of 5)
The following features are available in two editions of CyberDefender: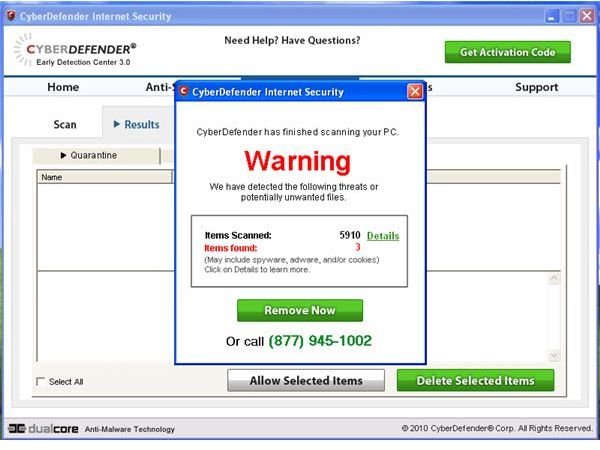 Free Edition of CyberDefender:
Antivirus real-time protection. No real-time protection for spyware.
On-demand scan for spyware and virus threats.
Commercial or Paid Edition:
Antivirus and anti-spyware real-time protection.
On-demand scan for spyware and viruses.
Quarantine and removal of detected spyware and viruses.
Both Editions:
Microsoft Update Checking - This feature is annoying if you prefer to manually check for Windows updates. After installing CyberDefender, the notifications in the Windows Security Center are non-stop! There's no option in CyberDefender to stop monitoring for Microsoft Updates.
Link Patrol - This checks a website's reputation while you browse and is automatically installed in the browser and can be removed using the Add or Remove Programs utility in Windows.
Firewall Monitor - Checks the status of firewall protection in Windows. Note that CyberDefender does not include firewall software.
Privacy and Cookies Monitor - Scans and checks for Internet cookies and lists other private information that is stored in the Internet Explorer browser.
The initial scan of CyberDefender in a clean-install in XP with integrated Service Pack 3 found three low threats (see the image at top-right corner). Clicking on details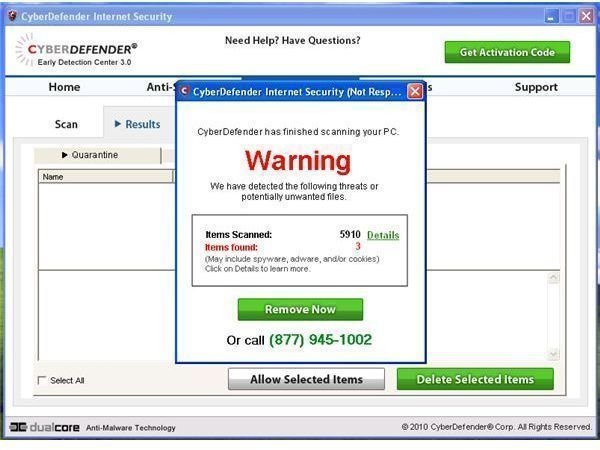 and the XP system, and I was forced to reboot. When Windows loaded the desktop, CyberDefender presented the details of the initial scan. It only found 3 cookies–you have to pay for removal by clicking on "Remove selected items." This is because the free edition does not include free spyware removal. The browser will open to display the buy option page, just to remove cookies.
Conclusion
It's important to note that I have seen reports that CyberDefender is a suspicious software because it displays false detections on clean computers. I failed to reproduce it on a clean install of my XP system. See the discussion at CNET forums, where a user failed to send email attachments using Yahoo webmail service due to threats on the computer. It turns out that cdrun.exe of CyberDefender is the culprit. When I suggested to the forum user to remove CyberDefender and/or fix cdrun.exe by removing it, the user was able to send email with attachments via Yahoo email service. I decided to upload cdrun.exe to the VirusTotal online scanning service that was added by CyberDefender in its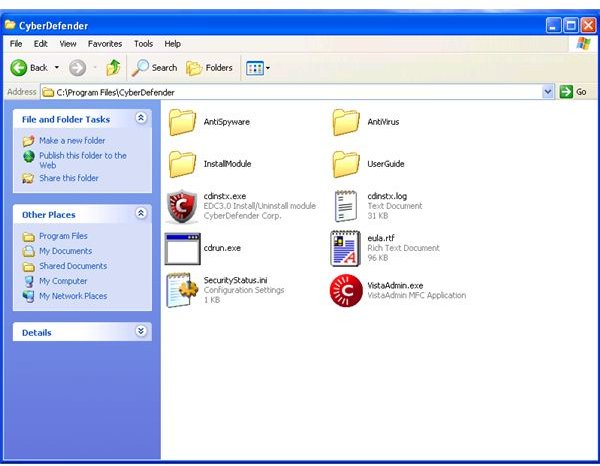 . The result was 24 out of 43 scanners will actually detect infection on computers with the CyberDefender program. That's more than 50% of detection on a file installed by CyberDefender and the fact that it causes trouble when sending email, and provides false detections on PCs, it is indeed a security software that you might want to stay away from and just use an antivirus program that provides free or cheap protection with good detection performance.
CyberDefender is not something to try, especially since there's better security software for personal use out there.
Screenshots taken by the author courtesy of CyberDefender (https://www.cyberdefender.com)