2011 AVG Free Download & Free AVG Antivirus Review - Part One
2011 Free AVG Antivirus Review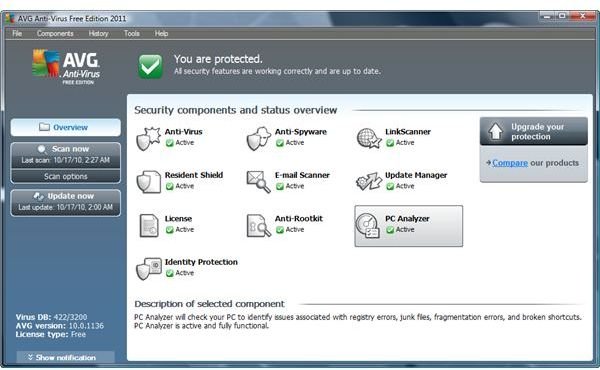 AVG Technologies has released a new version of the widely-used and free antivirus, AVG. The 2011 edition of AVG Free adds social networking protection, cloud-based protection, and an enhanced install process that has been upgraded from the previous edition. AVG Free continues to provide free protection from viruses, spyware, worms, and other type of malware, in addition to protecting users from Internet-based threats via its LinkScanner.
Installation and System Requirements of AVG Free 2011 (4 out of 5)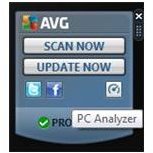 Anyone who uses the 32-bit or 64-bit editions of Windows 7, Vista or Windows XP, can install the AVG Free download for 2011 at no cost. The install process is easy and requires no PC restart to start protecting your computer. The program automatically downloads a virus database, so be sure that you have an active Internet connection.
The AVG Free download can be found here, and provides two options to install the free antivirus:
Install with the help of AVG Free Manager - The download manager of AVG automatically detects your operating system. This is helpful for end-users that are not sure if they have either the 32-bit or 64-bit edition of Windows. The download manager of AVG is only recommended if you intend to use the online installer of AVG Free.
Full Offline AVG Free Download - In the above link, you will find two setup files for an offline installation of AVG Free 2011. The file sizes are 135MB and 154MB, for 32-bit and 64-bit editions, respectively. To check if you are running the 32-bit or 64-bit edition of Windows, visit this Microsoft KB827218 article.
Installing AVG is done using either the default or custom install. The default install is really no different than the custom install except the option to choose which components of AVG to install, including any third-party application or service:
AVG 2011 Gadget - This is an optional install which is not required to enjoy the free antivirus program by AVG. The gadget provides easy access to update the program, scan the computer, and run PC analyzer. AVG gadget is linked to AVG Twitter and Facebook accounts for avid followers.

AVG Antivirus and Anti-Spyware - Whether you run the default or custom install, this component is of course installed.

AVG LinkScanner - A component in AVG that is optional to install when using the custom installation of AVG. AVG LinkScanner provides Safe Surf and Search Shield modules to check websites or web-searches for malware. The problem with the AVG LinkScanner is that it contains known bugs that may harm websites, and can affect the end-users' browsing experience, which has been reported by Softpedia. The good news is that users can temporary or permanently disable or remove LinkScanner, if one is experiencing a problem.

AVG Email Scanner - If you want AVG to check the incoming and outgoing emails from your computer, the email scanner component is an optional feature. If you prefer not to use this protection, simply uncheck the box during the custom installation of AVG setup. The AVG email scanner supports Microsoft Outlook and other email programs for Windows 7 as well as other operating systems.

AVG Identity Protection - This is a basic identity protection of AVG Free users that is also an optional component when using AVG Free.

AVG Security Toolbar - An optional component by AVG which is custom toolbar for AVG by Yahoo.
AVG Free 2011 setup will install AVG PC Analyzer that will check the system for registry errors, temporary but no longer needed files, disk fragmentation, and any broken desktop shortcuts. The program will not fix any found issues but you have the option to try a one-time fix with AVG's new product offering, the PC Tune-up. It seems, however, that the AVG PC Tune-up interface options are similar to Glary Utilities.
Please continue on to Page 2 for more on our 2011 AVG Free Antivirus review.
AVG Virus and Rootkit Scan Performance (4 out of 5)
Continuing on with our 2011 AVG Free Antivirus review, the features that protect Windows runs a real-time shield against viruses, spyware, and other type of malware. The program provides an option to scan for rootkits, viruses, potentially unwanted programs, and other types of malware. There is no quick scan option in using AVG Free 2011, but an option to scan a file, folder or partition, or the entire computer is available. There is also a neat option on how AVG will use the system's memory during a scan. High priority means AVG will finish a scan in few minutes, while a low memory usage means it will take some time to finish a scan. I allowed AVG to run a rootkit scan, followed by a system drive scan which finished in only a few minutes.
Unfortunately, a rootkit scan on my test system gave a false positive but I'm happy that the default settings of AVG don't automatically heal or remove rootkits and other infections. The first rootkit scan by AVG detected some rookits that were not correct: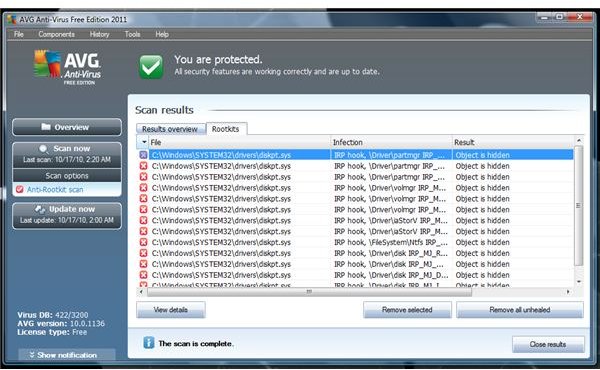 The above diskpt.sys is a legitimate driver by Shadow Defender:

A system drive scan also gave a false detection by AVG: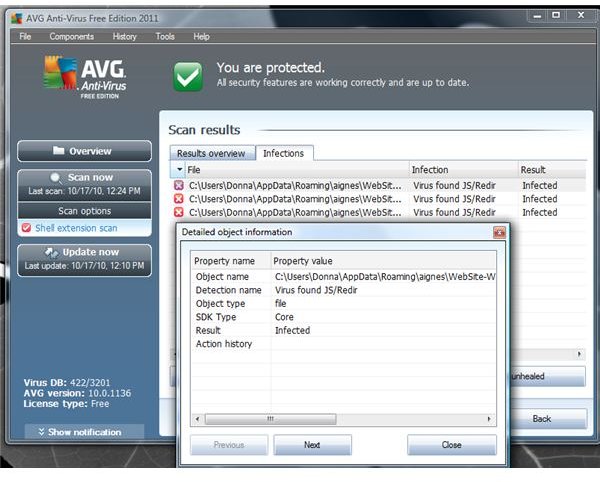 The good news is that the above programs are not widely-used and are not considered critical system files. The bad news is the affected programs may not run properly or become corrupted, which means a program re-install may be required.
Browsing Protection and Memory Usage by AVG Free 2011 (5 out of 5)
In this AVG Free antivirus review, I visited some unwanted pages to check the browsing protection of AVG. Visiting a website with a PDF exploit, redirection to a rogue scanner, and an unsafe download of a Trojan TDSS file was not successful. AVG protected the computer against the threats, while browsing using Firefox and Internet Explorer.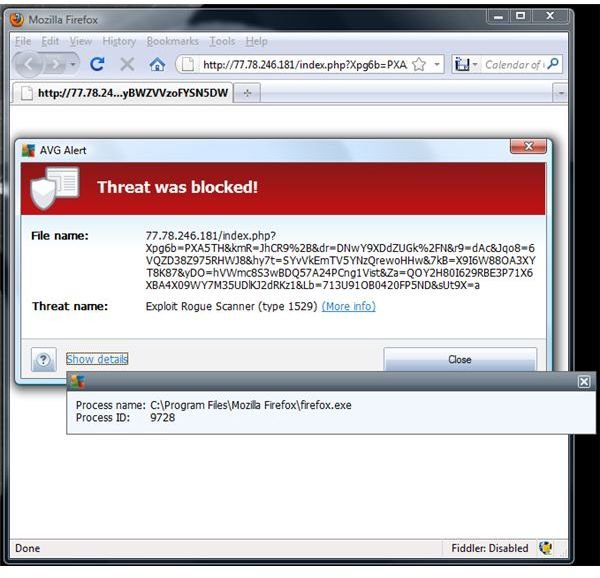 The CPU usage by AVG while it is protecting the PC is normal, but you will notice plenty of running processes by AVG but it's not using huge memory: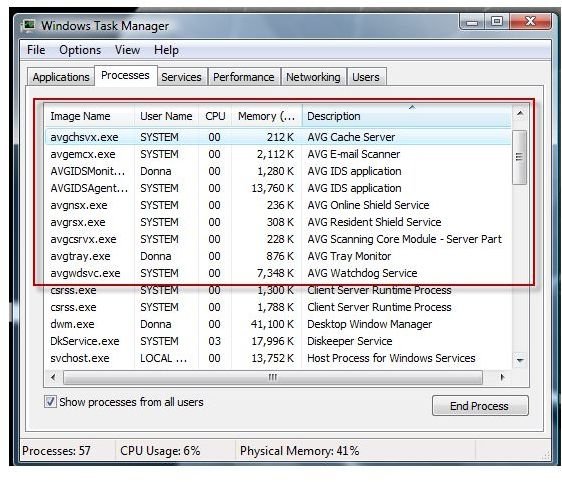 Malware Protection by AVG Free 2011 (4 out of 5)
Any antivirus program that provides more than 90% of protection against malware is good enough to help prevent infection, but it is not very good if you compare it with other free antivirus programs. In this review, I let AVG real-time protection check to see if the 395 positive malware I transferred to the system drive would be detected. It detected and removed 303 out of 395 malwares, which means it allowed the transfer of 92 malwares.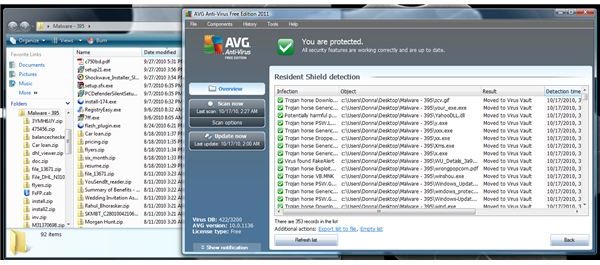 I proceed to scan the remaining 92 malwares using AVG's on-demand scanner and it found more malware: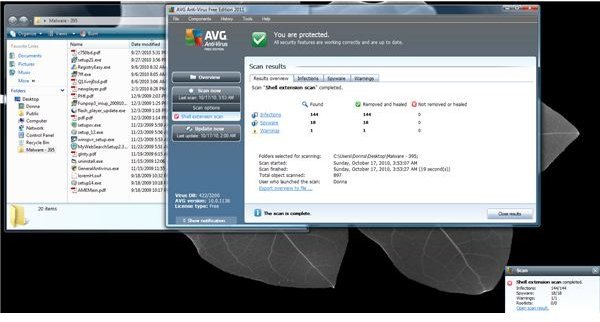 20 malwares were left undetected by AVG and I executed all of them, but AVG found no infection on the computer: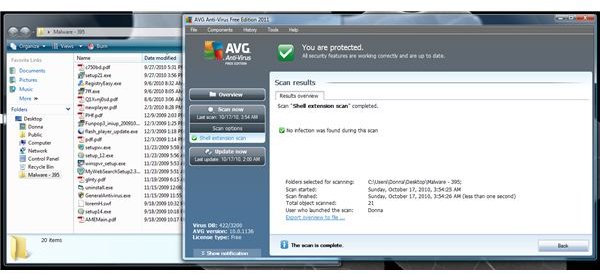 Conclusion
The malware protection by AVG is around 95% which is above-average with exploit protection and a neat user interface. The added protection for MySpace and Facebook links are good, especially those services are known to be followed or hacked by scammers, rogue distributors, and hackers.
The only cons in the product are that it added unnecessary components such as AVG Security toolbar and PC Analyzer during the AVG Free download and install process. Also, the bug in AVG LinkScanner seems a repeat incident the AVG team should have learned in the past by ensuring the browser experience of users is not affected and will not harm other websites. Another issue is that it failed the installation of 20 known and positive unwanted or unsafe programs, which most antivirus programs will block or remove.
Image credit: Screenshots taken by the author - (https://free.avg.com/).