HiJackFree, free diagnostic tool for Windows 7, Vista, XP
Introduction
HiJackFree is a free tool to diagnostic tool that advanced-user can use in removing malware or identify what's good and bad on a system. You can use HiJackFree to view the running processes, services, autoruns that Windows do not display by default. Continue reading below sections in getting to know A-squared HiJackFree.
Installation and System Requirements (5 out of 5)
A-squared HiJackFree (a² HJF) is available using standalone executable (no installation) and installer version. Installing a² HJF will run in Windows 7, Vista, XP, Windows ME, Windows 2000 and Windows 98. No reboot and no other requirements are needed. The difference of the installer version of a² HJF from standalone is the settings and quarantine items will be stored in the location where you launch the standalone edition instead of the common program files path by installed programs. If you have A-squared Anti-Malware, you already have a² HJF installed.
Options and Features of a² HJF (5 out of 5)
A² HJF let you view the detailed information of processes, ports use by running process, view autorun items including the tricky startup, services in Windows, system add-ons, LSP Protocols, Hosts file and ActiveX controls. There is an option to quarantine any items you want to delete so you have a backup in any event you mistakenly delete or kill a file or application.
With HiJackFree, you have the option to use the "Refresh Online Data" icon that will compare your lists against Emsi Software database. Upon successful comparison, the items will be categorized by color. Red as bad or suspect, yellow for suspect or benign items and green for benign. Non-colored items means the item is unknown in Emsi Software's database. If this is the case, you can push another button send it for analysis so the next time you refresh and when their malware research team has finished analyzing the submitted item, you will get the result (whether it's bad or not).
You can update a² HJF by downloading the program or language support updates. This means you do not need to monitor or look-up for updates of the program.
There are many commands when viewing any items that a² HJF will display: Uninstall/Install the driver, kill, start or stop a process, filter the list by showing non-Microsoft items only, add/edit or delete autorun items, change the priority of services. Any delete actions that you will do using a² HJF will provide you to save a backup.
Performance and Price to Value (5 out of 5)
A² HJF standalone and installer version will only use 10MB and does not slow the system. Most items that the test system with huge number of running processes were identified properly and it only took a minute to compare them from Emsi Software online database. When an item is not known during the initial comparison, the program is fast to identify whether the process or item is safe after submitting it for analysis.
A² HJF is free of charge!
Images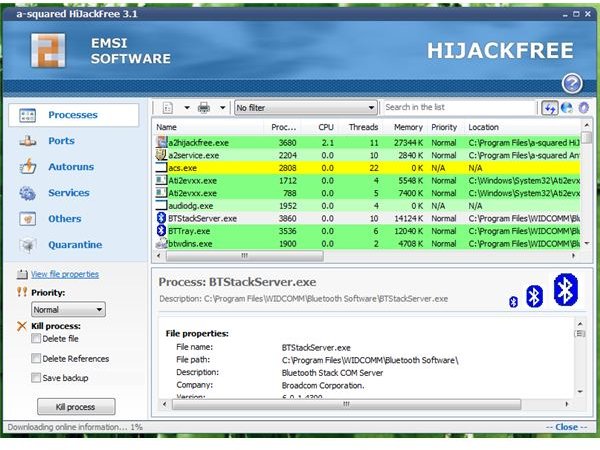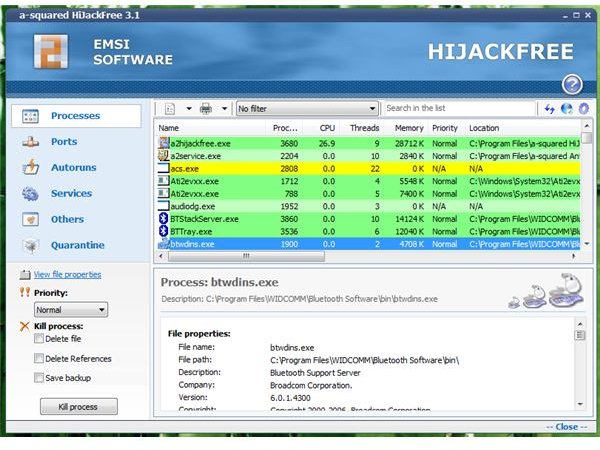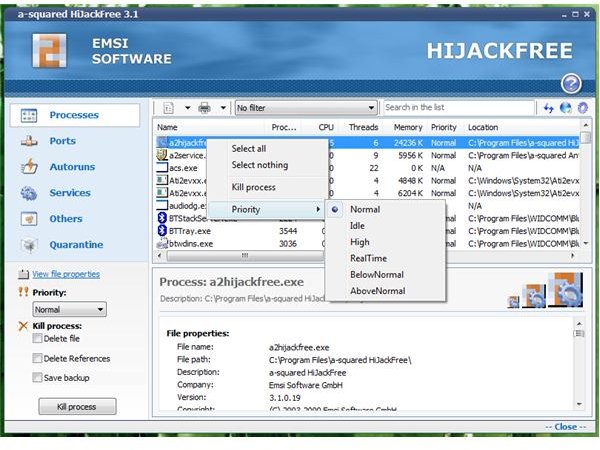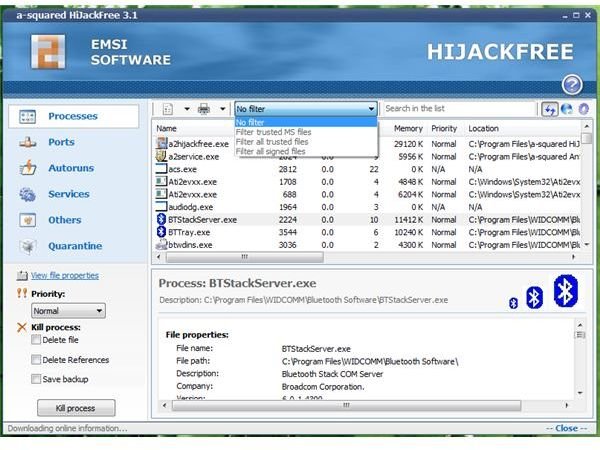 Conclusion
A² HJF is highly recommended diagnostic utility for advanced-users only. Do not use if you do not know what you are doing!
Read more diagnostic tool reviews!
Find out how to use StartUpLite, HijackThis, WinPatrol, Task Catcher, Process Hacker and SysInternals Process Explorer.