The New BitDefender Total Security 2011 Review
All-in-One Security Protection
BitDefender Total Security 2011 is an Internet security program offering antivirus, firewall, anti-phishing and anti-spam protection. It also includes tune-up, file encryption, back-up tools and network management. The program runs on Windows XP, Vista and Windows 7 computers. Before deciding to buy this program, spend some time to read below my BitDefender Total Security 2011 review.
Installation (1 out of 5)

I never like a program that will put my computer in a vulnerable state and this is what BitDefender did when I installed it on my Vista system. We expect an antivirus or Internet security suite to keep us safe instead of installing vulnerable or unsupported versions of any components it requires to run.
Installing BitDefender is straight-forward but it added a vulnerable version of the Microsoft Visual C++ 2008 redistributable that requires installation of security updates using Windows Update. I have seen other security programs that also installed the same component but their installer used a non-vulnerable Microsoft Visual C++ 2008.
BitDefender will also install Microsoft SOAP toolkit 3.0 which has been discontinued by Microsoft since April 2005. I'm surprised that BitDefender continues using the unsupported component instead of using .NET Framework.
The program also installed an anti-phishing toolbar for Internet Explorer and Firefox. Note that a quick scan will occur before BitDefender proceeds to install the protection software on Windows.
Features (4 out of 5)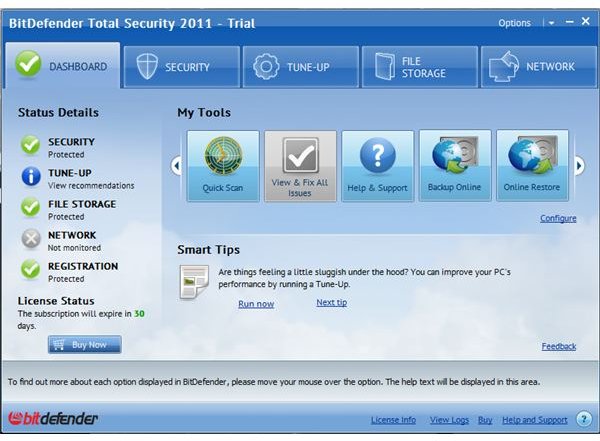 BitDefender Total Security 2011 provides the following features and options:
Real-time protection against viruses, trojans, computer worms, spyware, adware and other types of malware.
On-demand scanner and scheduled scans.
Anti-spam and anti-phishing protections.
Parental controls.
Automatic program and virus database updates.
Rule-based firewall protection
Tune-up - Disk defragmenter, registry cleaner, PC clean-up, file shredder and one-click optimizer.
File encryption with option to put files on File Vault.
Online and local backup tools.
Network management - allows end-user to view the security status of other computers in home network.
What is neat in BitDefender is the ability to check for safety when searching the Internet using any web browser. Most link checkers only support IE and Firefox but not BitDefender because Opera and other browsers are also supported.
BitDefender also includes an option to scan the computer for any vulnerability (Windows, applications and Windows account passwords). Most of the features in BitDefender are working except the following:
The vulnerability scanner. It failed to detect the available security updates for Windows (including the security update for the vulnerable version of Microsoft Visual C++ 2008 that BitDefender installed) and a security update for Adobe Flash Player, Oracle Java and Adobe Reader X.
The program failed to put to quarantine the malware files that it detected even if I configured the program to send it to quarantine.
User Interface (4 out of 5)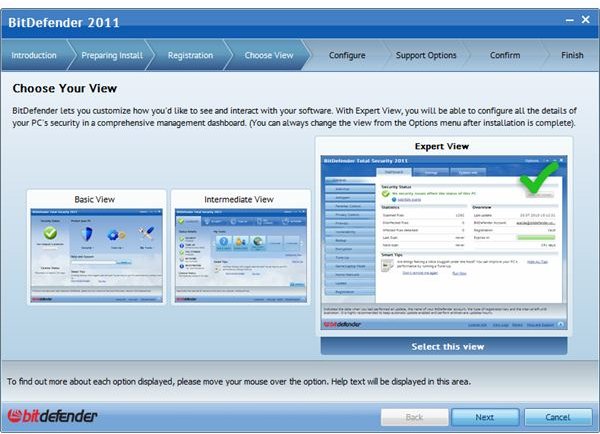 The UI of BitDefender is quite nice and you have the option to display basic, intermediate or expert modes. Navigating to the program will never confuse users since the text on its UI surface is easy to understand and provides tooltips when hovering the mouse on any section.
The notification icon and alert windows are also pretty. There's a handy menu in the notification icon but it is not excellent. Some people prefer having a command to immediately block all Internet traffic via notification icon. This command should be available in security programs offering firewall protection.
Performance (1 out of 5)
The Internet security program by BitDefender will only use 15 MB of memory but there's a bit of lag when using the computer e.g. browsing for files, opening applications or using the search function in Windows. The scanner will only use 19 MB but it's quite slow to finish scanning the system drive. It took 2 hours to scan a 149 GB hard disk that only had 25 GB of files. The scanner by Kaspersky Internet Security 2011 performed better than BitDefender.
Windows boot-time has increased by 19 seconds which is again another poor performance of BitDefender:
Windows boot-time without BitDefender software:

.

Windows boot-time with BitDefender:

.
Browsing Protection (5 out of 5)
This BitDefender Total Security 2011 review isn't complete without checking the ability of the program in protecting users from malicious links and phishing websites.
I visited 3 phished and 3 malicious links and found that BitDefender provides excellent protection while browsing the Internet or downloading files. Below are the screenshots of URLs that BitDefender successfully blocked. Note that these are new phished and malicious links.
Images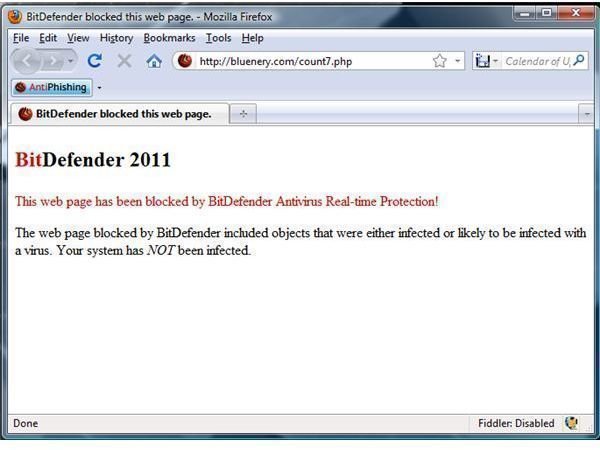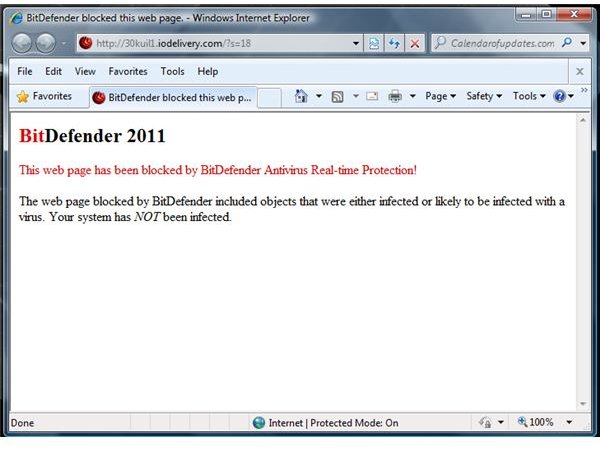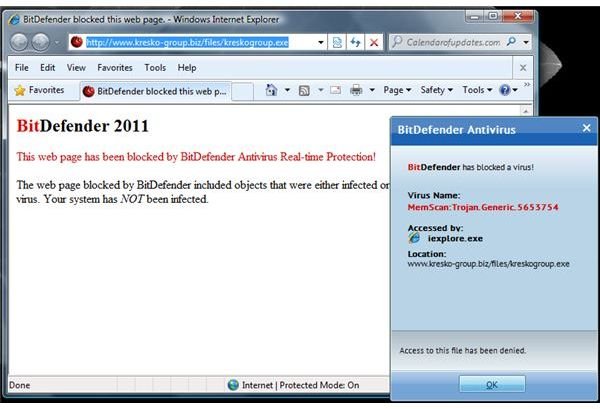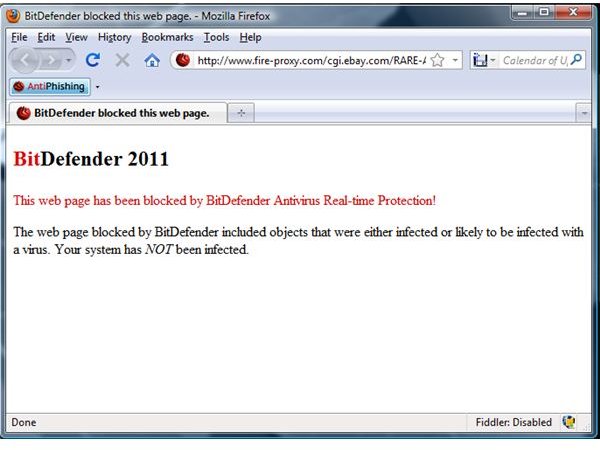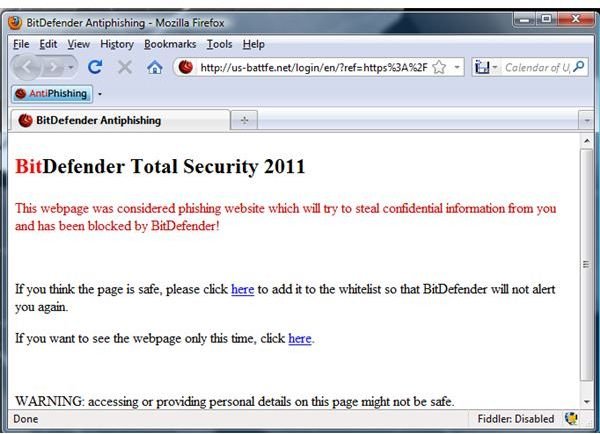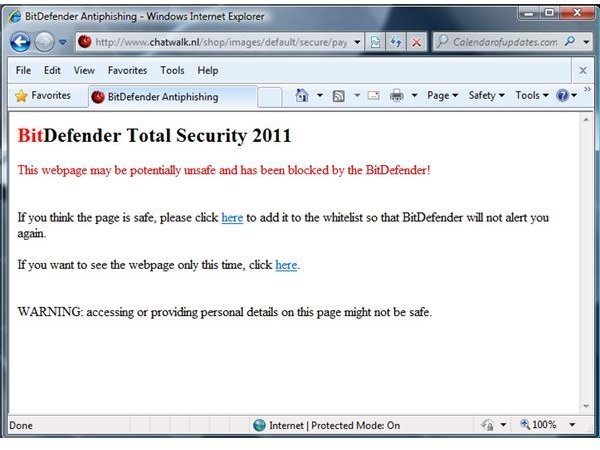 Malware Prevention (5 out of 5)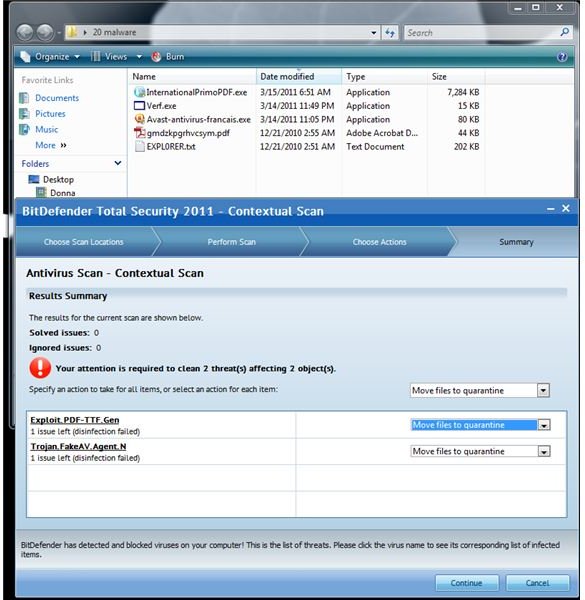 I decided to transfer 20 malware files onto the system drive to check the real-time protection module offered in BitDefender Total Security 2011. The on-access protection is fast to prevent the transfer of 15 out of 20 malware samples. The on-demand scanner found 2 out of 5 files that the real-time shield has allowed. The computer was left at risk from 3 malware files only.
Price to Value (5 out of 5)
The all-in-one Internet security program by BitDefender only costs $80 which is inexpensive since it can be installed on 3 computers. It's cheaper than the all-in-one security suite, Kaspersky PURE ($99.95 for 3 PC) but the same price as Norton 360 ($80 for 3 PC).
Check also the article for best 2011 computer security software.
Conclusion
I can recommend BitDefender Antivirus but not this Total Security 2011. The antivirus and anti-phishing program is effective in protecting the computer, but the poor performance and the installer package of BitDefender should be improved or changed before offering to the public.
References
Image credit: Screenshots taken by the author, courtesy of BitDefender.
Information based upon author's experience and documentation of the program.
Product reviewed: 30-days trial version of BitDefender Total Security 2011 v14.0.28.351