Free Security: Available Microsoft Internet Security Software

Security Software and Services from Microsoft
Microsoft continues to provide Internet and computer security tools and guidance to help customers better understand and protect their PCs. There are a lot of free security tools and services that you could use and take advantage of without having to hire an expert or pay for security software.
Vulnerability Protection
Attackers often take advantage of known and unknown vulnerabilities in Windows, Office, its components and other products by Microsoft. To help protect consumers and business customers, Microsoft provides the following protection tools and services against vulnerabilities:
Windows Update – An automatic update feature in Windows using Microsoft Update services is one of the easiest methods to check, be notified, download and install necessary and critical updates. Updates for supported operating systems are free, including the Service Pack updates that includes enhancements or fixes. By installing security and program fixes for Microsoft products, the known vulnerabilities are fixed and it prevents attackers from taking control of your computer. Also see, which is the best Automatic Updates option for you?
Enhanced Mitigation Experience Toolkit (EMET) – This free security tool by Microsoft helps customers prevent attackers from taking advantage of unknown vulnerabilities in Windows and third-party applications, such as Adobe Flash Player, Java, Firefox, etc. EMET can also prevent malware infections that use zero-day vulnerabilities, if the proof of concept is released and being used to distribute malicious codes to infect computers.
Microsoft Baseline Security Analyzer – An easy to use scanner from Microsoft that checks security health and configuration in Windows. In some cases, an update is not properly installed or the user is not aware that the security settings are not at levels recommended by the vendor and security experts. With proper security settings, you can prevent intruders from carrying out local or remote attacks on your computer.
Anti-Malware Protection

Apple Mac OS X has built-in malware protection, which is what Microsoft also has for Windows operating system. Windows Vista and Windows 7 include anti-spyware programs that prevent installation of known spyware and other types of malware. Below are the complete malware protection tools that Microsoft provides to customers for free:
Firewall and Browsing Protection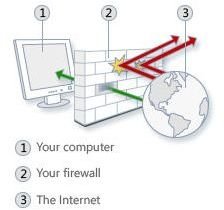 Other Microsoft Internet security software or services include the following:
Windows Firewall – The intrusion protection software by Microsoft is included in Windows XP, Vista and Windows 7, and it is enabled by default. However, Windows Firewall in XP does not monitor outgoing traffic that should help prevent spyware or other malware from trying to "phone home" or send private information or files from affected computers. Windows Firewall in newer operating systems offers two-way firewall protection, which means end-users are protected from incoming and outgoing unauthorized intrusions.
Browsing Protection – The newer versions of Internet Explorer include browsing protection, such as SmartScreen, Phishing filter, Protected Mode, InPrivate Filtering to prevent ads and InPrivate Browsing features that is now also a feature in Flash Player by Adobe. It also includes Information Bar, which prevents browser add-ons or ActiveX that try to automatically run or install without the user's consent.
ActiveX Killbits – Microsoft also provide free Killbits for vulnerable ActiveX, that users might have installed as a browser add-on. ActiveX Killbits is updated often by Microsoft and released via Windows Update.
Screenshots courtesy of Microsoft https://www.microsoft/security