Programs Comparison: Runscanner & Malwarebytes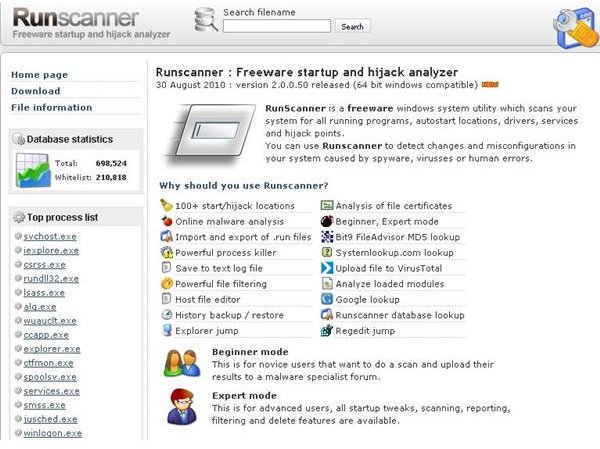 What Do Malwarebytes & Runscanner Do?
Comparing these two very different security programs can be difficult. Placing one's trust in the wrong program can be a problem in itself, since you are trusting these programs with the important task of protecting your computer. Let us look at the various features of the two security programs and the basics of what they have to offer users. Malwarebytes is an anti-malware protection scanner while Runscanner is a hijack prevention program.
Neither of the programs are anti-virus programs and cannot replace normal anti-virus protection. They are intended to guard against hijacking and malware on an "on-demand" basis (you need to initiate a scan, as opposed to proactive virus protection). Hijacking happens when a website or downloaded file attempts to take control of a PC's normal operations and can include interrupting Internet connections to capture personal information or using the computer and its networking to perform actions on the behalf of the criminal that created the hijack (potentially for use in a botnet). Often, this can include viruses, as they will alter system settings. Luckily, these programs are designed to catch these kinds of problems. However, they are not designed to deal with system-wide virus protection.
Malwarebytes Main Features
Malwarebytes is the better known of the two and has been around since 2004. Originally just a free application, the company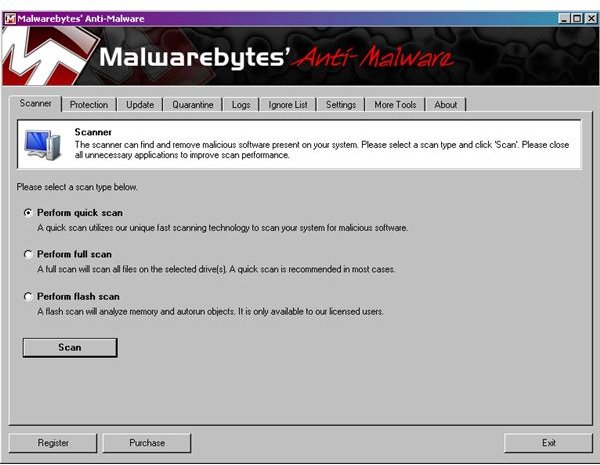 has since added a paid professional version that includes priority support, scheduled scanning and real-time scanning. The free version can be used with its full capabilities, but it must be started, updated and run manually, while the professional version can be set to run on a regular schedule. Real-time protection means that the program runs in the background and monitors the system constantly. The company offers both a support forum and email support to all users, paid and free.
This is a solid and well developed platform that is relied upon by tech professionals as a primary tool. While it does not offer an advanced mode, it does protect the user against accidentally damaging the operating system if they happen to make changes that they do not understand. The performance of the program is very highly rated and Malwarebytes is recommended by beginner and advanced knowledge tech users everywhere.
Runscanner Main Features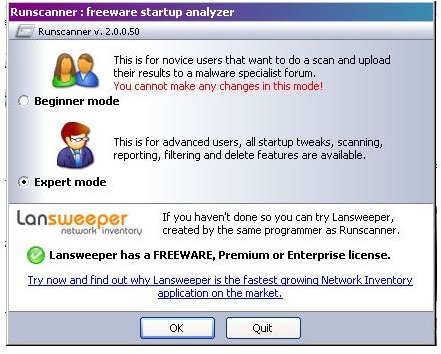 RunScanner is a newer addition to the list of software available for malware removal. This package was developed by networking professionals for managing business networks. While there is little support offered on the program's website, once a user starts the program it is simple to navigate. The program offers online analysis, which allows you to upload information and Runscanner log files which are then evaluated by Runscanner to determine what the problem might be. The other option links to a self-help online forum from the company.
The features offered in expert mode are extensive but not intended for novices. Changes made in expert mode can cause major damage to a computer system if not performed properly, which is why the expert level mode is considered a professional level tool. Only advanced computer users and computer technicians should use it.
Malwarebytes and Runscanner Differences
One major difference between the two programs is that RunScanner does not install to the PC. Instead, the user simply downloads the file and runs it, which starts the program directly. Probably the biggest difference between Malwarebytes and Runscanner is that Runscanner does not "get rid of malware." It simply tells the user what the problem with the computer may be and leaves the user to make the decision on what to do.
The Verdict
Both Malwarebytes and Runscanner offer significant advantages, as well as limitations. While Malwarebytes is very easy to use, is designed to prevent users from damaging their systems and is very powerful at its job, it is limited in the features that it offers. RunScanner, on the other hand, is extremely powerful and is highly rated but that advantage means that ordinary users will have difficulty with using the package and interpreting the results.
The verdict? Well the major difference is whether or not you are familiar enough with your system to manage the changes yourself, or would rather just click and fix. Either product is worth having and both are free. You have the option of a paid version with Malwarebytes and the full support that comes with it, but both offer good support resources with their free versions.