Disabling AVG Internet Explorer Links Checker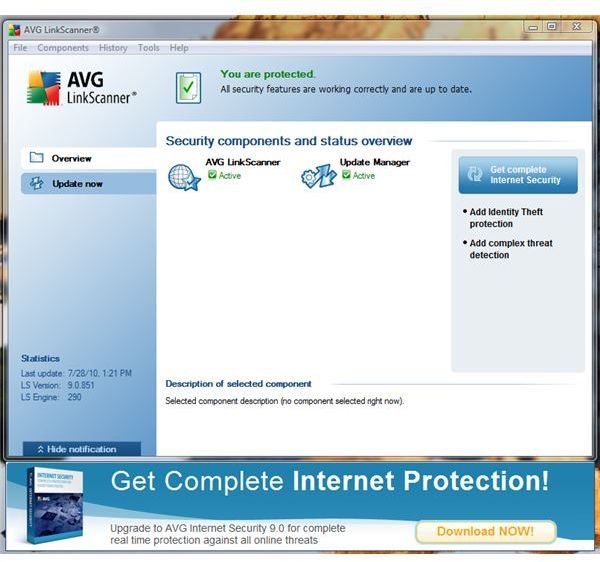 AVG LinkScanner
The popular antivirus program and Internet security suite by AVG includes the AVG LinkScanner component by default. This component is also available as a standalone program, for users with other antivirus solutions. The LinkScanner is an extra layer of protection by AVG that checks links in search results from Google, Yahoo, Bing, Yandex and other search engines. This module in LinkScanner is called AVG Search-Shield. The other module in LinkScanner is called AVG Active Surf-Shield that scans the webpages for malicious content.
If you are having issues using your browser with AVG LinkScanner, you can disable AVG IE link checking using any of the methods described in the sections below.
AVG LinkScanner in AVG Security Solutions
AVG Internet Security and AVG Antivirus (free or paid edition) has an option to configure AVG LinkScanner to disable AVG Internet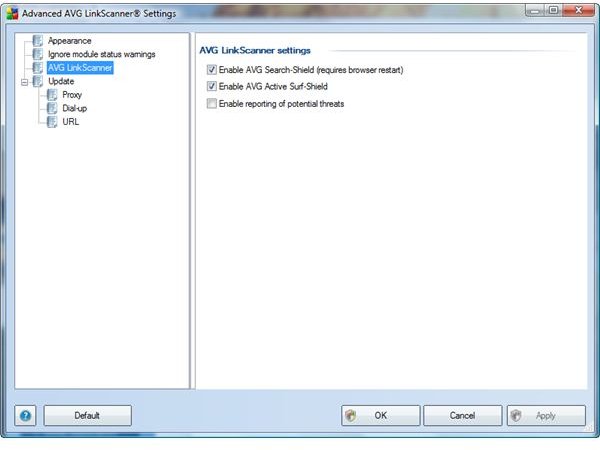 Explorer link checking without uninstalling the entire security program.
There are several method for disabling AVG LinkScanner for IE, but you should try the first method in the steps below:
Method I - Change the settings of AVG LinkScanner in the AVG Program Interface
Open the user interface of AVG antivirus or Internet security suite software
Double-click "LinkScanner" in the "Overview" window
Uncheck the boxes before "Enable AVG Search-Shield (requires browser restart)" and "Enable AVG Active Surf-Shield"
Click the "Save changes" button and then close the window and the user interface for AVG.
AVG should now stop checking links while using Internet Explorer and Firefox browsers.
Method II - Disable AVG add-on for Internet Explorer
Open the Internet Explorer browser, then click the "Tools" menu
Click the "Manage add-ons", highlight "AVG Safe Search" in the list of "Toolbars and Extensions"
Click "Disable" in the lower right-hand side of the add-ons manager window for IE. Click OK for the prompt to disable the browser helper object by AVG with the filename avgssie.dll.
Do the same for "AVG Security Toolbar BHO" and/or "AVG Security Toolbar" with filename IEToolbar.dll, if it exists.
Restart the browser to start using IE without AVG links checking.
Method III - Permanently Remove AVG LinkScanner for Internet Explorer
If you prefer to permanently remove AVG LinkScanner, download the setup file of AVG antivirus or Internet security software.
Close any open Internet Explorer or Firefox browser.
Run the installer, then choose the option to "Add/Remove Components"
Proceed by de-selecting AVG LinkScanner to update the installation of AVG security program and fully remove the LinkScanner program. Note that if you have AVG Security Toolbar, you should uncheck the "Yes, I wish to install the AVG Security Toolbar" option during the modification of AVG.
Removing AVG Internet Explorer Links Checker
End-users of the standalone version of AVG LinkScanner who wish to temporary disable the AVG LinkScanner program can follow the first or second methods. To permanently stop AVG from checking links in the IE browser, uninstall AVG LinkScanner via Add or Remove Programs in Windows.
Image credit: Screenshot taken by the author.