Removing Rogue Viruses or Malware Using Malwarebytes Safe Mode Scanner
Booting Windows to Safe Mode and Malwarebytes Anti-Malware
An option to boot in the Safe Mode or Safe Mode with Networking will allow PC users to troubleshooting or fix problems in Windows from third-party software. Booting to safe mode also helps in removing malware and virus infection in computers. It's fortunate that many antivirus and antispyware software developers let their software run in safe mode to assist their customers in removing malware, rogue program or viruses. Malwarebytes Anti-Malware is one of the anti-malware programs that you can install or use in safe mode or safe mode with networking.
Install Malwarebytes in Safe Mode
The recommended install method for Malwarebytes is to allow Windows to start normally, but if the program won't install after you've tried the work-around on MBAM install issues, you can install Malwarebytes in safe mode to help remove malware infections.
There's no special guide to installing Malwarebytes in safe mode other than, boot the computer in Safe Mode with Networking and choose to login into Windows using a user account with Administrator permission. You can then update the detection signature while in safe mode, and allow MBAM to access files or processes that requires administrator account or elevated user account access.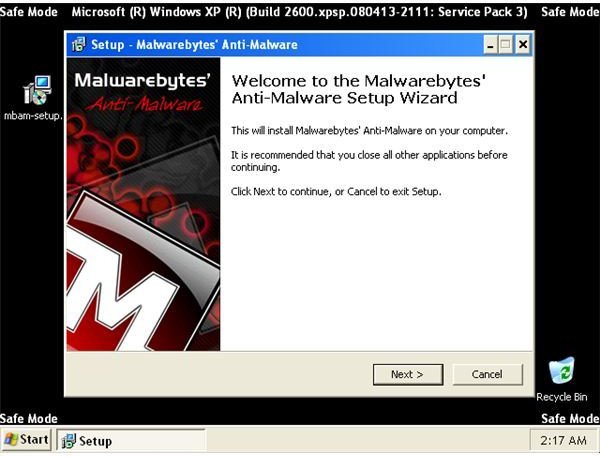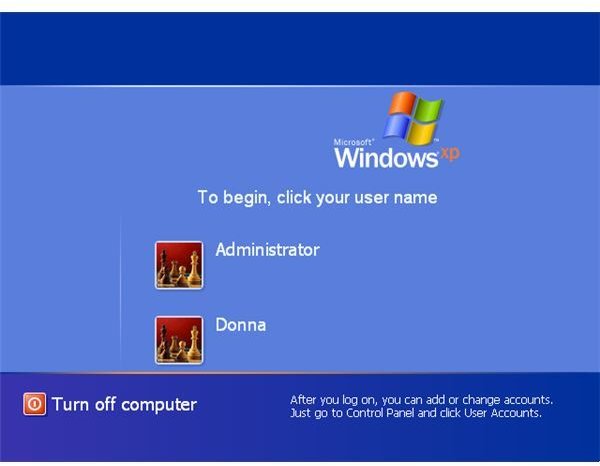 After the install process, allow the installer to update and open Malwarebytes and it should be updated properly if you booted to safe mode with networking: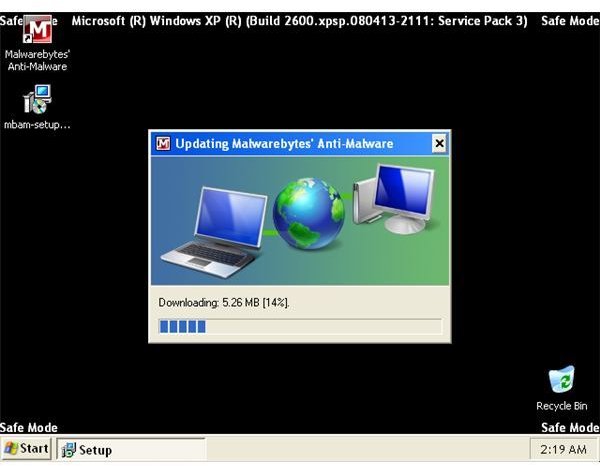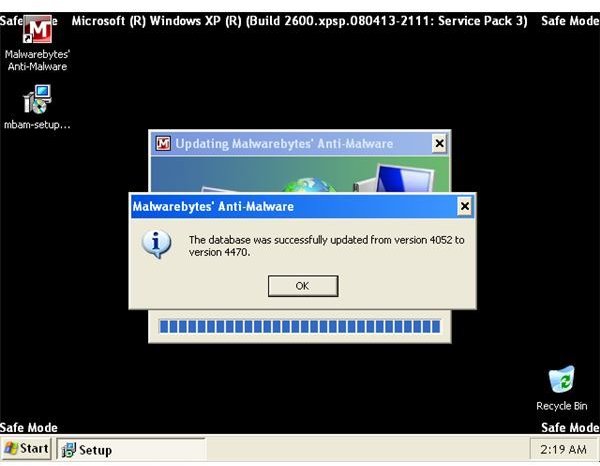 The program of Malwarebytes will open and you can start using it to fix viruses, Trojans, spyware, worms or other types of malware infections.
Removing Infections in Safe Mode Using Malwarebytes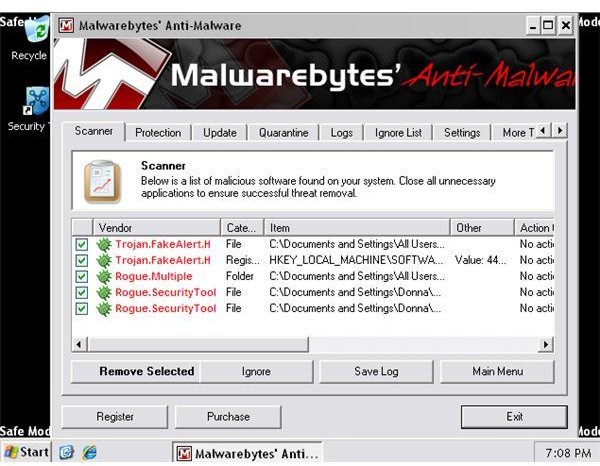 Some persistent malware or rogue programs prevent antivirus, antispyware or other applications in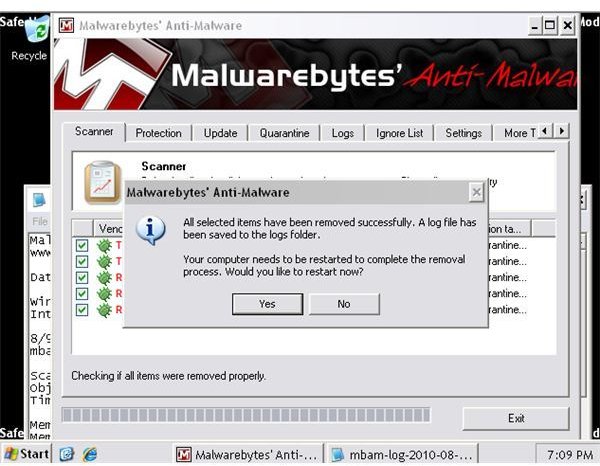 Windows to open. The important utilities in Windows are blocked by malware when opening the Task Manager, Registry Editor, and System Configuration utility (MSCONFIG). Standalone tools such as rkill or Process Explorer might not work, if the rogue or malware is new or a variant.
If you experience any of the above scenarios, you can start the computer in Safe Mode with Networking and proceed to run a Malwarebytes safe mode scan. An example screenshot at the left shows MBAM will be able to scan the computer and detects malware or rogue software like the Security Tool rogue program. And the image at the right proves that MBAM will be able to remove detected threats in Windows.
When you have finished cleaning the computer using Malwarebytes Anti-Malware in Safe Mode, it's recommended to run another scan in the normal mode of Windows. This will verify that all known infections or malware traces are detected or removed. Do not forget to allow MBAM to perform an update using the built-in updater or by manually updating MBAM, before running a quick or full system scan. If you have a registered version of MBAM, you have the option to run a Flash scan.
Screenshots taken by the author.