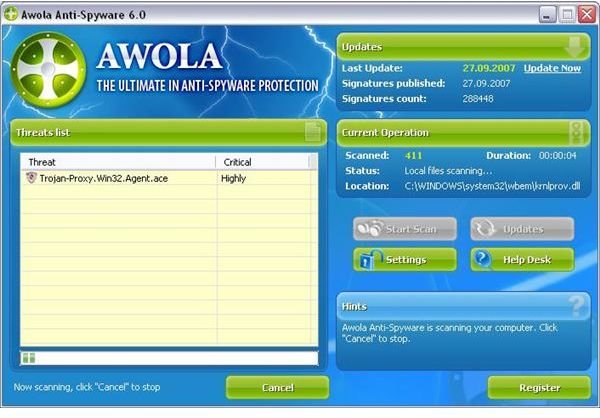 Awola is yet another spyware program that behaves like any other legitimate anti-spyware program but infects your computer system with many other malicious programs. Awola spyware works similar to other rogue anti-spyware programs that periodically performs a full scan of your computer system and eventually generates a false error report. The main objective of such scareware is to trick the user into buying the full version of the program and stealing their financial information.
Just like any other spyware removal process, you can remove Awola spyware from your computer system, either manually or automatically with the help of a tool. Below you can find the Awola spyware removal guide.
NOTE: Although it is easy to remove such programs manually from the system, be careful, if the program is not completely removed from the system it might creep in again. Malware programs are capable of repairing themselves, if all the files are not removed. Also, you need to be careful while performing a manual removal of spyware programs, as deletion of the wrong files or entries in the registry might damage the computer's operating system.
Manual Removal Process
Step 1: As a first step, you need to end the Awola spyware process running on your computer system. In order to do so, press Ctrl + Alt + Del keys together to open up Task Manager Window. In the Task Manager window, find these processes and kill the same by clicking the End Process button.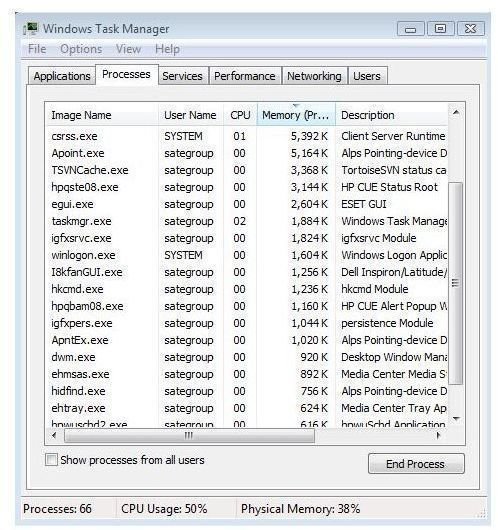 lbqhb.exe, Awola.exe, rpwoe.exe, setupr6jiw6iq[1].exe and atofs.exe
Step 2: Now, using the windows search utility, find and remove these files from your computer system. If you are unable to delete any of the files, reboot your computer in safe mode and then repeat Step 1.
Awola.exe, rpwoe.exe, Awola6.exe, Awola Anti-Spyware 6.0.lnk, setupr6jiw6iq[1].exe, atofs.exe, Uninstall Awola Anti-Spyware 6.0.lnk, Awola001.bas
Also, remove all the directories named Awola.
Step 3: The final step is to remove the Awola entries from the registry. Press Windows + R key to open Run window. In Run window, type regedit and press Enter key. A Registry Editor window will appear.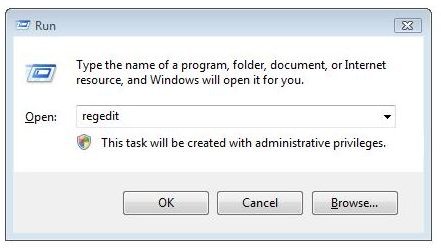 In the Registry Editor window, look for the following leys and delete each one of them either by pressing the Delete key or by right clicking on the key and then selecting Delete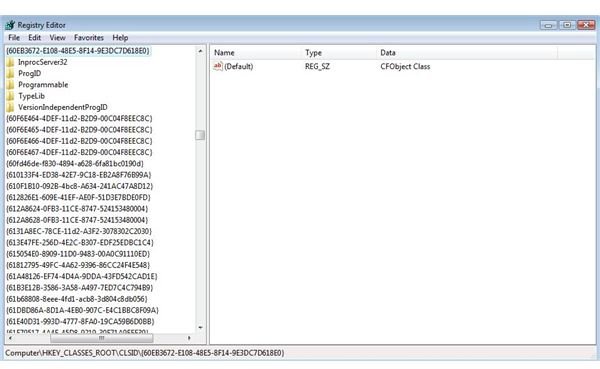 Refer to image for registry entries

Automatic Removal Process
In order to remove all the traces of the Awola spyware from your computer system, you need to scan your computer system with an anti-spyware or anti-malware tool. The best tool known for this purpose is MalwareBytes Anti-Malware. For more information on how to remove spyware and other malwares from your system, follow this guide: How to use MalwareBytes Anti-Malware?
References
Image Credits:

Microsoft Windows application screenshots by Microsoft

Awola Spyware Application Screenshot by Awola

Author's Own Experience