Maintain Your Computer by Checking for and Installing Updates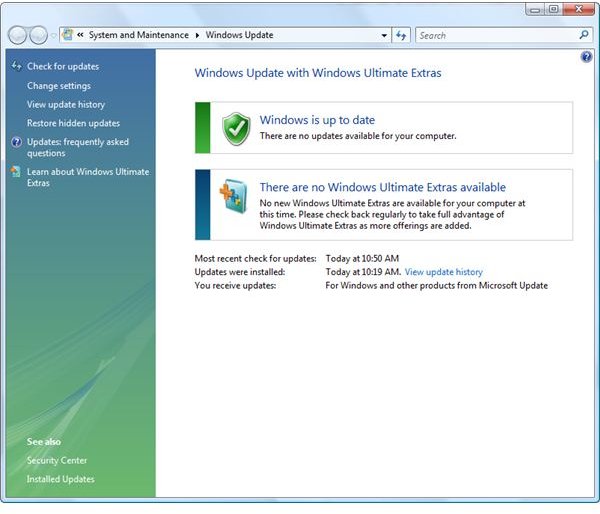 Checking for updates is a task for every computer user. Updating a computer is done by configuring the program or software to automatically or manually checking for updates. Some software will automatically download an update or install when the download is finished. Other programs will prompt or remind you when an update is available. Any method of checking and installing for updates will help protect the computer and keep your data secure.
Types of Updates to Check or Install
Updates for Windows or any software in general are created to improve the program or fix known issues or bugs. Some updates are called "security updates" while others are "program fixes or improvements." It is important to take action when a security update is available to prevent data loss, identity theft, and malware infection.
How to Check for Updates
If you are using Windows 7 or Vista, the Windows Update program is on your computer. This program will connect to Microsoft's servers to look for necessary updates for your computer:
When Windows Updates program finds available updates, you have the option to review and choose what to install: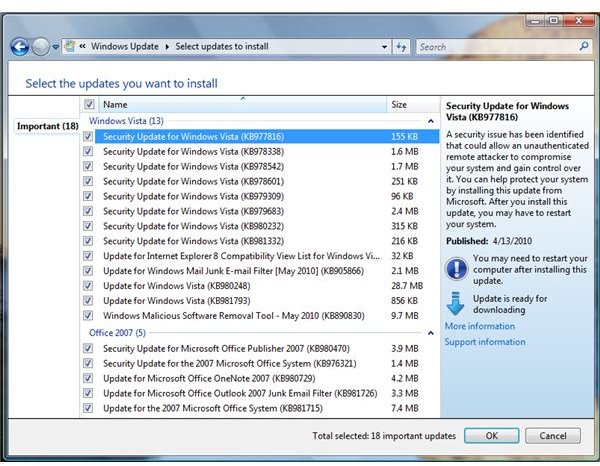 Some computer users are confident enough to install all updates without de-selecting any available updates. They are confident because they have created a restore point and have ensured that System Restore is running properly. Other PC users create a system back-up before applying security updates. If you prefer to install updates for Windows only or Office products only, simply click on the separator (the line with an arrow between updates for Windows and Office program or the line on top of each product category). Clicking the separator will automatically highlight or select all available updates of the said chosen category. Next, click one of the boxes in the selected updates to automatically de-select all items: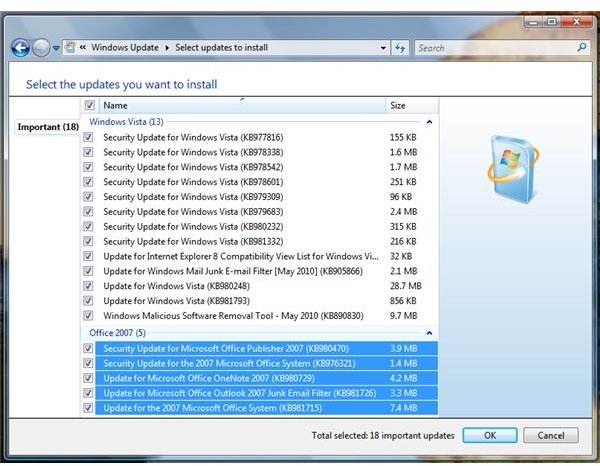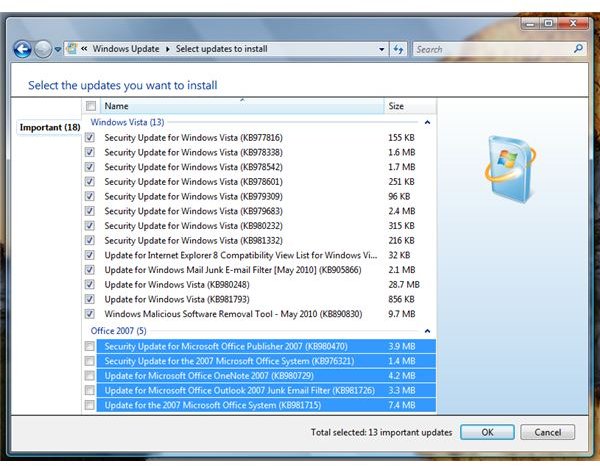 Windows Update Settings
Like any other program, the Windows Update program has settings. Below are the available settings in using Windows Update to check and install for updates: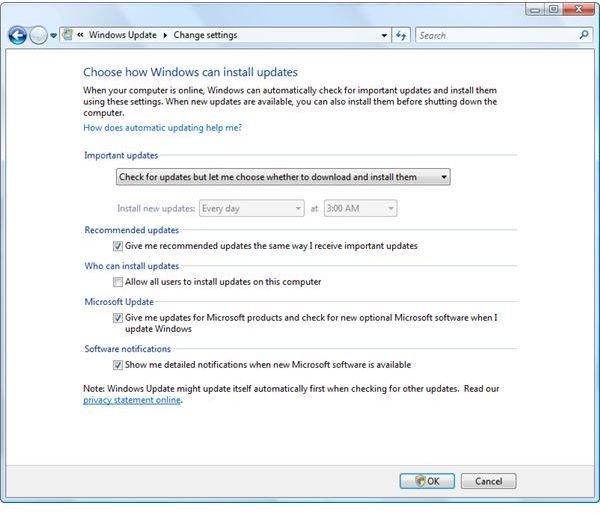 Checking Updates for Windows programs
Most of us have installed third-party software in Windows (computer software that is installed in Windows by default but you've download from a website). The third-party software is not monitored for updates by Windows Update program in Vista, Windows 7, or the Microsoft Update website. You need to update such programs by using the built-in updater, if available, or manually check for updates using the program or by visiting the vendors' website. If you've installed more than ten programs, you will find it a task in looking for updates for every program on your computer! Luckily, there are tools to scan the computer for missing or available updates in Windows and third-party software:
Secunia Online Software Inspector (OSI) and Secunia Personal Software Inspector (PSI)
If you frequent security discussion forums, newsgroup or download sites, you will find "Updates forum" and "Updates list" that lists available updates that the community has found: