Top Laptop Security Software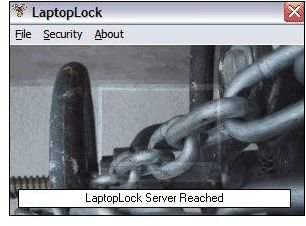 Laptop Security Awareness
Here are a few laptop security best practices to follow…
Upon receiving a laptop: Ensure you write down the make, model, and serial number of the laptop in case the laptop is lost or stolen.
Safeguard a laptop by ensuring you do the following…
Avoid leaving an unsecured notebook unattended. Possible Solutions: take it with you, or lock it up!
Lock your laptop when it is no longer in use or if you need to leave it. A possible solution: use a cable lock.
Buy/Download a laptop alarm. Have an alarm emit a sound when the laptop is shutdown or the power cable is unplugged.
Look out for any eavesdroppers overlooking your work on the laptop. A possible solution: use privacy filters.
Keep a laptop inconspicuous. Possible solution: cover the laptop when carrying it around by using a laptop carrying case.
Attention users: Secure and protect personal data and information on a laptop by ensuring you do the following…
use a complex password, and change it regularly, too
use encryption
use a firewall
use an anti-malware, anti-spyware, anti-spam, and/or anti-virus program
use a virtual private network (VPN) connection
Secure a Laptop with one of these Applications
The most effective way to have a secure laptop is with security software. With that said, here are a few of the recommendations consumers reveal for what applications to buy or download to secure a laptop…
SafeBoot Device Encryption / Endpoint Encryption (a McAfee product) provides full disk data encryption and user authentication for laptops (for free). It will encrypt a machine's hard disk and modify the master boot record so that the machine requests a log-on name and password. Note: all current SafeBoot product documentation is located on the McAfee

ServicePortal. Logon is required.

LaptopLock (is free tool for now) that helps protect the data in a laptop if it is stolen. It also helps out in the recovery process by verifying the identity of a user once it connects to the Internet. Note: Free tools, like LaptopLock, can be used to register your laptops and can then remotely delete files or encrypt and disable the machine. LaptopLock is compatible with the following Windows platforms: Windows 2000/XP/Vista. Latest software is version .94. Also worth nothing is the fact that users must install the LaptopLock agent and sign up for a free account to register their laptop and use LaptopLock.

Lockdown comes from the already popular software iAlertU, which is a free anti-theft security application system for Mac that has an alarm (like an iAlertU user-interface feature) and a security camera (iSight user-interface feature) for your laptop. Note: Users can customize its detection features by activating their computer's motion-sensors, keyboard-sensors, external device sensors, etc.

Laptop Cop helps track down a lost or stolen laptop. Once the software has been installed, it gives remote access to a laptop if it is to be lost or stolen. All it takes is for a user to login to his or her Laptop Cop account to be able to trace the laptop whereabouts, or take direct control of the laptop and monitor all of the thief's computer activities. "Laptop Cops latest feature now will even GeoLocate your laptop so recovery can be made by authorities." [1] It's available at its Web site for $49.95 for a 1 year license and $99 for a 3 year license.
To receive more information on each laptop application, here are their links:
What is the Best Laptop Security Product?

Computrace LoJack for Laptops (by Absolute Software) tracks lost and stolen computers with its embedded agent that automatically informs a tracking center. LoJack's tracking system helps users to keep tabs on the physical whereabouts of their laptop in the event of theft or accidental loss. LoJack is great to catch laptop thieves. It's available for both Windows and Mac for $39.99 (the Standard Edition) and $59.99 for the Premium Edition.
It is the product in the spotlight today! "[It] gives you the power to remotely locate, lock and delete the data on your computer before it falls into the wrong hands. Most powerful of all, only LoJack for Laptops has a dedicated Theft Recovery Team that works with local law enforcement to recover your stolen laptop and return it to you." [2]
Why LoJack? It not only specializes in software, but it also has services that provide an easy way to manage and secure a laptop.
References
Read More About It In BH:
[1] Laptop Security Software - Laptop security software and laptop security devices reviews
[2] Absolute Software - LoJack for Laptops (Features & Benefits)
Image: Absolute Software - LoJack
Image: PCMag - 10 Laptop Security Products: LaptopLock