Advantages and Disadvantages in Deleting Internet Cookies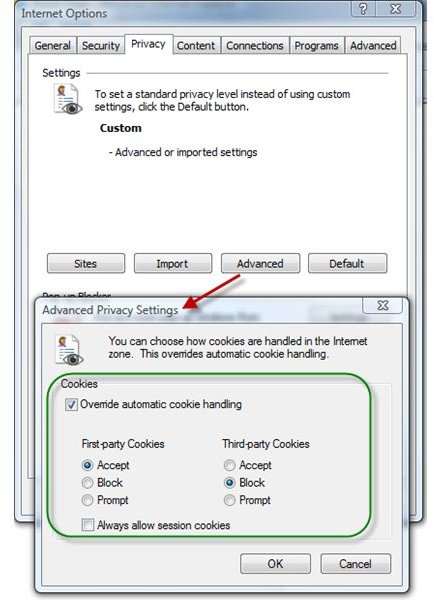 A browser or Internet cookie is a text file only, containing some information about your computer. Some information on Internet cookies might contain the following:
Your IP address
Domains that you have used to connect
Type of browser you used
A unique session identifier sent by a web server
Cookies are not a virus or malware, but they can be used for tracking your Internet activity. There are two types of cookies that you can control– session and persistent cookies. If you enable your browser to allow session cookies, the browser will keep the Internet cookies only while the browser is open. A persistent cookie will remain in your computer even after you've closed the browser. Some end-users delete Internet cookies to keep their information private from any prying eyes on the Internet. It is safe to delete browser cookies, but there are pros and cons involved.
Enabling browser cookies allow you to save your selections or personal preferences while viewing a web site that require a cookie, e.g. shopping carts, forums, blogs, chat rooms, or home pages for specific websites. If you delete Internet or browser cookies for privacy reasons, or if you simply want to clean up the computer's temporary Internet files including cookies, you will not be able to view your personal messages in a forum. The topics that you've seen before will not be mark as already read by you, but will be displayed as new or active topics again. If you want to post comments or ask questions in forums or any discussion forums or newsgroup, you won't be able to post unless you allow the browser to store an Internet cookie for a specific website. If you are using a web-based e-mail service such as Yahoo, Windows Live or Hotmail or using social networking services like Twitter, MySpace, Facebook, Friendster or LinkedIn, you will not be able to read or send messages unless you log in.
Most browsers provide a cookie manager allowing you to control what cookies are to be stored. You should consider only allowing cookies of a website that you trust. To prevent other websites in collecting or spying on your cookies, configure the browser to block third-party cookies:
You can ask the browser to prompt you before storing any cookies, but this option is useless, if you often clean-up your cookies for privacy reason. There are third-party utilities that you can use to manage Internet cookies: Karen's Cookie Viewer, Extended Cookie Manager for Firefox, etc.
If you come across a website where you don't use a service, e.g. an account is not required to read or view contents, but it will not let you download a file or view any content, you might need to configure the browser to allow session cookies. The Internet cookies will be deleted when you close the browser. For more browsing privacy, you can use the Private Browsing feature in Firefox or the inPrivate Browsing feature in IE. Check out also the article on How to Browse the Web Anonymously for Free if you are concerned about Internet privacy and Internet cookies.