Security Software Review - IObit Malware Fighter for Windows PC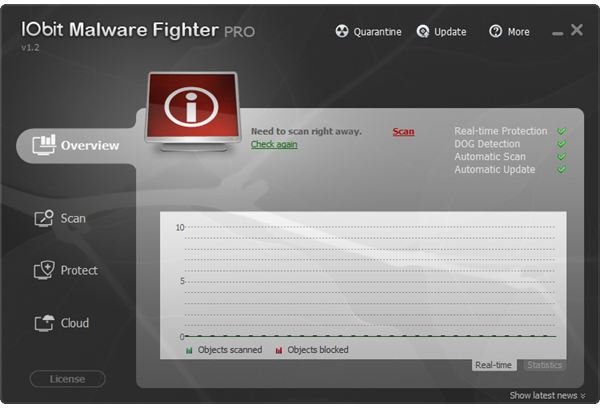 Malware Protection and Removal
There are many free anti-malware programs that offer free scanning and removal of malware, hijackers, computer worms, Trojans, spyware rootkits and viruses, but only a few will provide free real-time protection. IObit Malware Fighter is one of those few that is supposed to stop the malware before it gets onto your system and it can be installed in a Windows PC to complement the protection offered by your antivirus software. Unfortunately, it doesn't work as well as expected.
System Requirements and Installation (1 out of 5)
Malware Fighter runs on Windows 7, Vista, and XP operating systems. It can also run in Windows 8 Beta and the unsupported Windows 2000 OS. IObit provides two editions of the anti-malware - a free and pro edition. There is only one installer from the vendor's website, which means that licensed users will simply upgrade from the free edition by entering the license code and activating it online.
The installer is packaged with the IObit toolbar, but it is not required to continue using the anti-malware program. Most people don't like to see a toolbar installer on any software and it's really odd that several security software vendors continue to pack their software with unnecessary software.
I found issues during the install process of Malware Fighter in a Vista computer. It will appear to be installed, but the program will not open. A PC reboot did not help to launch Malware Fighter's user interface. The notification area in Windows shows the program has started, but attempts to open it continue to fail. I have also tried to open the program's UI by browsing for IMF.exe in its program directory, but that didn't help, either. When I tried using the debug installer version of Malware Fighter installer, the problem didn't occur.
Features and Performance (3 out of 5)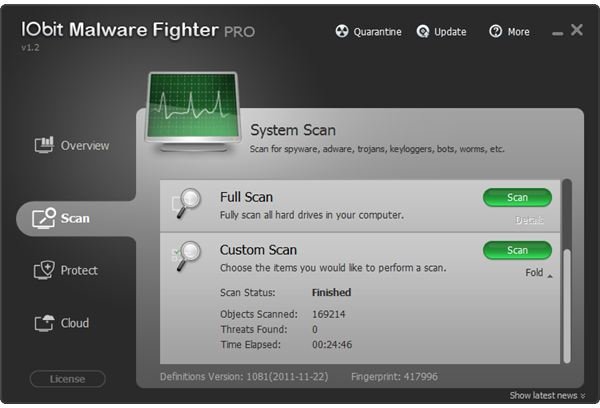 You will be able to take advantage of the following features and options in using IObit Malware Fighter:
Real-time protection for startup items, browser settings, file guard, network protection and cookie guard. The licensed users of Malware Fighter have USB disk guard, process guard and malicious activity guard.
The program uses a heuristic technology, Digital Original Gene (DOG), to determine the risk status of a program.
A full system scan in addition to single file, smart and custom scanning is included in the free and Pro editions.
An ignore list manager, quarantine manager and scheduler to scan and update is included. However, only Pro users will be able to use the scheduler options.
You can adjust the UI's transparency in computers with Aero features enabled.
Suspicious files can be uploaded in the cloud, allowing IObit server analyzed the file.
The program does not include an option to manually add or browse for folders or drives to exclude during a scan or to protect. Also, it will not register itself to Windows Security Center or Windows Action Center in Vista or Windows 7.
A full system scan can finish in less than 30 minutes while a smart scan finished in 3 minutes. I noticed that the mouse didn't respond normally when the scanner was running. The program will use up to 38 MB of memory during a scan, but you can adjust the scan priority in the program's settings. Reducing the priority scan activity will reduce the memory usage, but the scanning time will take longer.
Malware Protection (1 out of 5)
To find out if Malware Fighter free or Pro will be able to protect a computer from malware, I transferred 25 malware files onto the local drive. The real-time protection by both editions failed to catch even a single infected file during the transfer.
The next step I've done in this review is to run an on-demand scan of the folder that contained the 25 malware files. Both the Pro and free versions of this software were only able to detect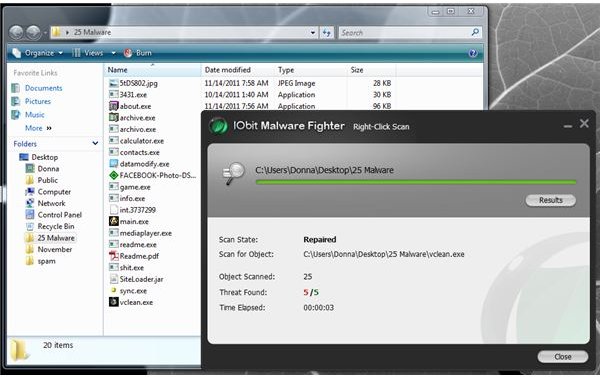 The last step is to determine if the program will be able to prevent or detect an active malware. I executed the remaining 20 malware to infect a test computer, but this software only prevented 4 out of the 20 active malware in real-time. The test computer then became infected with different malware including a nasty Autorun worm. Below are some of the screenshots that will show how an active malware continues to download or install additional malicious files, but Malware Fighter Pro failed to block or even display an alert.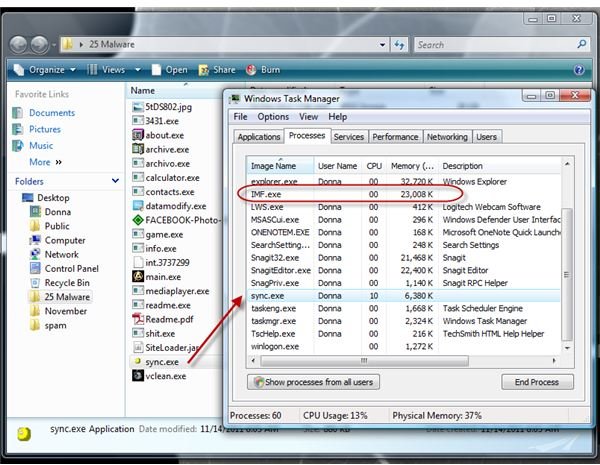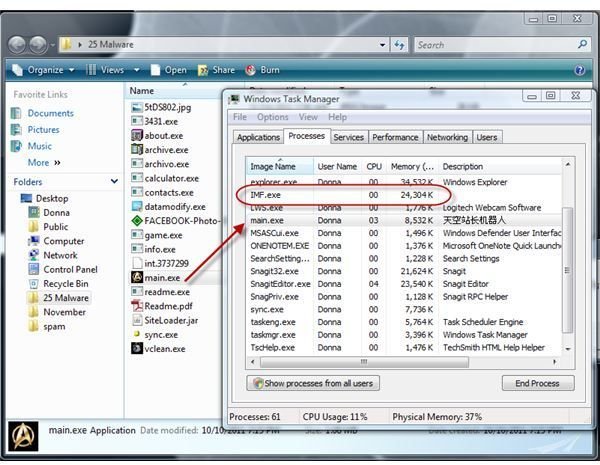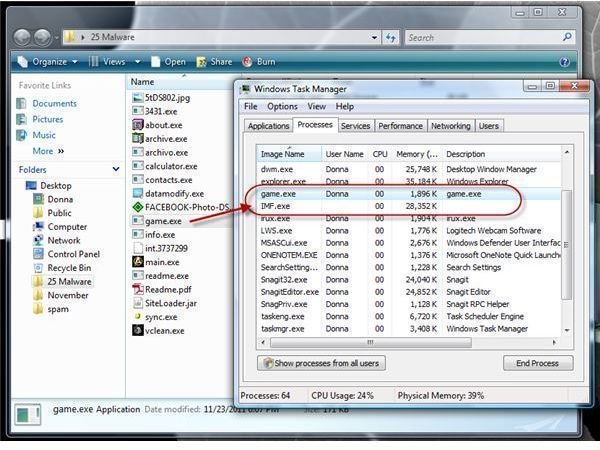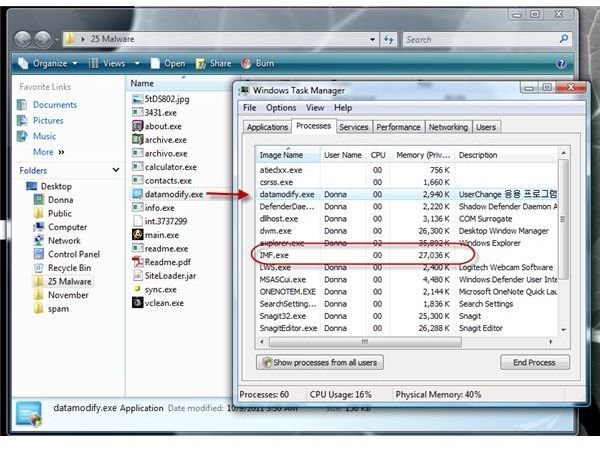 Price to Value (2 out of 5)
At $19.95, Malware Fighter Pro isn't worth buying because it's not good enough when protecting a computer from new and advanced malware. Fortunately there is a free edition that you can try before you buy.
The Bottom Line
Malware Fighter Pro is not recommended to use due to its poor performance in malware prevention and protection. You cannot depend on securing your computer with this program until it has received several anti-malware definition updates and if the heuristic technology has been improved to detect malicious activities in real-time. Instead, I recommend that you try using Malwarebytes Anti-Malware Pro to complement the protection offered by your antivirus program.
References