Vipre Antivirus Antispyware Review 2011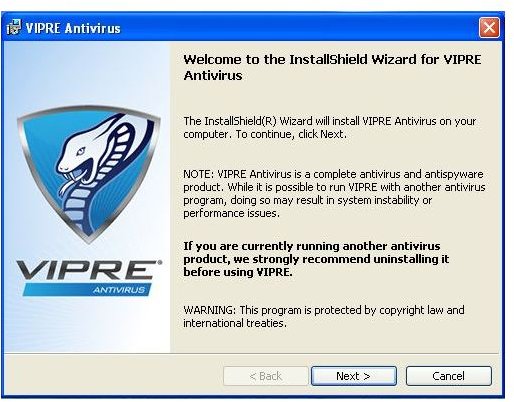 Overview and Features
Vipre Antivirus + Spyware 2011 is the basic version of Vipre Antivirus. The tool includes malware and virus scanners and everything you'd expect from an anti-malware application such as scheduled scans, black lists and white lists. A few other bonus utilities are included but one of the big notes of interest is Vipre's new licensing scheme for definition updates. For an in depth review of Vipre's premium product, take a look at Donna Buenaventura's review of Vipre Antivirus Premium. Before we get into licensing, let's dive into installation, usage and performance.
Installation
The Vipre Antivirus install package comes in a single 13MB file – quite reasonable compared to today's regularly bloated applications. The installation was quick and intuitive requiring only a few button clicks to fully install (figure 1).
After a quick reboot, the setup wizard walks you through setting up Email Protection and ThreatNet. Email Protection scans all incoming and outgoing email looking for malicious attachments. It's a nice feature to have to ensure your computer is protected from malicious attachments.
ThreatNet is a community of Counterspy and Vipre users that manually or automatically upload malicious risk information to Sunbelt. For example, when Vipre's active protection detects a risk that hasn't previously been cataloged it will send specific data to Vipre's engineers for analysis and inclusion into new definition updates.
After the setup wizard completes, Vipre will download the latest virus definitions and open the main application interface.
User Interface
Vipre's main user interface is basic but functional. Large icons note whether or not there are issues by denoting each status with a green check mark or a red 'X'. As you can see in figure 2, I haven't yet completed a system scan.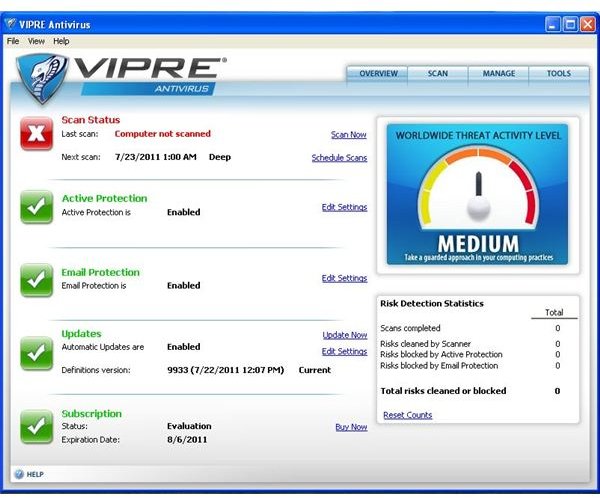 Users can click on the blue links next to each status area or the buttons along the top of the application to initiate scans, manage Vipre or utilize some of the built in tools.
System scans can be run as either a quick scan or a deep scan. The quick scan on my test computer ran pretty quickly - only taking about 2 minutes to complete. As you can see in figure 3, if any risks are found you have several options for handling them. You can choose to have the system take a recommended action, quarantine the files, remove them, allow once or always allow. This gives you the flexibility to manage 'risks' on your terms instead of being forced to delete something the antivirus vendor deems a risk.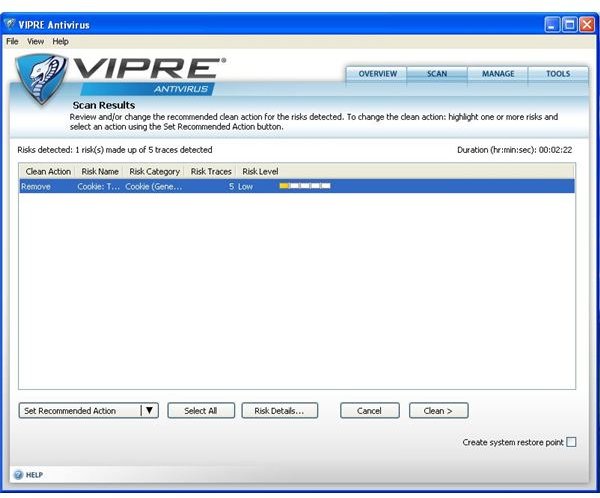 Clicking on the Risk Details button will give you an explanation as to why Vipre thinks it's a risk along with a list of files noted as part of the risk (figure 4).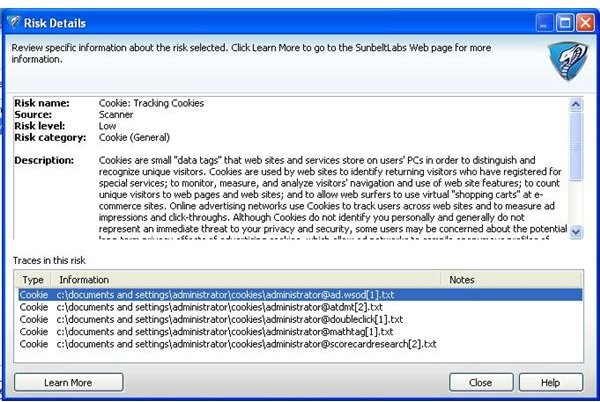 The management tab allows you to view your scan history, manage your quarantine, black list or white list applications and manage your scan schedules (figure 5). Everything was pretty self explanatory and I found that it wasn't necessary to fiddle around with the default settings. By default, deep scans are scheduled to run every day at 1am. This can easily be changed to better suit your schedule if so desired.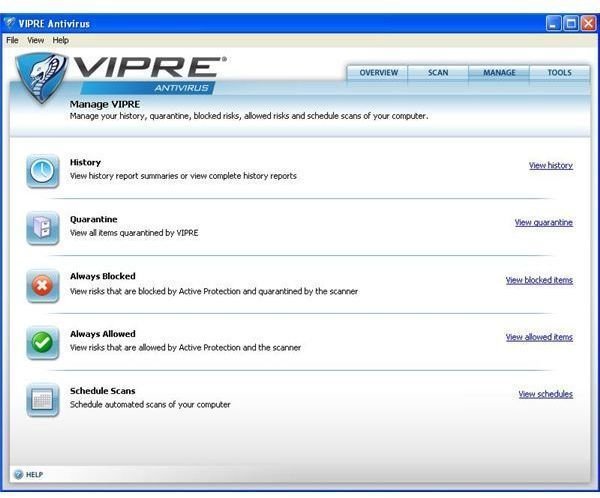 The Tools tab gives three options – secure eraser, history cleaner and PC explorer (figure 6). Secure eraser adds a new item to your right-click menu allowing you to securely delete files. It's a nice feature to have but without any kind of configuration or advanced features, you'll find there are better secure erase tools out there. Take a look at Donna Buenaventura's article on the best free secure delete applications to learn more.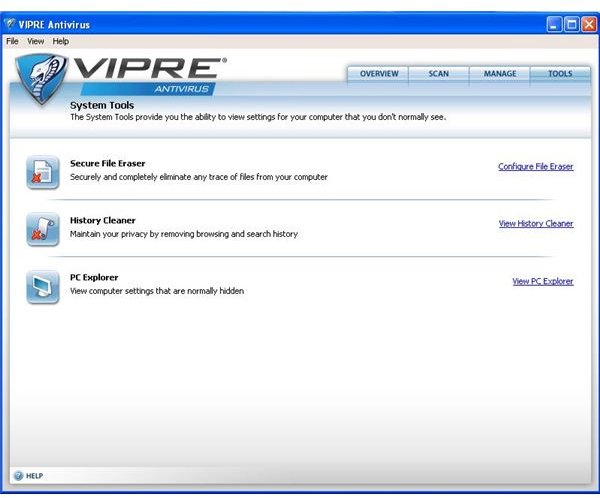 The second tool offered is the history cleaner. This utility is able to delete tracking history or recently used documents lists from many different applications including web browsers, Adobe Acrobat applications and Microsoft Office. It's a neat idea, but I'm not sure how useful it would be. I do have to wonder about long term support of this utility as many of the supported applications are older versions. For example, only Office 2000 through Office 2007 was supported. It's a free tool to use, but feels half-hearted.
The third tool, PC explorer, gives you easy access to various 'hidden' files and settings such as the Windows Hosts file, Internet Explorer plugins and Browser Helper Objects. Granted many of these things can be found on your own by digging in to difference applications, but I found it useful to have these all in a single place.
Performance
When looking at antivirus performance, there are a few things to consider - active protection statistics, scan time, and CPU and memory usage.
Active protection protects you from accessing malicious websites and potentially infecting your computer. Active protection only uses about 10MB of memory, which is pretty impressive. I didn't notice any significant slowdown in using my computer over the course of a few days. As with any antivirus application, Vipre scans files that are accessed so if you do a lot of file work - zipping or unzipping files or otherwise moving a large number - in the thousands - you may want to exclude certain directories from getting scanned. Unfortunately, I wasn't able to figure out any way of setting up directory exclusions on scheduled scans. Manually initiated scans can set up exclusions. Most applications - including Vipre's Enterprise product allows you to specify locations not to scan. In an otherwise fine application, this seems like a major oversight.
Scan performance is pretty good. Vipre touts their scanner as being one of the fastest out there and from what I've seen I tend to agree. Scans use a bit more memory versus active protection - about 30MB while running a scan. CPU usage goes to about 30% on an Intel Core 2 Duo processor while running a scan. Both of these low numbers may not mean a lot to you, but in terms of performance this is good. Unless you are taxing your computer's performance by playing graphics heavy games you shouldn't notice any degradation in performance during a scan.
One thing I noticed was that in order to maximize performance, I recommend closing the graphical user interface when running a scan. Keeping it open uses extra memory and a small amount of extra CPU cycles. Again, performance is impressive considering how much some anti malware applications bog down your computer. I've seen some applications use upwards of 100MB of memory just running active protection so Vipre's 10MB is a small feat.
Pricing and Overall Score (5 out of 5)
GFI sells Vipre with several options. A traditional single PC license with one year of subscription updates runs about $30. You can increase the number of PCs licensed and alter the length of the subscription as well. This price falls in line with several other inexpensive solutions. For a full round up of inexpensive antivirus software, check out Donna Buenaventura's roundup.
One interesting thing is that GFI now offers a 'PC lifetime' option for subscription updates so you won't need to purchase additional updates for the life of your PC. The lifetime option and license for a single computer is $89.95. Considering a yearly renewal for one PC runs $30, if you think you'll have your PC for more than 3 years the lifetime option may be a good way to go. Also, if you have more than 3 machines, the cost is significantly discounted to $129.95 for home use of up to ten PCs.
The lifetime option does require you to purchase a new license if you purchase a new computer or replace an existing computer. GFI seems to be making an effort to keep customers happy by allowing you to reinstall the software on your computer if a motherboard or other major component malfunctions. They also allow unlimited installs on the same computer making it handy for users that like to reformat their computers every so often. It's an interesting concept and if you do have more than a few computers, it makes for a very attractive package at a great price point.
Overall I'm most impressed with Vipre's user friendly, no-frill user interface and minimal impact on computing resources when running scans. The bonus utilities – although not terribly useful, are just that – bonuses. Some users may find this handy as it eliminates the need to go out and find separate applications for some commonly used functionality. Also, I wish Vipre offered some more advanced customization for scan options, allowing you to exclude specific directories in scheduled scans, but for the general populace, the available options will more than suffice. For these reasons, Vipre stands at or near the top of of antivirus products. Just take a look at Nicholas' article on the best antivirus and spyware programs for further confirmation.
References
Author's own experience
Vipre Antivirus website, https://www.vipreantivirus.com
Screenshots taken by the author using Vipre Antivirus + Antispyware version 4.0