Brighthub Review of Xilisoft Password Manager - Securely Protect Your Online and Offline Personal Data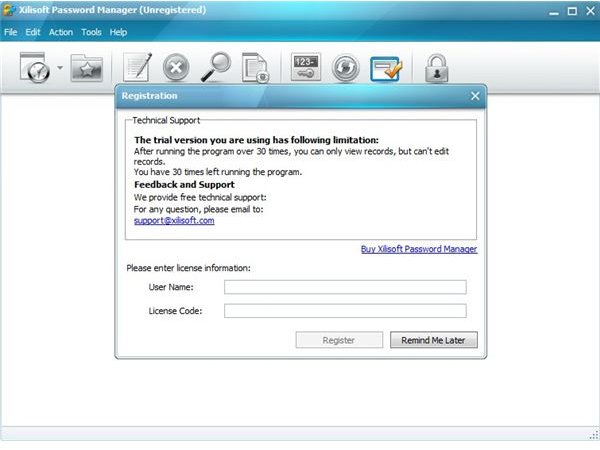 An Introduction to Xilisoft Password Manager
Password Manager by Xilisoft is a utility that allows a user to securely keep track of private information that they might require to use on a day-to-day basis. Many PC users might have a notepad that contains respective log-in details for a whole host of services – network logins, email accounts, instant messengers, even online banking; however this is clearly not a secure method of storing sensitive information.
In addition, other sensitive information might be required to be keep safeguarded, such as security and activation keys for software products; serial numbers for electronic equipment and even credit card information details of insurance policies.
With so much information floating about, it can easily become overwhelming and so easy to forget! Xilisoft's Password Manager has been designed to ease the burden of sensitive information storage.
System Requirements (5 out of 5)
Password Manager has extremely modest system requirements, requiring Windows Microsoft Windows XP (w/ SP2), Windows Vista or Windows 7. It also requires users to have a PC equipped with a minimum 512MB RAM and an Intel Pentium 4 or better or equivalent CPU. The program requires 30MB HD space for installation and a 16-bit graphics card.
Modern-day systems should easily meet the minimum required PC specification to run the program.
Installation and Setup (4 out of 5)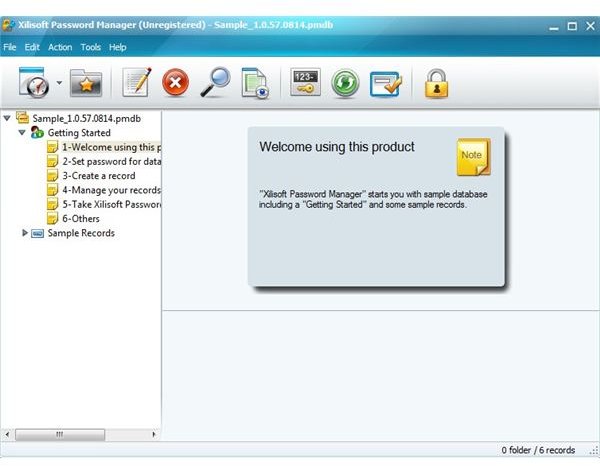 Unless purchasing the product immediately (for $29.95), Password Manager installs as a 30-use Trial. Installation is straightforward with users able to select language options and an installation path, and once the program has installed and run users can begin to set up their information database.
The installation process is quick, but does require users to reboot their system prior to use.
The program contains a sample database that users can use as a tutorial before inputting their own information into the program. The program provides a simple 6-step guide to inputting and managing user data.
User databases can be set up as an entirely new database, or it can be attached to a central server and synchronized with copies of data stored on both the server and the local system. Once a database has been created, users can browse their system and define the path where their database will stored, as well as name the database for easy recognition later.
Personal Data Security (4 out of 5)
When a user creates a custom database for their own information, they are given the opportunity to select and set security to prevent unauthorized access to their data. The software provides three levels of security:
Via Password: Users can define a database security access password – the software will give a rating as to the security of the chosen password: Low, General, Secure, Top.
Via USB Stick: Users can have the software write a file to a USB stick that acts like a fingerprint. Users are required to attach the USB stick whenever they need to access data.
Via Hybrid: For increased security of user's data, the system allows both password and USB stick to be used in tandem. Users will be required to have the USB stick attached to their system and also to input the database password.
Once created, individual records can also be password-protected to create a further layer of security.
Interface and Features (4 out of 5)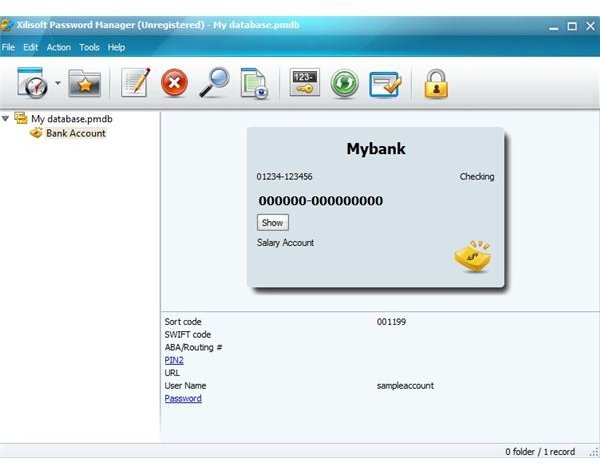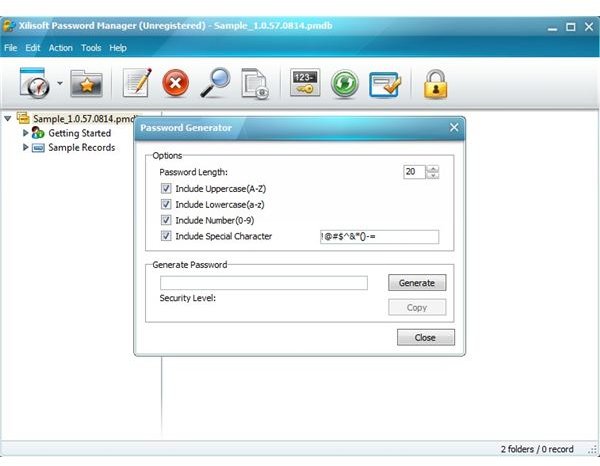 The software interface is intuitive and easy to use. Clicking on the 'clock' icon opens the 'New Record' window and from here users can select the type of record they want to create and enter all associated information. The software has entries for 30 types of data record, covering both online and offline data. Custom fields can be added for additional information and sorted in order of importance.
From the interface, users can edit data, search for specific keywords, generate secure passwords for new services and if applicable synchronize the database to a central server. The interface can also be locked during periods that the user is away from their PC. When unlocked, the user is prompted to re-enter security details.
In addition to standard features, Password Manager can use the data stored within the database to auto-complete online forms, such as bank login details, email passwords and such.
Groups of similar items of data can be grouped together into 'Favorites' making accessibility easier for specific items. Want all your software keys together? Set up a 'favorites' and simply put all your software key entries into it.
Password Manager can also be stored directly on a USB stick so data can be accessible from any computer, and databases can be created for multiple users. Password modification history can easily been viewed and old passwords retrieved.
Ease of Use (4 out of 5)
When first loaded, Password Manager might appear to be a complicated piece of software. Nothing could be farther from the truth; users will very quickly learn how to create and edit databases, and add in their relevant personal details.
Depending on the amount of data a user needs to – or wants to – store in their database, they could easily be up and running and all data entered in less than one hour.
Discovering where each of the program's sub-functions resides, such as password-protecting specific database entries - for example credit card details - often involves following quite extensive branches and could perhaps be better sign-posted, or made available on a right-click menu.
Trial Period and Pricing (4 out of 5)
If you want to try before buying, the trial version is good for 30 uses and unlike some trials offers full, unrestricted access to all the software's features. Once the program has been opened 30 times, editing and creation of new records is disabled and users can only view existing records. The software also throws up nag screens to try to get users to purchase the full version.
A lifetime license for Xilisoft Password Manager costs $29.95, and while there are undoubtedly cheaper and free password manager options available, many lack the functionality that the Xilisoft product brings to the table in this particular area.
Buying a license allows the user to free lifetime English support via email, with a response time < 24 hours, as well as free product updates.
Conclusion and Final Rating (4 out of 5)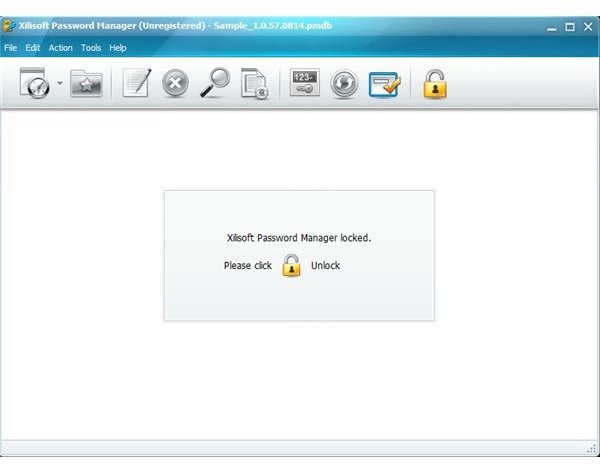 Xilisoft Password Manager is a feature-rich, easy-to-use program which provides a strong, secure repository for all your personal data. The security it affords at initial setup through password-protection and the option of a USB fingerprint should give users sufficient peace-of-mind that their data is safe from prying eyes while still being easily accessible when they need it.
In this particular arena of password protection and data management software, it might not be the cheapest product around but if you want to safeguard both your online and offline personal data in one place then this software is a solid choice for the job where free options may lack in functionality, refinement or security.
References
Xilisoft Password Manager – https://www.xilisoft.com/password-manager.html
Screenshots – Taken by author