Antivirus Shootout: Trend Micro vs. Webroot

Importance of Anti-virus Software
Today, every PC user who accesses the Internet, receives email and/or shares files with others must run reliable anti-virus and anti-spyware software [1]". To me, that is a true statement! Every computer user needs protection from the prevalent computer security threats in the wild. Viruses, for example, are threats that can damage or delete data stored in a computer, so to prevent it from being infected, users must acquire an anti-virus program to detect and remove specific viruses. To sum up, to help keep your PC running virus-free, it is important to stop malicious threats before it reaches your computer.
To stay safe from virus attacks, update your anti-virus package regularly to ensure it stays effective against new threats.
Tip: Use an anti-virus program that has a "Live Update" feature built into the software_._
Here are five preventative safety measures to avoid viruses…
Scan all email attachments.
Do not open a link that's included in Instant messaging (IM) if you aren't familiar with the person who sent it.
Do not click on pop-up windows as they can infect your computer.
Change your Web browser security settings.
Note: The next sections covers two of the top ant-virus products on the market: Trend Micro Titanium Antivirus + and Webroot AntiVirus 2011. Find their features below including the pros and cons, and learn what consumers are buying.
Security Features
Trend Micro is equipped to protect a computer from a number of virus threats. It is an effective anti-virus solution, able to scan for threats in real time, but does lack some of the advanced tools that other competitors and Webroot include, such as…
Blocking browser exploits and protects against infected Web sites
Protecting computers from peer-to-peer (P2P) file sharing invites
It does, however, cost only $39.95 and makes a user's computer more secure by updating virus definitions every hour. Overall, it is good anti-virus solution, but it does not compare to Webroot's great antivirus protection.
Webroot offers a perfect virus/spyware combo for home and home office users by its latest software, Webroot Antivirus 2011, which has effective protection against viruses and spyware. It includes several integrated features that add security benefits. Armed with award-winning proactive technology provided by Sophos and Spy Sweeper, it can help stop new security threats. It is a valuable solution (only $39.95) and a reliable, easy-to-use PC protective tool for any Windows (7, Vista, and XP) platform user.
Note: To receive 50% off the price of both packages, shop at https://www.offers.com/antivirus/.
Pros and Cons
**
Trend Micro
PROs: Has automated scans. Able to provide up-to-date protection. It includes signature-based security and features cloud security for real-time protection. In addition, it offers protection against spyware and Trojans. Furthermore, it Includes Spam blocking and customizable parental controls.

CONs: It does not have the complete coverage as other multi-layered antivirus products (like Webroot). For example, it does not include parental controls, mobile device protection, or wireless network scanning. It checks for malware at many levels, but is not able to block and remove most of these type of threats.
Note: For Macintosh users, there is an anti-virus tool available from this developer called the Trend Micro Security for Mac (TMSM).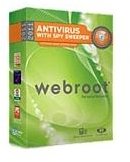 Webroot
PROs: It comes with zero-hour protection and Webroot VersionGuard so a user's PC is always protected. Able to stop Web threats and clean infections. Provides protection against viruses, worms and rootkits, as well as blocks spyware, adware, Trojans, and keyloggers. It even offers online threat protection for gamers. Furthermore, it is a very effective malware blocking and cleanup tool.

CONs: It lacks a battery saving mode and rescue CD. Taking care of the malware all on its own, it may take hours to clean some malware-infested systems.
The verdict: You will get a better overall protection from Webroot. Besides, it can also scan for viruses much faster than Trend Micro during a full scan. Again, Trend Micro losses in a showdown (as shown in the comparison to Norton AntiVirus).
By comparison, both pieces of software offer good security, providing antivirus protection and simple usability. When on the Internet, each program automatically updates itself and its virus definition files regularly. But, Webroot is the superior product! According to TopTenREVIEWS, Webroot is among the best security applications out on the market today. It got their Bronze Award. Not only does it have an excellent overall rating from their review, more people are also choosing to buy it over Trend Micro.
Note: For those users looking for that extra protection, they may also be interested in the capable Webroot Internet Security Essentials suite. For mobile users, there is Webroot Mobile Security For Android ($14.99).
Source and References Section
TopTenREVIEWS' Best Antivirus Software Products
Image Credits: TopTenREVIEWS' Best Antivirus Software Products