New Free SiteAdvisor Live Review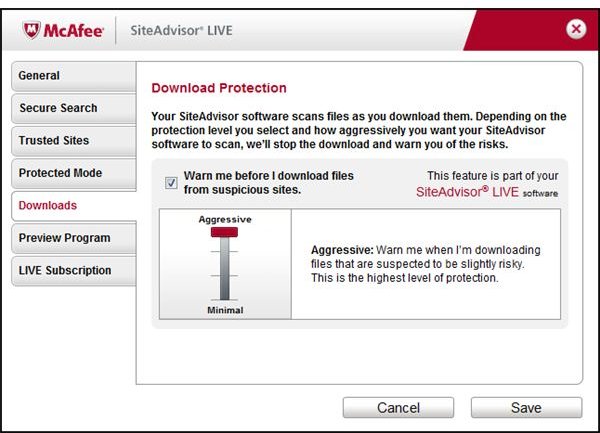 McAfee SiteAdvisor Live
The commercial edition of McAfee SiteAdvisor has been rebranded from SiteAdvisor Plus to SiteAdvisor Live. Below are some of the features, including new functions and options in using the browser add-on to safety browse the Internet. You'll also find below how you can get McAfee SiteAdvisor Live free download and how it will perform when visiting unsafe websites or downloads.
System Requirements and Installation (4 out of 5)
SiteAdvisor Live runs on XP with Service Pack 2, Vista with Service Pack 1 and Windows 7. SiteAdvisor add-ons only support Internet Explorer and Firefox browsers. The link checker of SiteAdvisor also supports instant messaging programs by Yahoo and Microsoft and email programs such as Outlook 2003/2007/2010, Outlook Express, Windows Live Mail, Gmail, Yahoo Mail and Hotmail.
The install process of SiteAdvisor is a quick process. The program will use 6.18 MB of hard-disk space and will only add single McAfee SiteAdvisor service - mcsacore.exe that will only run whenever the browser is launched.
The only minor issue that I noticed with the installation is the add-on for Firefox does not appear unless the browser connects to a website or when you use the search bar in the browser. This issue does not occur in Internet Explorer, where the browser add-on is visible or displayed as soon as you opened IE with blank page or not.
Features and Performance (5 out of 5)
The rebranded SiteAdvisor paid edition provides the following features and options:
Safe search rating when using Google, Bing, Yahoo and other popular search engines.
Secure search - this feature is not enabled by default and not necessary to activate unless you want to add another toolbar that uses Yahoo as search provider.
Protected mode - password-protect settings of SiteAdvisor Live, unsafe downloads and visiting dangerous websites. This feature is also not enabled by default.
Trusted sites - SiteAdvisor Live lets you add websites to trust which means you are not warned anymore about the safety of its content.
Download Protection - the add-on checks for safety of files that you plan to download. There is option to adjust the sensitivity of the download protection e.g. aggressive, balanced, limited (this is the default setting) and minimal.
Built-in updater for the program - SiteAdvisor automatically updates the program and there are no options to only schedule an update, install or not to install available updates.
The display mode of SiteAdvisor Live provides options to change the display mode: compact or as browser toolbar. The image at the right is how SiteAdvisor compact view is displayed.
There is also an option to color-coded or highlight site ratings. Other neat option in using the program is to use secure connection (SSL protocol) so the connection between your computer and McAfee server is secure. SiteAdvisor only uses 3 MB of memory and does not lag the computer or other application while you browse the Internet.
Browsing Protection (3 out of 5)
The McAfee SiteAdvisor Live free download will work for 30-days but fully functional and it is available at McAfee website. The free edition of SiteAdvisor is located in SiteAdvisor website. Since the trial version is fully functional, I test the browsing protection it is offering by visiting unsafe websites and downloads. 8 out of 12 web addresses were detected as unsafe website or download by SiteAdvisor.
I find SiteAdvisor Live to perform well in detecting known malware or phishing sites but it's slow in detecting new malicious links or new phished URLs. Below are the screenshots how SiteAdvisor failed and succeed to detect phishing and malicious links, including malware downloads.
Images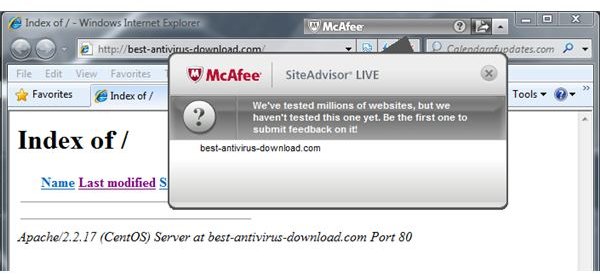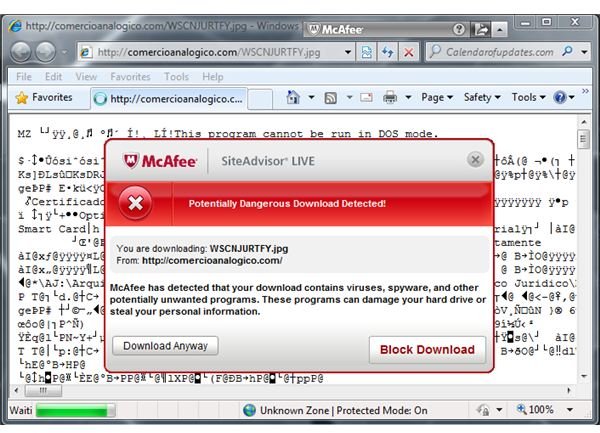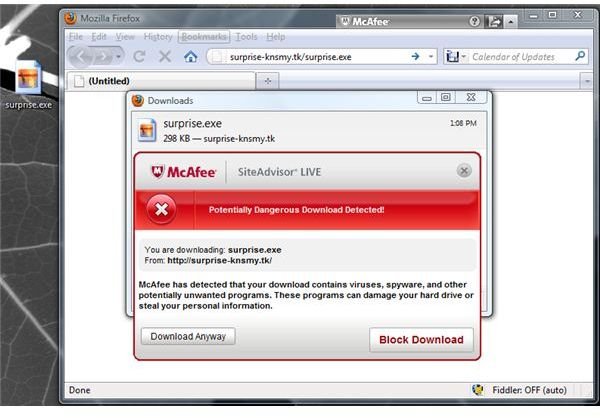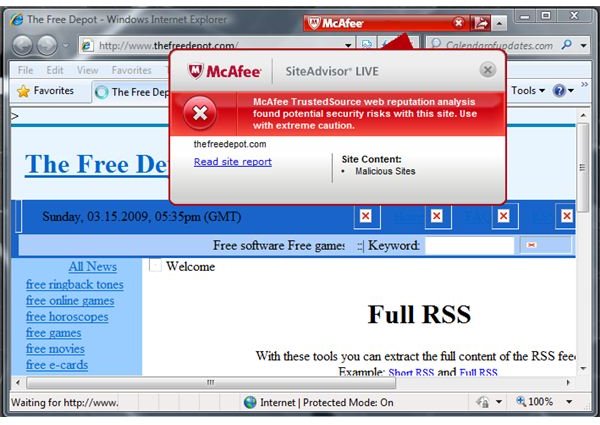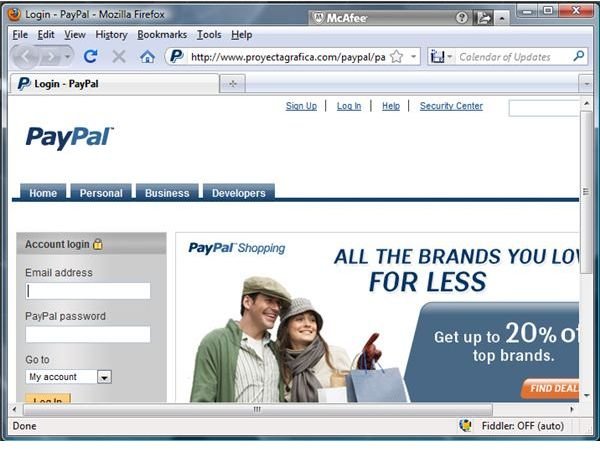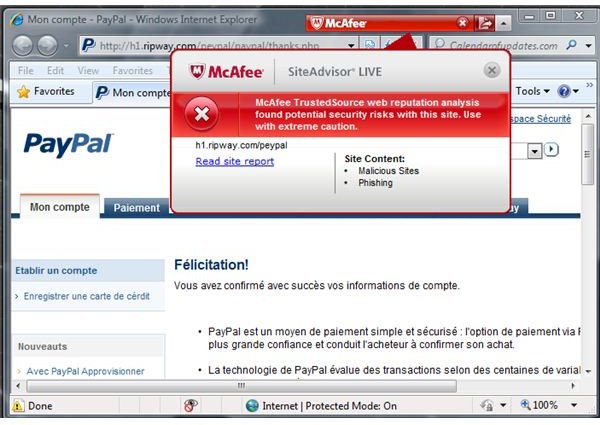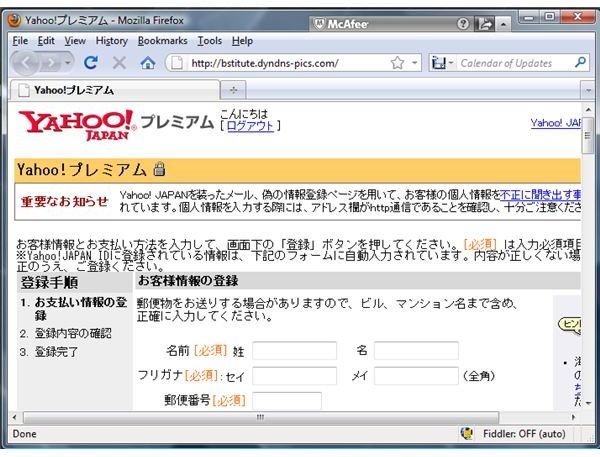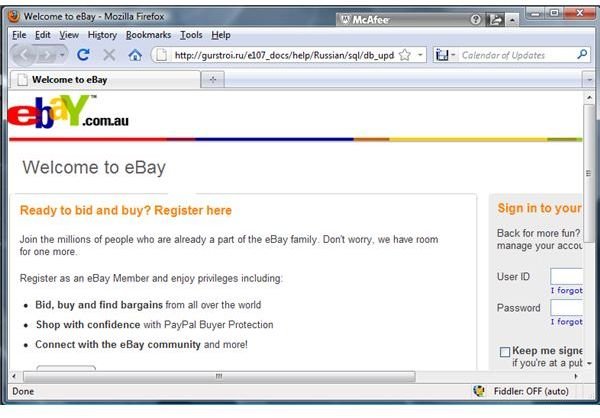 Price to Value (3 out of 5)
McAfee SiteAdvisor Live costs $19.99 with 1 year of subscription. I find it overpriced especially if it's not fast enough in detecting zero-day malware downloads or new malicious websites. The program SiteAdvisor is included in McAfee Internet Security Suite but only the basic edition that is available for free.
Conclusion
The performance of SiteAdvisor Live in this free McAfee SiteAdvisor Live review is good but the protection it offers is below average. It can't beat the built-in fraud and malware protection by Internet Explorer and Firefox. It lacks support for other popular browser that competing program, AVG LinkScanner provides.
References
All screenshots in this article is taken by author and references from McAfee SiteAdvisor Live v3.3.0.176, trial version.
Developer Official Product Page: https://home.mcafee.com/Store/PackageDetail.aspx?pkgid=284, $19.99 as of February 27, 2010.