How to Fix Dwwin.exe Crashes with AVG Free or Paid Versions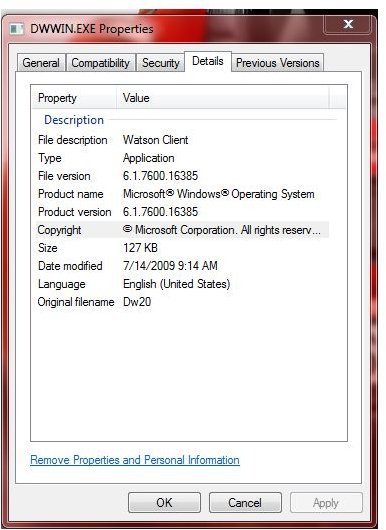 Watson Client and AVG
Windows operating systems include the Microsoft Application Error Reporting tool in Windows XP or Watson Client (also known as Windows Error Reporting tool) in Vista and Windows 7. Any of these operating systems uses dwwin.exe as filename and the location is in the System32 folder of the Windows directory. What triggers the Watson Client is the reporting tool that allows end-users to send system or application crash reports to Microsoft servers. Microsoft will analyze the log and provide a fix (it can be a hotfix, security or program fixes) to determine the cause of the crash or error to see if it's related to component(s) in Windows or Microsoft products. If the problem is due to third-party software or drivers, Microsoft can only share this information through Microsoft Windows Quality Online Services (Winqual) program. The third-party software or hardware developers may access the information and provide fixes or solutions, as well.
AVG is one of the antivirus programs that was reported to crash with Watson Client in Windows. The computer may display a message saying there's a dwwin.exe application error after installing AVG, after shutdown or during Windows startup. If you are experiencing dwwin.exe crashes with AVG Free, try the possible solutions in the next sections of this article.
AVG Delays in Shutting Down or Starting Up
The common error with some programs is the delay in responding to startup and shutdown requests. If your dwwin.exe crashes with AVG Free during startup or shutdown of Windows, try the following steps to possibly solve the problem:
Download the latest installation file of AVG (get the Paid edition installer if you are AVG license customer, or from the AVG Free website for freeware users).
Execute the installer of AVG that you downloaded and select Uninstall to remove AVG. Restart the computer.
Execute again the same installer to install the current program and components of AVG.
Restart the computer.
Note: Do not use the repair installation option because it will not install or replace the updated components of AVG.
If dwwin.exe continues to crash with AVG Free or paid editions installed, proceed to update Windows or fix corrupted system files.
Update for Windows Error Reporting and System File Checker
Windows components can be corrupted and this can be fixed by running the System File Checker utility in Windows, and then installing available updates:
Click Start > Run and then type cmd.exe in the run box.
XP users: Hit enter key to display the command prompt windows. Vista and Windows 7 users: Right-click cmd.exe in the search results, and click "Run as administrator."
In the command prompt window, type SFC /scannow
Hit the enter key on the keyboard.
Allow the utility to check the system's files for integrity or for any errors. When prompts of installation media of Windows, insert it.
Reboot the computer when the utility has finished its task.
Visit the Windows Update website (for XP) or Windows Update application (for Vista and Windows 7) and install any available update for Windows, especially an update that will fix Windows Error Reporting tool e.g. KB930857.
When dwwin.exe no longer crashes with AVG, you're done! However, if it continues to crash you may need to troubleshoot by doing a clean-boot or scan for viruses.
Virus Scan or Clean-boot
Check the computer's health status by running a virus scan. Viruses can infect systems or legitimate files of Windows. If a virus has infected dwwin.exe, you need to allow anti-malware or an online virus scanner to disinfect this file. You should not simply replace dwwin.exe because there are maybe other viruses or malware that may be residing in the computer. Replacing system files is only recommended if the file is not infected or the computer is malware-free.
You can also use standalone anti-malware programs to scan the computer: Malwarebytes' Anti-Malware, Hitman Pro, or Emsisoft Anti-Malware.
If the computer is not infected but you continue to experience a dwwin.exe crashes with AVG Free or paid editions problems, start troubleshooting to determine which driver or software conflicts with AVG, and that triggers the dwwin.exe crash report message. To troubleshoot, perform a clean boot in XP or perform a clean boot in Vista or Windows 7.
You can also use Event Viewer in Windows to determine which processes or any installed application is really causing the crash of Watson Client and AVG.
If no other application is causing dwwin.exe to crash other than AVG, you might want to report this issue to AVG support forums.
Reference: Microsoft Support - https://support.microsoft.com/kb/930857
Screenshot by author