Spyware Doctor vs Threat Fire Compared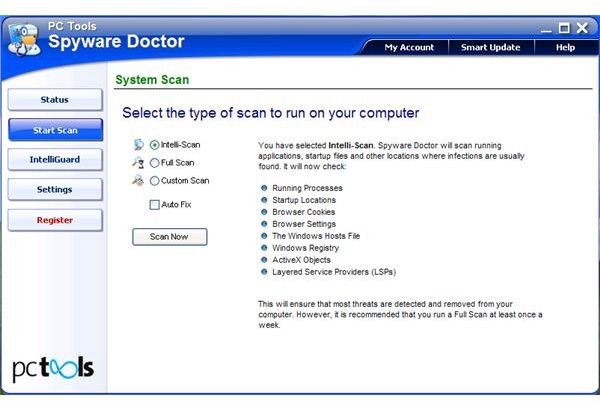 Anti-Spyware and Anti-Malware Programs by PC Tools
PC Tools is a software vendor that provides security and utility software for Windows and Mac computers. Two of the popular titles that they offer is Spyware Doctor and ThreatFire. Both programs are designed to protect the operating system from becoming infected. Learn about the differences between these PC Tools anti-spyware and anti-malware programs.
Spyware Doctor
The anti-spyware program by PC Tools is called Spyware Doctor. The program features real-time protection against spyware, adware, trojans, worms, rootkits and other types of malicious software. It does not include detection or prevention for viruses that self-replicate. See the difference how viruses and other types of malware will attack a computer or network in "The Complete Computer Virus Removal Guide".
The anti-spyware program also offers the following features and options:
On-demand malware scanner using full, custom, quick or single-file scanner.
Malware removal of detected threats.
Quarantine and exclusion manager.
Intelliguard - extra layer of protection using several plug-ins e.g. File Guard, Mail Guard, Site Guard, Browser Guard, Behavior Guard, etc.
System scan scheduler
Program password protection.
Most of the functions found in typical anti-spyware programs can be found in Spyware Doctor. It includes a ThreatFire module that monitors the system based on behavior. Users of Spyware Doctor can upgrade to Spyware Doctor with Antivirus. If you upgrade, the signature database will become larger because it will now include detections for viruses and other malware that an anti-spyware program will not detect.
Note: Spyware Doctor with Antivirus Starter Edition does not include the ThreatFire module. If the antivirus program in your computer does not provide behavior-based detection or protection against zero-day malware, you can download and install ThreatFire, which is free.
ThreatFire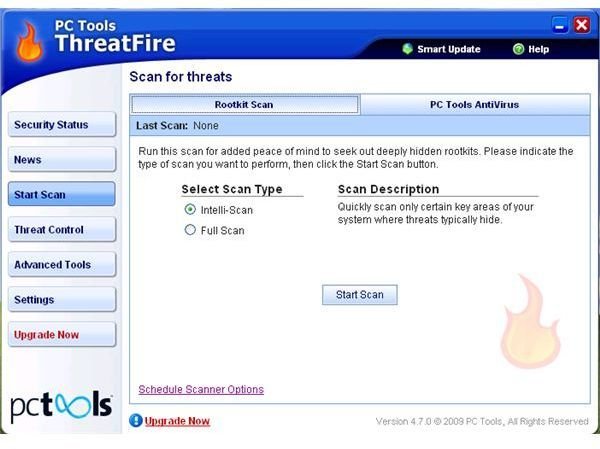 PC Tools ThreatFire is an anti-malware program that does not remove malware in already infected computers. It cannot scan the computer for existing virus and malware infections, as it only provides a rootkit scanner. ThreatFire is a zero-day security prevention tool and not a malware removal program. The software can block software that has similar behavior as malware – as long as it is detected as being malicious or a potentially unwanted program (PUP).
ThreatFire will monitor the system for active tasks and if it is found malicious, the program will stop the malicious process by moving it to quarantine.
The program only provides the following features:
Real-time prevention or protection against virus, malware, trojans, spyware, rootkit and other types of malware.
Option to enable protection for hosts file and other areas in Windows that you want to protect against unwanted modifications.
Rootkit scan scheduler.
Spyware Doctor vs ThreatFire: Pros and Cons
Spyware Doctor
Pros:
Comparable to antivirus programs by other vendors by using kernel mode compatibility function and by disabling Behavior Guard.
Provides above-average malware detection and prevention.
Cons:
Gives false detections if you are using a customized hosts file in Windows.
Slow using other applications during full system scan.
Trial version is not fully functional: Limited protection modules by IntelliGuard, does not download the complete detection database, and no malware removal.
ThreatFire
Pros:
Good in preventing zero-day malware.
Compatible with most antivirus programs.
Easy to install.
Light to use.
Cons:
Does not provide full system scan using cloud-based detection technology.
Rootkit scanner can lag the system.
Final Words
The protection offered by Spyware Doctor (if registered) should help Windows users in keeping the system free from malware and spyware. It is recommended to use Spyware Doctor if the resident protection by your antivirus program does not provide advanced protection or does not offer spyware and malware detection. Most antivirus programs do provide such detections, however.
ThreatFire is a useful and great security tool when used together with an antivirus program. PC Tools should integrate ThreatFire in all of their security software. It's a must have to protect against zero-day attacks without the need of using virus database.