The New Norton 360 4 Review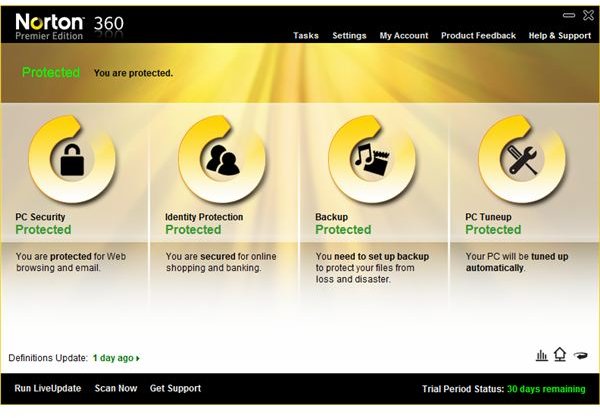 Norton 360 v4.0
Symantec is advertising Norton 360 as an easy to use and powerful virus prevention and intrusion protection program. It is similar to Norton Internet Security except for the backup and tune-up features. There's a lot to say in this review of Norton 360 version 4.0 Premium Edition but it's best to focus on what really matters to end-users and that is if it's worth using the security suite software.
Installation and System Requirements (5 out of 5)
Most software developers aren't designing programs that will run on unsupported operating systems so if you have an XP, Vista or Windows 7 computer, you can use Norton 360. The installer of Norton 360 4 reviewed here was taken from the Symantec website and downloaded by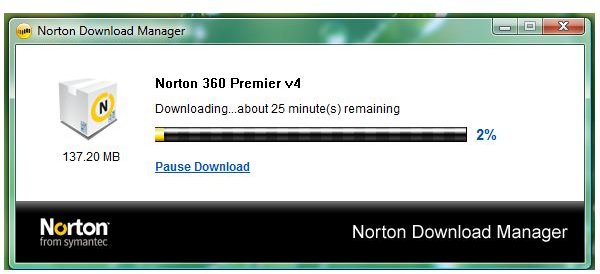 . The download manager downloads not only the installer of Norton 360 but also the installer for updating virus definitions.
Installing Norton 360 is quick as it will finish in less than 1 minute. After the install process, you can start configuring the program without restarting. Symantec updated the engine of Norton 360 v4.1 to v4.2. The engine update is distributed via Live Update, the built-in updater in Norton products. An active Internet connection is required, allowing the users to activate or connect to their Norton account. It's important to create a Norton account which allows retrieval of the Norton product key.
Note that a Norton 360 v5 is also available but it is currently in beta stage. This will be the next version of Norton 360 for 2011.
Features (4 out of 5)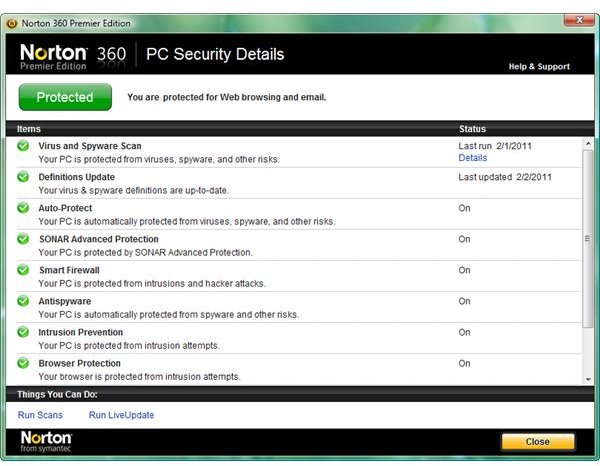 Norton 360 is what most Internet security software fans would want to have – virus, firewall and identity protections that includes backup and tune-up programs for more than one computer.
The antivirus program in Norton 360 can protect against not only viruses, spyware, adware, trojans, worms and rootkits but also potentially unwanted programs (PUPs). As we know, a firewall program is the defense against network and computer intrusions and the firewall protection by Norton is not a basic firewall. It is an advanced firewall program that provides two-way and rule-based firewall protection with Intrusion Detection Signatures (IDS) to protect against exploits and zero-day attacks.
Fraudsters continue to use messaging via e-mail, instant messengers and social networking which is why Norton 360 includes identity protection. The identity protection in Norton will prevent users from visiting phishing websites.
Protecting the computer is never enough which is why there is a backup program in Norton 360. It's the only way to secure the system and data from malware infection in the event of hardware or PC failure. The backup feature in Norton 360 has the ability to store the backup file in local, external or secure online storage.
Norton 360 version 4.0 also includes a PC tune-up program with the following features:
Disk optimization
File and system clean-up
Startup Manager
Diagnostic report
Norton 360 also includes anti-spam protection which integrates in Windows Mail, Outlook 2007 and earlier versions of Outlook. Note that the anti-spam protection in Norton 360 is not compatible with Outlook 2010. This is not good news for users of Microsoft Outlook that need extra layers of protection against unwanted emails.
Optional Features (3 out of 5)
Parents and guardians prefer using an all-in-one security that includes a parental control feature. This software is not included in Norton 360 which is odd to see in a supposedly all-in-one protection for home computers.
End-users will have to download the Norton Add-on Pack to take advantage of parental control software. The Norton Add-on Pack also includes confidential information protection that can secure private information from spyware e.g. email address, credit card information, mailing address, social security and health data will not be transmitted over the Internet unless you allow.
Symantec also offers Norton Online Family as an optional service for Norton 360 users. You don't have to install the Norton Add-on Pack if you will use Norton Online Family. Both service and program provides parental controls to help protect kids in the family while browsing the Internet.
User Interface and Performance of Norton 360 (5 out of 5)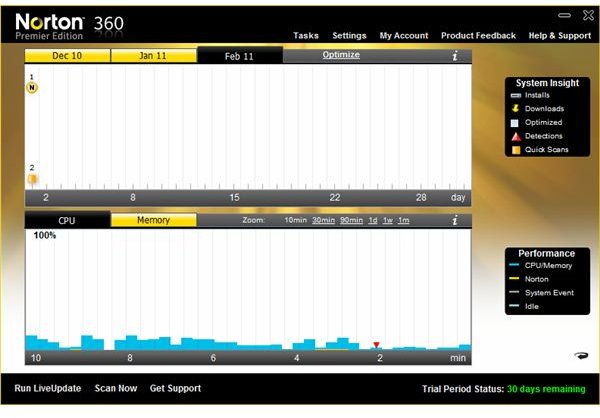 Norton 360 4 review isn't complete without checking the performance of the program. I find it to use less CPU resources and memory. It does not slow down the computer while it's guarding the PC from any malicious activity or even when running scheduled tasks.
The graphical user interface of the program is neat and straight-forward. Symantec has changed the settings' UI by using tabs instead of the scrolling bar. You can flip the Norton 360 interface to view the system insights and performance by Norton.
Price to Value and Support (4 out of 5)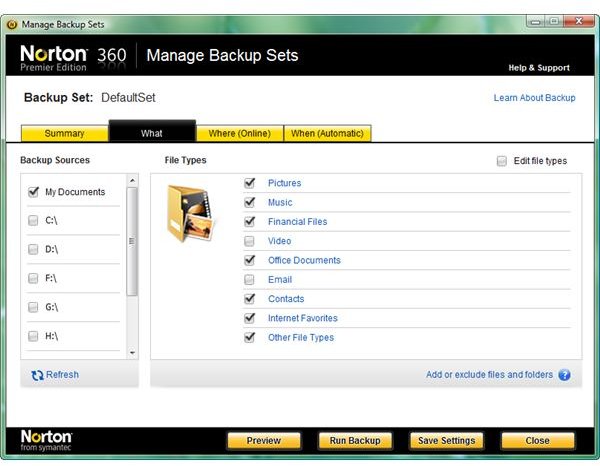 Free support for Norton 360 is provided via e-mail, chat or phone. A community forum is also available, allowing customers to interact with Symantec employees and other Norton users. Note that malware removal is not free when contacting Symantec. They will only provide free support if the problem is about the product (technical support).
The cost of Norton 360 v4 is $80 while the price of Norton 360 v4 Premium Edition is $100. Both editions includes 1 year of subscription for 3 computers. The premium edition also has a free 25GB of secure online storage while the non-premium edition can only enjoy 2GB of secure storage space.
Conclusion
Norton 360 is worth using for it provides advanced protection against malware in addition to providing what most users should run in Windows - to keep it secure and clean using backup and tune-up. The online secure storage is a bonus!
Image credit: Screenshots taken by the author.