Why Will Avira AntiVir Not Update the Definitions File?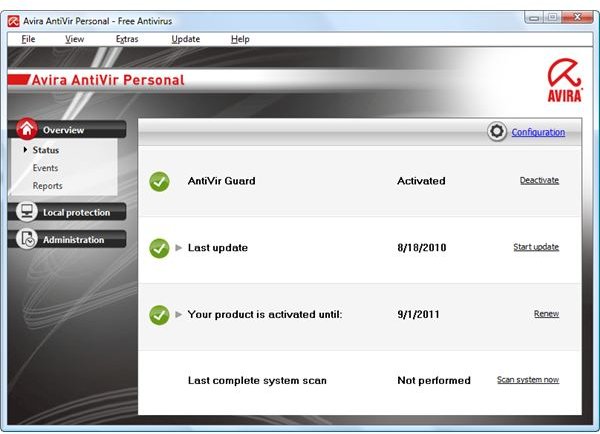 Updating Avira AntiVir Personal
AntiVir Personal is the free antivirus software from Avira. The company provides free virus definition updates (VDF and iVDF) in addition to providing on-access virus protection and on-demand virus scanner. There are some people that continue to experience Avira AntiVir problems.
Note that Avira already switched to using a new update system which means updating the free edition of AntiVir should no longer have issues e.g. overloaded servers. However, if you continue to experience problems in updating the free Antivir program, below are some solutions including the cause of why Avira Antivir will not update the VDF or iVDF.
OpenDNS and AntiVir Avira Servers
One of the causes why Avira Antivir will not update is when an Internet connection is using the DNS servers by OpenDNS. The solution to this problem is to add only OpenDNS servers using the Internet Options in Windows instead of the router.
Another solution is to add Avira AntiVir update servers in the hosts file of Windows:
62.146.66.187 personal.avira-update.com personal.avira-cdn.com
80.190.143.232 personal.avira-update.net
80.190.143.229 perspeak.avira-update.com
62.146.66.181 dl1.avgate.net
62.146.66.182 dl2.avgate.net
62.146.66.183 dl3.avgate.net
62.146.66.184 dl4.avgate.net
80.190.143.235 dl5.avgate.net
80.190.143.236 dl6.avgate.net
62.146.66.178 dl7.avgate.net
62.146.66.179 dl8.avgate.net
80.190.143.239 dl9.avgate.net
80.190.143.230 dl10.avgate.net
Read about using Hosts file in Windows before applying to your computer.
Validation of Engine Failed with Error 258
Another one of the common Avira Antivir problems is when you go to update the program or virus definitions file and it tells you an error occurred. If you see an error message "Validation of engine failed with error 258", you are maybe using an old component of AntiVir program, update.exe. The solution is to download an updated and fixed update.exe module from the Avira website.
Third-Party Security Software Can Cause Conflict Updating AntiVir
Avira does not recommend using any additional anti-spyware or anti-malware that provides real-time protection. They suggest disabling or removing Windows Defender, Spybot-Search and Destroy's TeaTimer or Ad-watch! Live in Ad-Aware programs.
If you are disabling the real-time protection by other programs, or if you are not using real-time protection by other vendors, you should try to manually update the virus definitions file of Avira AntiVir Personal. Learn more about performing Avira VDF update.
Malware is Preventing Access to Avira Servers
There are malware that can modify the hosts file in Windows by blocking antivirus vendors' website or servers. Some malware will stop or terminate the legitimate antivirus processes. It's best to check the security and health status of Windows, and then remove any virus infections that may be preventing AntiVir from updating itself.
If the computer is not infected and the Avira Antivir problems when updating continue, proceed to contacting AntiVir team at their support forums. Have the activity log of AntiVir Personal edition ready to help them in understanding the problems you are having.