PC Tools Spyware Doctor 2011 Review: Features, Tips & Recommendations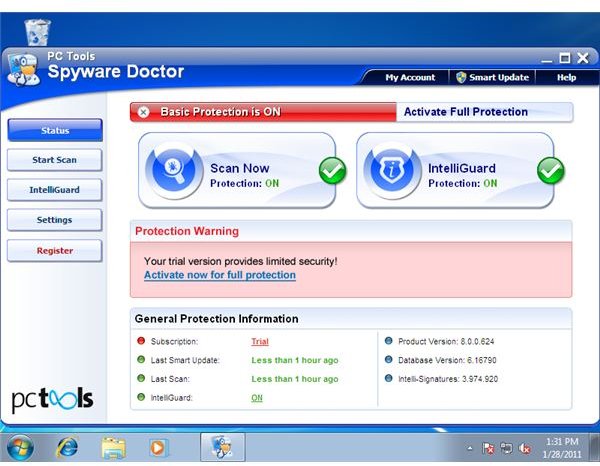 Introduction
PC Tools Spyware Doctor 2011 (https://www.pctools.com/spyware-doctor/) is an Internet security suite which defends your computer against many sorts of security threats including malware, spyware and rootkits for example. Spyware Doctor 2011 uses a combination of scanning, heuristics and memory inspection to fend off potentially unwanted software. An antivirus module can optionally be added.
Protection Technology
Spyware doctor employs the following defense technologies to prevent spyware and annoying pieces of software:
Intelli-Scan (passive protection): A quick scanning mechanism (spider) to identify and remove threats,

ThreatFire (passive protection): Heuristics,that is behavior based thread detection to keep emerging threats at bay, complementary to Intelli-Scan.

IntelliGuard (active protection): Real-time protection by means of constant monitoring for unwanted activity stemming from malware and suspicious items so that spyware is blocked before it reaches your computer.
System Requirements (5 out of 5)
PC Tools Spyware Doctor 2011 runs on 32-bit & 64-bit editions of Windows 7 and Windows Vista with SP1 or greater, as well as on 32bit Windows XP with SP2 or greater.
Setup (5 out of 5)
Setup involves the usual steps including accepting the end user license agreement, and confirming or changing the install path. The install process then leads over to automatic database updating, initializing components, and a quick scan for malware and spyware threats.
If you have a valid license then activate it now. The trial edition of pc tools spyware doctor 2011 provides real-time protection only; spyware encountered during scans can only be removed with a licensed copy.
Interface (5 out of 5)
The GUI of PC Tools Spyware Doctor 2011 allows for easy navigation. The help menu in the menu bar includes a quick start guide, but you will hardly need it. Spyware doctor's menu are found on the left pane with items configuration on the right. All is straightforward and logically organized.
Protection Features (5 out of 5)
Pc Tools Spyware Doctor 2011 protection suits any need: the suite detects, removes and fends off of potentially unwanted software (PUPs), spyware, keyloggers, fake virus scanners, harmful ActiveX objects, etc etc. Furthermore, spyware doctor has a sophisticated rootkit detection engine to identify and remove malware which tries to undermine your Windows operating system. The integrated memory scanner hunts malware and spyware hiding in RAM.
Users are protected while browsing the web by using various layers of defense against invisible downloads from malicious or exploited web sites (Browsing Protection). Along the same lines does the software protect you from visiting phishing sites in Search Engine result pages (Search Defender) while also watching links in email and Instant Messaging programs (Link Scanner).
What's more is that spyware doctor eliminates tracking and advertising cookies, automatically adjustments performance depending on PC use (State Awareness), provides protection reports for the last 30 days, and has a power-saving mode for laptops, deferring spyware doctor tasks until the laptop is plugged.
Also included in PC Tools Spyware Doctor 2011 is a gaming mode for watching full screen movies and playing games uninterrupted by popups.
And in case things really get wrong: On the vendor's homepage you can download a bootable CD image in case your Windows won't start because of malware: AOSS (Alternate Operating System Scanner) Rescue CD.
Performance (5 out of 5)
Spyware Doctor has little impact on system resources, you can set and forget, the suite protects your computer in the background and you can use your computer without slow-down. To keep your level of protection up to date small updates are frequently installed automatically (smart updates).
Help and Support (5 out of 5)
Spyware Doctor is available in 28 languages, and help is available in10 languages 365 days a year during your subscription period. Support can be reached by live chat, email and phone. On the vendors web site you additionally find FAQ's, guides and a user forum.
Price to Value (5 out of 5)
The 1 year subscription of PC Tools Spyware Doctor for up to 3 PCs costs 29.99$, including Antivirus ten dollars more totaling 39.99$. You can save 20% if you choose the 2 year subscription. The trial version is not fully functional, but the reputed vendor offers a 30 day money-back guarantee to protect your purchase.
In any case make sure you have an antivirus software in place when running Spyware Doctor which does not protect you against viruses by default!
The Bottom Line
In this PC Tools Spyware Doctor 2011 review we have seen that the security suite offers a great level of protection at a very competitive price against spyware and malware combining scanning and real-time defense mechanisms.
If you opt for PC Tools Spyware Doctor 2011 double-check that you also have antivirus software protecting your computer, by definition spyware and the like are not viruses, so either buy the PC Tools' anti-virus add-on or look for a powerful AV protection, such as for instance, Free AVG.
If you are looking for maximal protection against spyware and malware, perhaps including backup & restore, then make sure to check out our reviews on this top product: McAfee total protection 2011.
References
Screenshots taken by author
Product reference: PC Tools Spyware Doctor 2011
Official vendor product page: https://www.pctools.com/spyware-doctor/