Avast 5.0 Internet Security Review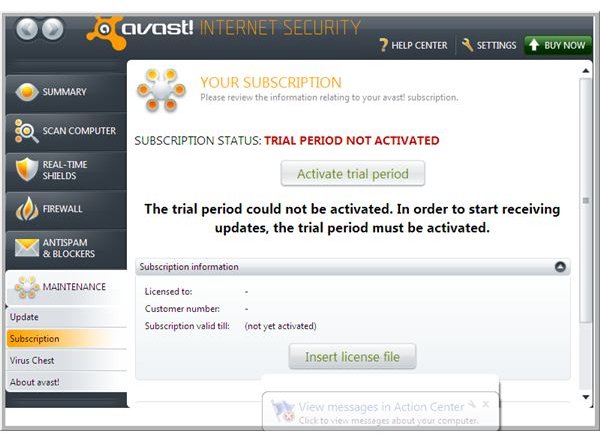 Avast Internet Security, version 5, extends Avast!'s free antivirus protection to maximum protection by keeping your mailbox Spam-free, blocking hacking, protecting you from visiting malware infected web sites, and running suspicious application in a sandbox. Avast's Internet Security Suite 5.0 also includes fast incremental updates which are helpful to fend off virus outbreaks.
System Requirements (5 out of 5)
Avast 5.0 Internet Security requires a minimum of 256 MB RAM and 370 MB of free disk space as well as a Pentium 3 Processor, or equivalent. Supported operating systems include Windows XP with SP2 or higher, Windows Vista editions with the exception of Starter Ed., and Windows 7.
Setup (5 out of 5)
The install of Avast 5.0 Internet Security is straightforward: Leave English as your language of choice or select another idiom in the large drop-down menu, then click Next. In the subsequent window you have the option to read the EULA. On the same page, participating in the Avast! community is ticked by default. Click Next. Supply the license file or activation code, alternatively leave empty if you intend to run the software in trial model. Click Next.
Wait a little while the install is in progress and a restore point is being created. The install leads over to quick scan, setup then requires a restart. After reboot, a new network is detected. Choose the appropriate firewall profile, and if not done already, update the software by means of the maintenance menu.
Interface (5 out of 5)
The GUI of Avast 5.0 Internet Security is intuitive and allows for easy navigation. Menu items are displayed in the left pane: On the right side you find details, graphs as well as the buttons for starting and stopping services such as scanning, shields and the firewall. In settings, located on the right of the top menu bar, you can tweak the internet security software to suit your needs.
Protection Technology (5 out of 5)
Avast 5.0 Internet Security's antivirus and anti-spyware signature database protects you against know threats, and its heuristics engine provides a great level of protection against emerging malware such as new viruses and Trojans.
To protect you while surfing the web, Avast! Sandbox runs downloaded scripts in an isolated environment. For computer safety, suspicious applications are also executed in a virtual machine.
When Avast 5.0 Internet Security encounters a suspicious executable file, it first emulates running the code for extracting purposes and to make a decision based on heuristics, thereby reducing false alerts while increasing protection against infected files.
Outgoing and incoming network traffic is protected by the integrated firewall which uses behavioral analysis and a database of trusted applications. To relieve users other than experts from setting firewall rules Avast 5.0 Internet Security's comes with three predefined profiles for home, work and public locations.
To keep your inbox free from unsolicited emails and phishing attacks the software ships with a spam and phishing message filter for a number of mail clients such as Microsoft Outlook.
During setup we have opted in for the Avast! Community IQ. This is a feedback mechanism which provides useful insights for the automatic detection of new security treats so that the whole user base of Avast! Internet Security can be protected by means of smart updates.
Protection Features (4 out of 5)
During Windows boot-up the Avast! Boot-time scanner checks for threats hiding in the boot sector of your hard disk, and later, during run-time, your computer is shielded using various means of protection.
You can always scan your computer on the fly using quick, full (in-depth), folder and removable media scans, or schedule the scanning for your convenience. Expert user may also find the command-line scanner useful.
Behavioral based protection includes shields, that is run-time protection, for files, mail, web, P2P application downloads, Instant Messaging, scripts, Web traffic and network connections.
These shields additionally incorporate Avast Internet Security real-time anti-rootkit protection as well as detection of potentially unwanted programs (PUPs) which can be used for either,the good or the bad intentions and thus need to be on the radar of every savvy computer user.
Last but not least, Avast's internet security suite a good choice for gamers because pop-ups can be suppressed for times of undisturbed computer activity by Silent/Gaming Mode.
A link scanner is missing, though.
Performance (5 out of 5)
On our test system Avast 5.0 Internet Security has performed very well. We were able to run scans in the background without noticing any performance degradation while we were using the computer for normal purposes such as browsing and using a number of applications.
Frequent incremental, light updates (smart updates) reduce memory and CPU usage while benefiting protection at the same time.
Help and Support (5 out of 5)
The avast Internet Security interface has an integrated, comprehensive help center, and on the vendor's website you additionally find lots of useful information. There are user guides, FAQs, a user forum, contact information for phone support as well as the option to open a ticket if run into problems.
Price to Value (5 out of 5)
Avast 5.0 Internet Security protects up to three PCs an entire year. The 1 year license has a price tag of $49.95, and for the 2 year license you pay only 10 dollars more, $59.95 in total, thus saving 55 dollars! More computers and years can be added in the shopping cart if needed.
If you want you can try before you buy downloading a fully function trial edition from Avast!, yet purchasing is also a safe as the vendor promises a 100% money-back guarantee.
The Bottom Line
As this review has shown, Avast 5.0 Internet Security is a full-fledged computer protection suite which provides a high level of protection against many internet threads and viruses. With its very competitive pricing, worry-free protection, and easy use Avast 5.0 Internet Security is an excellent choice for many end users.
Make sure to also check out our reviews of Norton Internet Security 2011, McAfee Total Protection 2011 and Panda Internet Security 2011.
References
Author's own experience

Screenshots by the writer