What to Do if You Cannot Turn On Windows Firewall in Windows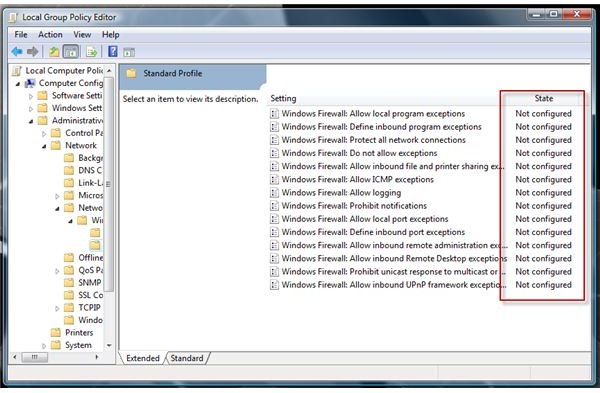 Why Windows Firewall is Disabled
Windows firewall is enabled by default in Windows operating systems. It can be disabled if you are using third-party firewall protection or if you are troubleshooting an Internet connection problem with firewall enabled. In some cases, the firewall has been disabled without the end-users' knowledge and the reasons may vary.
Windows Security Center Reports Firewall is Disabled
The Windows Security Center in Vista and XP systems or Windows Action Center in Windows 7 may report that the firewall protection is not enabled. If this is the case, the end-user should try enabling the firewall protection. However, if you cannot turn on Windows firewall, you may have to follow any of following troubleshooting and possible solutions below:
Method I:
Reset Windows firewall - to reset Windows Firewall in Vista and XP operating systems, click the advanced tab in Windows firewall and then click "restore defaults" button. For Windows 7 users, click "restore defaults" at the left pane of Windows Firewall settings.
Method II:
Note that this method applies to users with access to the Group Policy Editor console. The Home editions of XP, Vista, and Windows 7 do not include this console.
If the option to turn on Windows firewall is greyed out and you have access to the group policy editor (gpedit.msc) in Windows, navigate to the following group policy objects: Computer Configuration > Administrative Templates > Network > Network Connections > Windows Firewall > Standard Profile. Configure all of the objects in the Standard Profile to use the Not Configured setting:

Exit the group policy editor and then restart the computer. Try enabling Windows firewall.
Method III:
Delete WindowsFirewall registry key using registry editor (regedit) in Windows. End-users that do not have access to group policy editor in Windows may use the registry editor if Windows firewall settings is greyed out. Simply navigate to HKEY_LOCAL_MACHINE\SOFTWARE\Policies\Microsoft\WindowsFirewall. Right-click WindowsFirewall registry key and then delete. Note that it is important to backup the registry in Windows before modifying or deleting the entries.
Exit the registry editor and then restart the computer. Proceed by enabling Windows firewall.
Method IV:
Enable Windows Firewall using registry editor. Navigate to below registry keys and change the registry data for EnableFirewall value from 0 to 1:
HKEY_LOCAL_MACHINE\SOFTWARE\Policies\Microsoft\WindowsFirewall\DomainProfile\EnableFirewall
HKEY_LOCAL_MACHINE\SOFTWARE\Policies\Microsoft\WindowsFirewall\StandardProfile\EnableFirewall
Exit the registry editor and then check if the firewall protection is now enabled.
Windows Firewall is Still Disabled or Greyed-out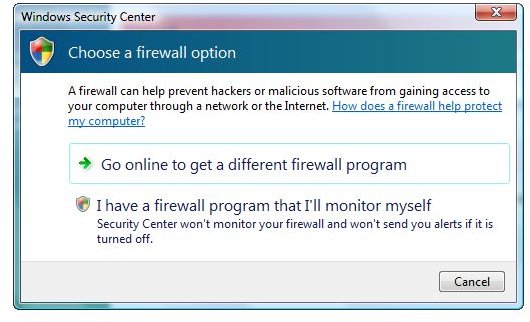 If the above solution will not help in enabling Windows Firewall in Windows, the computer is possibly infected with virus or other type of malware. Scan the computer using anti-malware software e.g. Malwarebytes' Anti-Malware, EmsiSoft Anti-Malware, SUPERAntiSpyware, Spybot-Search & Destroy or Windows Malicious Removal Tool.
Note that if you are using an Internet security suite software that is not compatible to Windows Security Center or Windows Action Center in Windows, and the Internet security suite program has disabled the built-in firewall in Windows, your option is to configure Windows Security Center to not to monitor the firewall protection by choosing "I have a firewall program that I'll monitor myself". Only use this option if the firewall protection by third-party security vendor is actually running and enabled but only have compatibility issue with Windows Security Center or Action Center.