iBackup Review: Backup Files on Your Mac
iBackup allows users to back up everything on their Mac with ease. From files to preferences, everything can be backed up and moved to a safe location incase something horrible happens to your computer. Since it is always a good idea to back up as much and as often as possible, this is a great piece of freeware all Mac users should own.
Download and Installation (4 out of 5)
iBackup can be downloaded at the [developer's website](https://www.grapefruit.ch/iBackup/downloads.html for free). After you've downloaded it a file will mount on your Desktop. Just drag that file into your Applications folder and iBackup will be ready to use.
Features (5 out of 5)
iBackup does not back up the disk image, only the files and the settings on your Mac (and those of individual users). This makes the back ups quicker to do, but means that should something happen to your Mac, you must first install the OS before restoring your files and settings. Not a big deal, but something to note nonetheless.
iBackup has a simple to use clean interface that fits in well with the Mac aesthetic. You choose from a list of every file and setting on your computer and can back them up all at once, or piece by piece. The ability to pick and choose is a big plus, especially since you may have a smaller hard drive and need to either burn the back ups to DVD or find some place else to store them, making backing up your whole Mac impossible all at one time. Not to mention it takes less time to back up small portions than all at once.
iBackup also has a handy plugin feature that automatically searchers for new plugins when you load it. Then you can scroll through the list and pick the ones you would like to install, while leaving out the ones that don't pertain to you.
I tried backing up a little over 9 GB to see how iBackup handled and it worked quite well. It took under 10 minutes and everything looked great.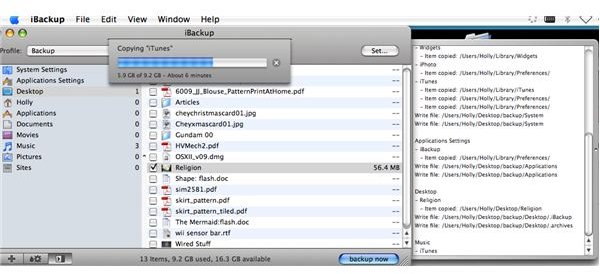 Usefulness (5 out of 5)
While your computer might never crash, it is still a good idea to back up frequently. That is where iBackup comes in. Every Mac users needs this and will be grateful they used it if something unforeseen does happen.
Overall (5 out of 5)
iBackup is easy enough for anyone to use and it's free, although donations are welcome. There is no need not to download it and start backing up your Mac today.