FLV Crunch Review: Convert FLV Video Files for Free
FLV Crunch is a pretty cool piece of freeware that allows Mac users to convert video from one form into another. Sure, there are other video converters out there, but most of them are either not free or they don't work very well. Let's see if FLV Crunch is an improvement over them.
Download and Installation (5 out of 5)
FLV Crunch is available from the developer's website for free! That's right. it's not a demo or a free trial, but free forever. After the file is downloaded it will be on your desktop as a .dmg file. All you have to do is open it and a new file will mount with all the information to get you started converting videos. You can put the FLV Crunch file in your applications folder if you want to make it easy to find, but it is not required.
Features (4 out of 5)
FLV Crunch does more than just convert FLV files into other types of files. According to the website, it can convert all of the following formats:
MPEG 1 (.mpg),
MPEG 2 (.vob),
MPEG 4 (.mp4),
Quicktime (.mov),
Cell Phone videos (.3gp),
Windows Media Player files (.wma, .wmv),
RealPlayer files (.ra, .rm) *rv10 video codec only ,
Divx AVI (.avi),
Digital Video (.dv),
MP3,
AAC files.
Into these formats:
MPEG 1,
MPEG 2,
MPEG 4,
Quicktime Mov,
3GP,
Digital video,
Windows Media Video (wmv),
Divx AVI,
MP3 (audio only),
AAC (audio only).
Not only does it convert files, but it also allows users to control the frame rate, the birate, and the size of the file being converted. You can convert files into something for your iPod, your computer or your TV.
All of it is set up in an easy to use fashion that fits right in with the Mac aesthetic. While some of the options are a little advanced, none of them should be off putting to casual users as they are all presented so simply.
I tried it out on a number of videos I'd downloaded from YouTube and it worked on all but one. The status kept informing me that there was a problem, but there was no indication what that problem might be. The file was a lot larger than the others, but it does play just fine in my VLC player so I'm not sure if file size was the cause of the failure. It would be nice if there was a log that explained why a file can't be converted. Perhaps the developer will do this in the next version.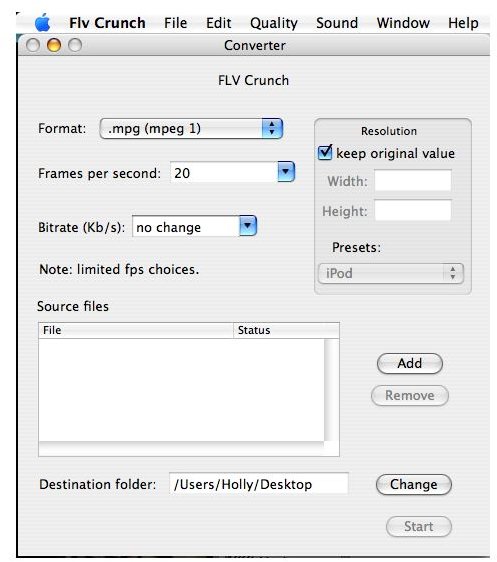 Usefulness (4 out of 5)
If you download a lot of video files off of the internet you should find FLV Crunch very handy. It is simple to use, free and works (most of the time). I use it more than any other video conversion software that I've downloaded, so I really can't complain.
Overall (4 out of 5)
Downloading videos from YouTube or just the internet in general is something lots of people do. But after download we don't really have control over what format the video is in. FLV Crunch changes that with its easy to use interface and handy features. This is my pick for free Mac video conversion!