The Best DVD Burning Software for iMac

Roxio Toast 10 Titanium for OS X
Roxio's Toast has been around for a number of years. Their latest version of Toast uses the drag, drop and burn simplicity that allows you to
burn a number of filetypes to DVDs and CDs with little effort. This version is also compatible with Blue-ray.
Back up your entire camera of HD video to disc and keep a preview on your Mac. Toast's media browser will let you search for files and sort them for easy viewing, without having to insert the disc into your computer.
Perhaps the most convenient feature is the cross-compatibility between Mac and PC. Share and sync files across a network, between multiple computers or external hard drives.
Source: Roxio
MacBurn
Burn data and audio CDs, plus DVDs on Macs and PCs. You can burn multiple sessions, create and load "burn lists" and more. MacBurn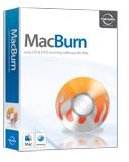 supports multiple filetypes including ISO, MP3, WAV, MOV, AIFF and MPEG. It is compatible with any CD or DVD burner that you can burn with the drivers found in iTunes and others.
Source: MacBurn
DVD Creator for Mac
Create DVDs fast and easily with Xilisoft's DVD Creator for Mac. The DVD creator software will convert videos in a wide variety of formats,

including ISO, MPEG, MP4 and so on.
The built-in player will allow you to preview your original and output videos before you create the DVD, which will help you catch any mistakes before you start your burn.
You can also add soundtracks and subtitles to your videos. Plus, you can adjust your video and audio parameters so that you can get the sound to produce exactly the way you want it to.
Choose from a selection of preset menu templates or create a custom one of your own. You can also create title thumbnails, give your viewers the option to skip the DVD menu and more.
Source: Xilisoft
NTI Dragon Burn
Dragon Burn is so user friendly that you can produce audio, data, mixed-mode CDs and DVDs without having to read a user manual. It also

supports your internal and external drives. Burn backup copies of your hard drives, both internal and external, and any non-copy protected DVDs or CDs that you own.
Source: NTI
iSkysoft DVD Burner for Mac
iSkysoft DVD Burner lets you burn DVDs in a wide variety of formats. Some of the formats include HD MP4, VOB, MPEG-2 HD and ISO. With

ISO, you can burn selectable DVD9 or DVD5 discs, the burn quality options and how many discs you need to create.
Select ISO, VIDEO_TS and .dvdmedia as alternative outputs when burning files to your DVD disc. Customize the menu style for your videos. Then trim any mistakes out of your videos before burning them to your DVDs.
Source: Mediasoftmac
Conclusion
The goal with this article was to provide you with a starting point for dvd burning software for the iMac. As you can see, these software packages offer many features that can help you with your disc burning tasks. Now, it is up to you to decide which one is right for you.