Organize Image Files in iPhoto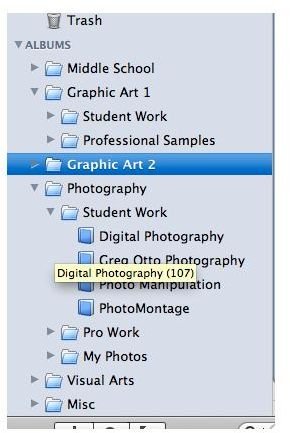 iPhoto Can Store Photos and More
iPhoto is great for storing and organizing your Photos. It is simple to get photos in and simple to edit and arrange them into folders, albums, and/or events. While the name iPhoto implies it is only for photos, and that is probably what most people use it for, did you know it can be used for other file types also?
I use iPhoto to organize image files on my computer in my classroom. I teach Graphic Art classes and I store and organize image files of student artwork. In my experience, I have been able to import almost any file type into iPhoto: tiff, photoshop psd, jpeg, gif, and even PDF files. PDF files could also be text files in PDF format. The only formats I have not been able to get into iPhoto is Adobe Illustrator (ai) format or eps format. Text documents do not work either.
Import Images into iPhoto From Your Computer
So how do I get the files into iPhoto if they aren't coming from a camera? It is very simple. Just find the icon and drag and drop it onto the iPhoto icon. iPhoto will import the image file just as if it was importing a photo. You don't have to stick to one file at a time. If you have multiple files in the same location select them all and move them together. iPhoto will stick the images into an event where you can go in and organize from there.
.
Edit and Organize the Files
Just like photos, you can edit and adjust any image file you put into iPhoto. You can use the adjustments settings, cropping tools, etc. iPhoto doesn't know that it isn't a photo.
Once I have my files into iPhoto I organize them into folders and albums. For my purposes I have folders in my Library for each class. Inside those folders I have subfolders for student work and professional samples. Inside those folders I have the image files organized into albums by project.
Before making albums I had the projects organized into events. I was able to drag an entire event into a folder and it instantly became an album with the event name. In the future I will just drag files to the albums as I add more to my library and make new albums as needed.
I can now go into each album or folder and instantly make a slideshow or book or just view the files. I used to keep files organized by event and that got too complicated as I got more and more files. This process has made things a lot easier for me to keep things organized.
If I want to delete a file from an album I just delete it from the album. If I still need the file it will be in my library. If I don;t need the file anymore I can locate it in the library and delete to save space.
The other nice thing about this system is that I can still open the files in another program. For example, if I need to open a file in Photoshop I drag the file to the Photoshop icon in my dock and it instantly opens in Photoshop.
Of course your folders and albums can be organized as you need. I could see graphic designers organizing files by project or job. It is a great system that comes free with your Mac! No need to buy another program.
Leave your file organizing tips below.