Mac Book Accessories: Top Accessories for the MacBook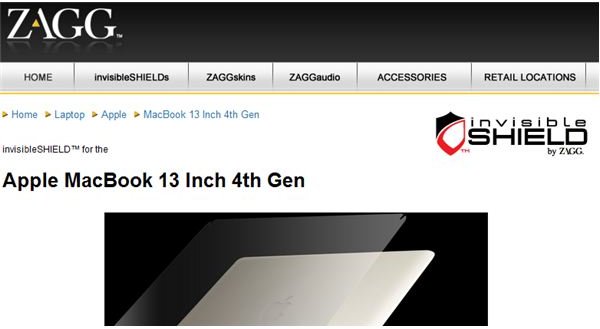 Zagg Invisishield (4 out of 5)
The Zagg Invisishield is a good accessory for your MacBook, MacBook Pro, or MacBook Air because it keeps your laptop in mint condition. Plus, Invisishields allow you to keep the original look of your Apple laptop, which many people may like, as Apple design has always been top notch. The Zagg Invisishield costs around $50 directly from Zagg. However, there are usually coupons and promo codes floating around the internet which offer up to 50% off of Zagg products. The Invisishield is a small price to pay in order to protect that MacBook that cost you over a grand to buy.
The only reason that the Invisishield gets 4 stars rather than 5 is because it does take some work to install. It's by no means a 30-second snap on protector. Considering getting an Invisishield? We have an install tutorial which you can read here.
Read more about the Zagg Invisishield.
Apple Mini Displayport and Mini DVI Converter (4 out of 5)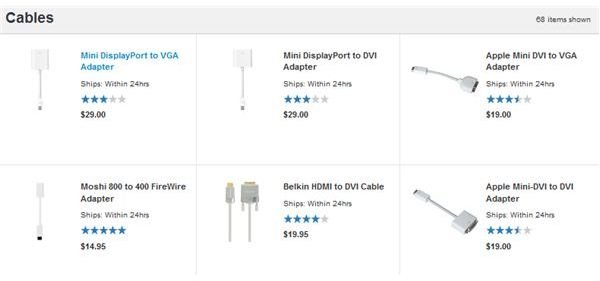 Many people like the portability of laptops, but still prefer to use a keyboard, mouse, and larger screen that a desktop computer provides, from time to time. One MacBook feature, that is commonly overlooked, is the ability to connect to an external monitor. All you need is a Mini Displayport converter (if you have a newer MacBook), or a Mini DVI converter (if you have an older MacBook), to run your MacBook in desktop mode. No need to go buy an iMac just to get the benefits of a desktop. You even have the option of connecting several external monitors to your MacBook.
The Mini Displayport converter retails for $29 and the Mini DVI converter retails for $19, directly from Apple.
4 Stars for slightly high price for something as simple as a cable.
JBL Creature III Speakers (5 out of 5)
Are you the type of person who likes loud music? Even if you're not, chances are that you will, at some point, want the sound a bit louder than the built-in MacBook speakers allow. The best way to handle this? External speakers. The JBL Creature III speaker's are a 2.1 system, meaning 2 remote satellite speakers, and one subwoofer. They should provide plenty of volume, as well as bass, for the average music fan. They are a bit heavy, but chances are good that you will use them at home. When traveling, most people use headphones anyways.
JBL Creature III Speakers retail for a cool $99.95, directly from Apple.
5 stars. JBL Creature Speakers are a great MacBook accessory that are worth every penny. They also have great styling.
Incase Sleeves and Backpack Bags (4 out of 5)
The Incase brand is the number one choice of bag for MacBook users. Not only are their bags high quality, but Incase specifically designs certain bags to fit MacBooks.
The most popular choice is the Incase sleeve. The Incase sleeve allows you to protect your MacBook and keep it scratch free, with maximum storage flexibility. For example, you could place a MacBook filled Incase sleeve inside a backpack, travel bag, large purse, etc…
Our second pick is the Incase Backpack. The Incase Backpack is the ideal solution for students, as it has plenty of protection for the MacBook as well as extra space to store books, folders, and notebooks. There's no need to carry a backpack and a laptop tote if you have the Incase Backpack.
The Incase sleeve retails for $39.95, directly from Apple.
The Incase Backpack retails for $99.95, directly from Apple.
5 stars for quality but 4 stars for price.