Mac Game Demo Freebies: XIII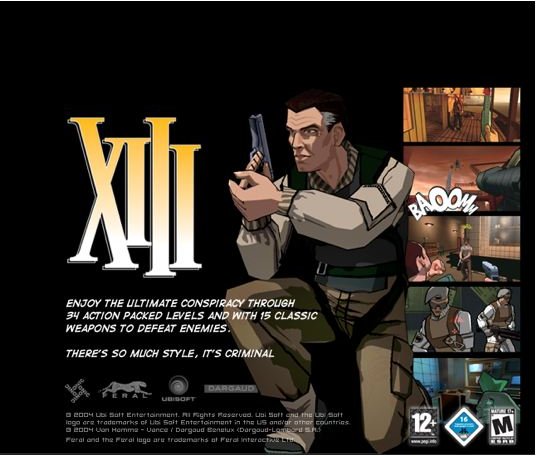 Onomatopoeia, Interstitials and More
Here is one of those gems where the demo is fun and playable enough for repeat sessions. Many of us struggling students (or cheapskates) may not have the cash to plunk down for the full retail version. So it's a good thing that Apple provides a full page that is chock full of game demos like these for us to try out. This is really a fantastic game and you'll really want to check it out. It has elements of stealth, and action shooters, and the comic-book graphics (complete with onomatopoeia and stylish zoom-frame interstitials) that are really great. You are some kind of secret agent with amnesia…
Killer Back Story
XIII, pronounced "thirteen," is an action-adventure shooter with very stylized comic-book style cell illustration and a killer back story. If you like the intrigue of conspiracies and government assassins with amnesia, with plenty of action, ammo and weapons to make it interesting, then you can't go wrong by trying this demo out. I've literally played this demo dozens of times if not approaching a hundred, and would be hard-pressed to ever say I'm tired of it. The back-story is that you are a government assassin, and you wake up in a lifeguard station with no recollection of who you are. A female lifeguard asks you about a key she found on your person, and the name Winslow bank. Then the plot explodes as your rescuer is murdered right before your eyes. Then the chase is on, with goons at every turn that you must dodge and dispose of, with a variety of found weapons. It seems that everyone is after you and your bank key—or maybe the conspirators are just trying to kill you. Whoever wrote the original comic for this has definitely written a great thriller, and this video game successfully brings it to life.
Phenomenal Comic-Book Style Graphics
Feral Interactive and Ubisoft and everyone else involved with bringing this game to the Mac platform have done a superb job. The graphics are phenomenal, exceptional really—and the comic book style framing just adds to this stylish and excellent game. The music is straight out of a 1970-style cops and robbers action film, and your character seems to have run afoul of everyone including the military, the law and a bunch of bad guys. You must fight to survive while finding yourself hunted inside a maze of intrigue. All the graphics and effects work together so well, and the artificial intelligence is challenging enough to warrant repeat plays, yielding a different result every time
Feral Interactive Means Great Games For Mac
The demo gives you a taste of two maps—The Beach and The Military Base. You get clues of the back story as the intriguing plot unfolds. And the action never stops. The weapons and action are unique: Think crossbows (yes crossbows) and throwing knives, as well as an assortment of pistols, rifles, grenades and body armor to outfit yourself with. Picture your favorite graphic novel come to life. This is it. Video games just keep getting better and better and Feral has a winner. Thank you Ubisoft and Feral Interactive for bringing such a great game to the Mac.
This post is part of the series: Mac Game Demo Freebies
This is a collection of articles about Mac Game Demos that are entirely free. Usually demos are just a way to try out games to see if you'd like to purchase the full version, but for some (cheapskates and Ramen-noodle-eating students alike) they can provide hours of free entertainment.