Destination Treasure Island 1.0 Mac Demo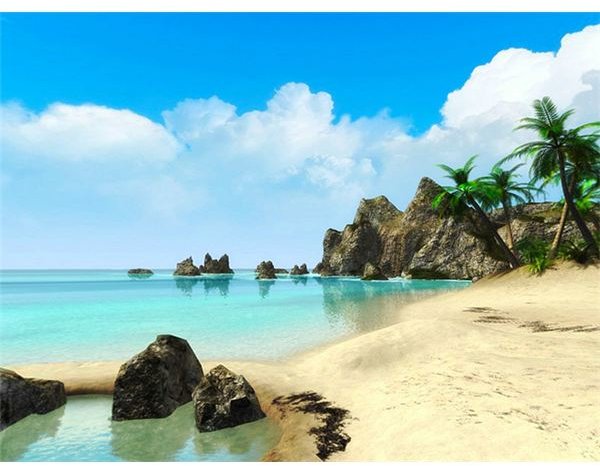 Macs Are Made For These Kinds of Stunning Graphics
First of all, I'm one of these people who was skeptical of the Mac's utility and ability to bring pleasure and enjoyment to its loyal followers. But consider me a full-fledged follower now – Mac aesthetics and functionality really come together on this one, and yeah I know it's just a game demo but the graphics are just so sharp—and little things including games like this have won me over completely. You'll see that the very high-end 3-D graphics look absolutely stunning and gorgeous on a Mac's 17 inch screen, even my recycled Education-market CRT. You'll actually start to think you are really on some sparsely populated tropical isle looking for pirate treasure, okay maybe not, but Macs are designed for visual enjoyment and utility. As you look around multi-directionally, there is no drop in detail whatsoever. I'm just saying the graphics for this game look great on a Macintosh screen (and I have one of these after- market eMacs and it still really looks stunning.) Perhaps I'm partial to warm tropical climates and beach getaways, and maybe that's why I liked this one so much—but this game is a testament to the fact that game designers are getting better at what they do, and that Macs are wonderful visually-spectacular machines.
Challenging Puzzles
There isn't much in terms of shooter-style action, but it makes up for this with danger and suspense lurking at each turn, with sound effects and quality comic-book style storyboards. This is one of those games where you can get a little stuck trying to figure out the clues to piece together the puzzle though. You might even find yourself looking online for a walk-through or cheat. Okay, after about a half-a-day of looking for pirate treasure and being stumped, I'll admit I went looking online for some tips, particularly with the parrot's riddle and then later at the cave. Other than that, you might find yourself feeling smart and resourceful and downright clever after figuring out the riddles of each area. You can mix and match different objects—and break down components to make other survival items. (Once you open the game you'll see what I'm talking about.) You get to play the Professor on a Gilligan's Island of sorts and use your limited resources (basically what's left of your shipwreck and whatever else is on the island) to make your way to different parts of the treasure map, which are illuminated with each solved riddle. If you're like me you'll be surprised at how these different items come into play with various uses (bribery and cocktails enter the fray surprisingly, and well I don't want to spoil it for you—but that's just how clever this game is.)
Not A Bad Time-Waster All
If you've got some time on your hands, this is not a bad time-waster at all. I promise you'll be genuinely amused, at least I was. Some have complained that the puzzles aren't challenging enough, but you can decide for yourself, or speed things along by searching for solving tips online like I did. You'might find yourself giving a spirited "Yo-ho-ho and a bottle of rum" while playing this tropical island adventure puzzle. But if you eat games like this up and have played numerous others in this genre, you might get a little bored with this one.
Useful Links
https://www.apple.com/games/demos/
https://www.apple.com/downloads/macosx/games/action_adventure/destinationtreasureisland.html
https://www.adventuregamers.com/forums/showthread.php?t=19771
This post is part of the series: Mac Game Demo Freebies
This is a collection of articles about Mac Game Demos that are entirely free. Usually demos are just a way to try out games to see if you'd like to purchase the full version, but for some (cheapskates and Ramen-noodle-eating students alike) they can provide hours of free entertainment.