Casual Games for Mac: Plants vs. Zombies

Plant and Shoot
Your house is under attack from zombies in broad daylight. Luckily, you have a wonderful strip of lawn, sunlight, and seeds - allowing you to place plants in your lawn to defend yourself from brain-eating zombies. This weird game concept actually provides an interestingly enough gameplay that can entice people to play the game.
You are provided a limited set of plants in the beginning of the game, which is also where the tutorial in the first stages of the game kicks in. How to play the game is introduced concisely and clearly, and it doesn't really get in the way of your game. As the game progresses, you gain more and more items and tools to plant and use in the succeeding stages.
There are also variations of zombies attacking the house. Some are adorned with traffic cones on their heads or carrying flags, providing additional armor to defend from your offensive plants.
Graphics and Gameplay
The 2D graphics of Plants vs. Zombies are cartoonish, well drawn, polished and glossy. Animation is smooth. The whole game is eye-candy and can actually make young and old casual game players want to play the game.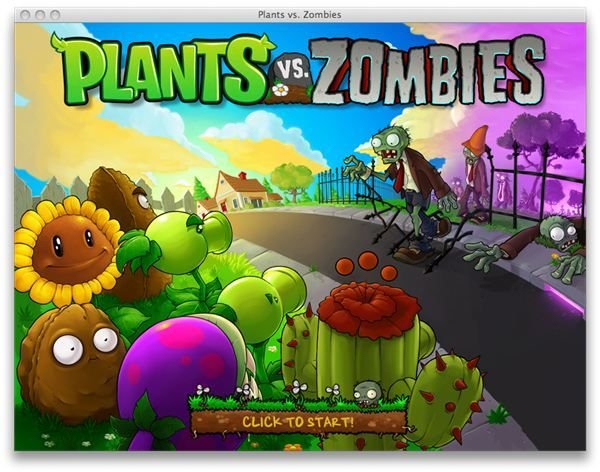 The game's sound elements are right on cue, with a horror-esque themed soundtrack, squishy hit effects from your seed shooting plants, and the clickity-clacks of your mouse pointer makes playing Plants vs. Zombies a quirky and fun experience.
Plants vs. Zombies is a game based on the tower defense genre, where you need to strategically place defense towers to save your base from an oncoming wave of enemies. The unlikely mesh of plants and zombies makes this game a fresh idea in a pool of available tower defense games out there.
The game starts of in a single strip of plantable lawn, with minimal plant options. And as you progress, successive stages bring you additional options to play with. You may get additional seeds for more plant options, or you can get gardening tools to gain additional capabilities during the game.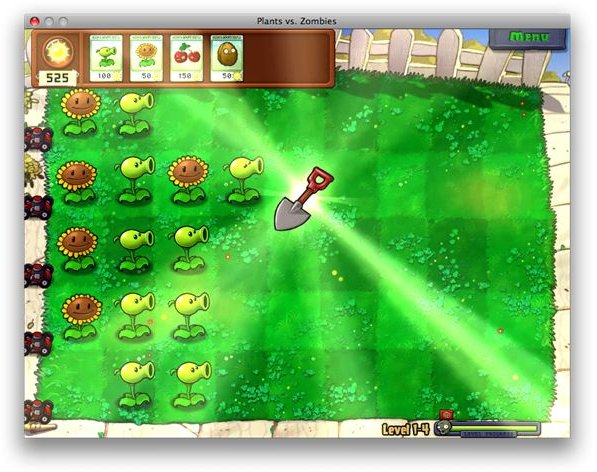 Planting on your lawn requires sunshine points. From time to time, a speck of sunlight falls from the sky into your lawn for you to collect by clicking on them with your cursor. Each sunlight is equivalent to 25 points, and you need to collect enough to be able to plant certain seeds. Seeds require a time limit in between planting them, which adds challenge to the game. Also, there are different kinds of seeds that allow you different kinds of plants that have their own unique abilities.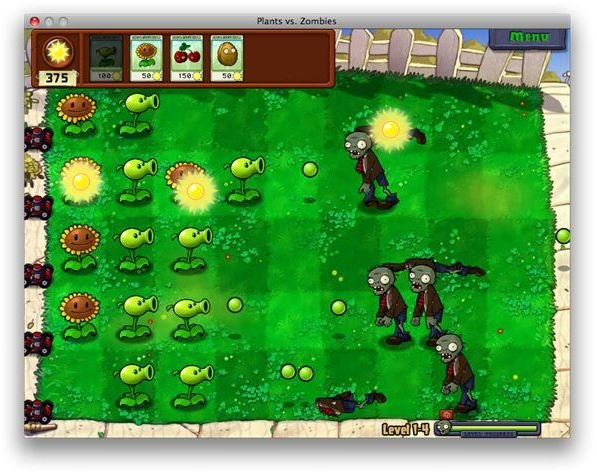 While some plants shoot seeds from the incoming Zombies, other plants help you increase sunlight production to help you plant even more items. Some plants also act as bombs to quickly eliminate incoming Zombies. There's a myriad of plant types you can use the further you go along the game, and you'll be able to specify which ones you want to use in the next round.
Zombie variation widens as your lawn increases and gains additional features - like a pool. Suffice to say, Plants vs. Zombies has a lot of game surprises in store for you.
Plants vs. Zombies is an enjoyable casual game that can appeal to all gamers and playing it is well worth the time.
Available Online
You can try Plants vs. Zombies for one full hour by downloading the app from PopCap Games. This game was just released last May 5, 2009. You may also preview the app from the site's video preview.
Enjoy!
This post is part of the series: Casual Games For The Mac
There is a wide array of casual games available for the Mac - from classic board games, classic card games, puzzle games, board games, to action/arcade games. This series of articles discusses a handful of great casual games that can entertain all kinds of users of all ages.