Casual Games For The Mac: Super TextTwist

Twist and Find Words
Your main goal in Super TextTwist it to properly arrange all the letters by twisting them. The jumbled letters make up the main word, which you need to figure out in time, to qualify for the next round. To earn extra points, try your best to complete all other words that you can form with the letters available for you.
The number of boxes aligned in the left hand area determines the number of all the possible words that can be submitted. Completing this list increases your overall score. Also, when playing in action mode, the less time you use completing the list the more points you rack. In turn, completing the list gives you additional bonus points increasing your chances to be listed in the High Score list.
Super TextTwist's fluid animation, simple to understand game board, and apt audio effects makes this game both exciting and well worth the time.
Graphics and Gameplay
The game is cool in the eyes and easy to pick up and play. Its blue background, eye-candy letter tiles, and appropriate sound events are just the right blend of a simple yet engaging game elements that would make you want want to keep playing over and over.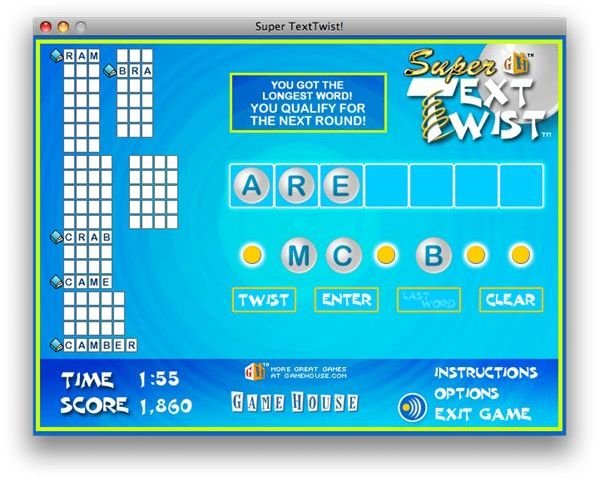 There are two game modes to choose from: Puzzle and Action.
Puzzle Mode is the untimed game where you can play at your own pace. The round doesn't end until you complete all the possible words available with the letters you have, figure out the longest word, or until you want to end it by pressing the Give Up button. The Action Mode is a more exciting game, where you are allotted two and a half minutes to figure out as much words as you can while racking up the points. Your main goal in Action Mode is to also figure out the longest possible word within the two minute and a half time span.
Rearranging letter tiles can be achieved by twisting them so you can unearth other words that you might miss. Additional points are garnered as you submit other possible words that can be formed with the available letters.
Controls are easy to adapt to. For those who can type fast or more akin manuevering via keyboard, you may find it easier to enter the letters with the use of your keyboard, pressing enter to submit your formed words, and hitting on the space bar to twist the letters that can help you discover more words. You can also use the cursor in selecting the letters and pressing the buttons on the game board if you're more inclined to use the mouse or track pad. You can use both approaches simultaneously seamlessly.
Super TextTwist is so good, Gamehouse decided to create a sequel game called Text Twist 2. But of course, nothing beats the original.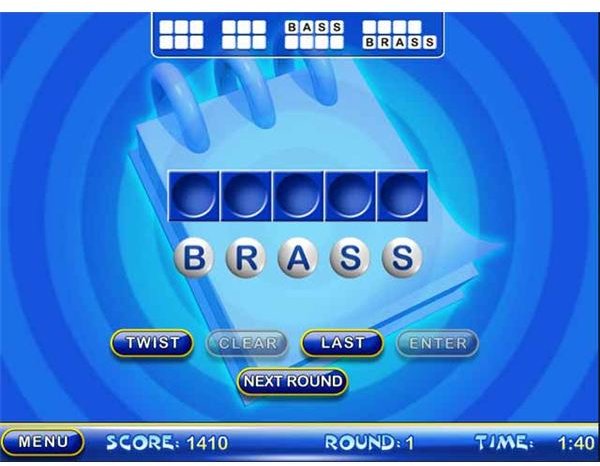 With the game's large database of words, you can enjoy Super TextTwist way beyond what you can imagine, and you'll enjoy earning high scores to share with your friends and family.
Available Online
Super TextTwist is available from GameHouse.com for a limited free trial or purchase for a full unlimited version. Game House also offers a sequel to the game titled TextTwist 2 that offers better graphics for the original gameplay found in Super TextTwist.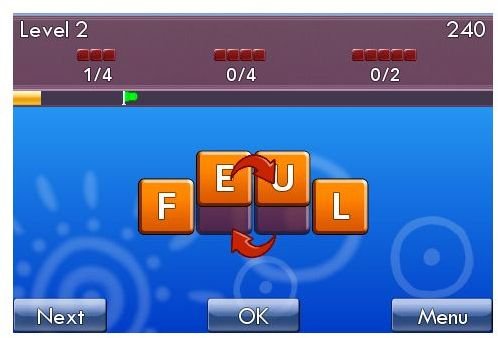 TextTwist Turbo - a game from Super TextTwist origins - is also available for download for your iPhone / iPod Touch in the iTunes App Store.
This post is part of the series: Casual Games For The Mac
There is a wide array of casual games available for the Mac - from classic board games, classic card games, puzzle games, board games, to action/arcade games. This series of articles discusses a handful of great casual games that can entertain all kinds of users of all ages.