Casual Games for the Mac: Bejeweled 2 Deluxe

Mix and Match
Bejeweled 2 Deluxe can be considered as a "match three" kind of game, where you need to align three same items either horizontally or vertically. Aligning gems in Bejeweled is achieved by swapping them with adjacent items - top, bottom, left, and right, never diagonal.
Gems are removed for every match made that drop from the top board, making room for new gems, further combinations, and allowing you to further advance in the game.
The goal of the game is making as much matches as you can and filling the bar and the bottom of your game board. The bar is filled every time a match is made. In addition, matches of four or five make greater points and provides you with a special gems that eases the game play.
Normal gems come in different shapes and colors. Matches of four clears out the other three and leaves a power gem, one that explodes when matched again, removing more jewels on the board and making room for more for additional points and possible combos. Matches of five items reward you with a Hyper Cube, appearing as a vortex with different colors. When this item is matched with the gem, all of the gems of the same color on the board are destroyed.
Other special gems are available in other game modes. In the Puzzle Mode, Bombs and Rocks are also included in the board - where Bombs are timed until they explode, and Rocks that serve as hindrances to introduce additional game challenges. Rocks can only be removed when an adjacent bomb explodes.
The only way to lose in this game is if there are no possible combinations available in your board anymore.
Graphics and Gameplay
Bejeweled 2's shiny graphics are inviting and are eye-candy enough to make the game as engaging as it is entertaining to play.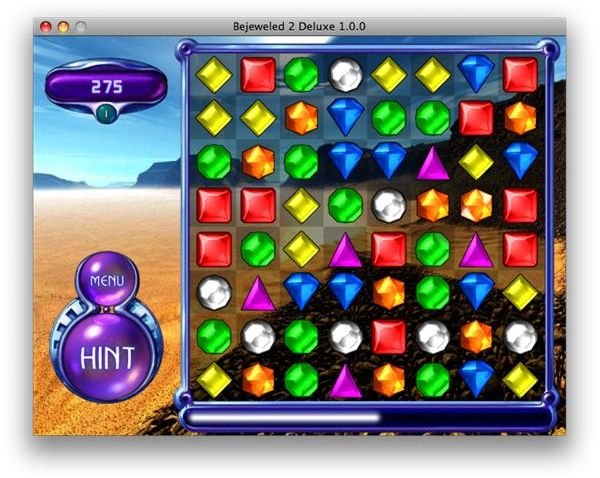 There are several game modes to play in:
Classic
Action
Puzzle
Endless
Classic is the traditional game mode where you progress to further stages and the game increasingly gets harder and harder. Action mode starts of with your Level Up bar at the bottom half filled, which depletes over time and you must create matches as fast as you can to avoid defeat. Puzzle is a mode where you need to figure out the correct steps to make to clear off the board. Endless is a mode where you can play to your heart's content because this game doesn't have points, time limits, and no chance to run out of moves.
Available for the Mac and iPhone / iPod Touch
You can play a limited version of Bejeweled 2 Deluxe online for free, download a trial version or buy the app from PopCap's website. It's also been released as an iPhone / iPod Touch app in the iTunes App Store. A review of Bejeweled 2 for iPhone / iPod Touch can be read here.
This post is part of the series: Casual Games For The Mac
There is a wide array of casual games available for the Mac - from classic board games, classic card games, puzzle games, board games, to action/arcade games. This series of articles discusses a handful of great casual games that can entertain all kinds of users of all ages.