Arm your MacBook Securely with Apple Remote.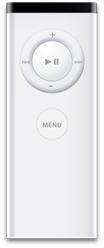 Beep Beep
The motion-detecting feature dubbed "The Accelerometer" by Apple, is built into their MacBook line. One main function of this feature is that it can be used as an alarm to alert a MacBook owner if a computer is being tampered with. And when spending no less than $1000 for a laptop computer, security is an issue that should be integrated with your new MacBook. Not to mention, this feature is also very humorous and makes for a good prank if someone you know ever does mess with your MacBook.
To get started, you will need to open Safari and download a program called iAlertU. Also, you will need to have an Apple remote. If you don't have one, they can be purchased at the Apple store for around $20. The Apple remote is well worth the purchase as it can be used on many other applications also. If you don't have an Apple remote but you have a Nintendo Wii, see my other article on transforming your Wii controller into an Apple remote.
After you have downloaded iAlertU, you will need to mount it into your Applications folder. Next, simply run the program and grab your Apple remote. Once opened, the iAlertU program will run stealthily in your background.
To arm the program, you will simply need to hold down the middle button on your Apple remote. You will hear a beep and your screen will go black. This is how you know it is armed. Now, any touching of the keyboard, trackpad, or sudden movement of your MacBook will set off the alarm. (To hear the alarm, make sure your speaker volume is turned up.) To disarm the alarm, simply hold down the button again, and you will hear two beeps. The screen will then revert to the normal display. This is how you know that the MacBook in unarmed.
There are also other features that make this a very cool application. You can adjust your built in iSight camera to snap a picture of anyone attempting to mess with your MacBook immediately after setting off the alarm. To do this, simply go into the iAlertU preferences and click on the Camera tab. From there you can activate and customize all settings.
This application will probably remind a lot of people of the alarms they have on their cars. Give it a try by pranking someone. Arm your MacBook and ask someone to go check out your new desktop background or what not. As soon as they tamper with your computer, the alarm will scare them and a funny picture of their face will be snapped. You won't regret it once you see the picture of their scared face.